As part of my 3-part response to sexual harassment in the lindy scene, I've started getting keen on the idea of visual assets. ie paper postcards, a useful website, etc.
My 3-part response:
1. Develop a code of conduct.
This is basically a set of 'rules', but also a clear statement of intent.
– the in-progress code of conduct and sexual harassment policy I'm developing
2. Working towards cultural change through:
Teaching in a way which explicitly helps women feel confident and strong, and provides tools for men looking to redefine how they do masculinity.
– using tools like the ones I outline in Remind yourself that you are a jazz dancer and Uses of history: Frankie as teaching tool
Teaching in a way which implicitly discourages sexual harassment, by encouraging good communication between leads and follows.
– I am keen on the rhythm centred approach as a practical strategy. Less hippy talk, more dancing funs.
– I like simple things like talking to both men and women about being ok with people saying no to you.
3. Developing strategies for actually confronting men about their behaviour.
– I talked about how I do this in class in Dealing with problem guys in dance classes
– I'm working up to addressing the more nebulous issue of sexual harassment by practicing on more concrete stuff like telling men to stop pulling aerials on the social floor
– Talking to and about men confronting other men. Because it's men who are doing the dodgy stuff in most of these cases, and we need to ask men to take responsibility for their own actions. Whether those actions are harassment, or condoning/enabling harassment by not using their power to speak up.
Working on this, I've discovered that a bunch of words is next to useless. We need simple graphics, pictures and posters. Using a range of resources (the AFL's response to sexual assault is particularly powerful and useful), I'm thinking that we need to add a few things to the prevention/response strategies. I'm considering making up a simple, powerful website and postcard outlining what's ok, and what's not. They have to have a light-hearted, fun vibe (because lindy hop), but they also have to be very useful and not too twee. The tone of these texts should suit the vibe of my business, but also give an idea of national and international lindy hop culture (as if there was such an homogenous thing!)
These two assets could work in concert with a poster or sign, and with a practical training program for teachers, door staff, and 'safety officers' (ie the people you go to when you need help).
Luckily, lindy hoppers have already gotten on to this. We actually have a discourse of 'etiquette', which is the way we manage and control social interactions in our scene. We also talk a lot about 'floor craft', which is another way of managing how we take care of ourselves and others on the dance floor. The basic message of both is 'Look out for others or you won't get any dances." Lindy hop has a powerful shaming tool at its disposal, and we should make greater use of it.
I think we can just tweak these two sets of 'rules' a little to make them a bit more powerful and directly address sexual harassment and assault. A lot of dancers don't want to address rape and sexual harassment explicitly because it's a downer (and lindy hop is supposed to be all happy clappy all the time), and it's a bit of a social taboo to talk about sex and sexual violence in an explicit way. And it's really difficult to talk about sexual assault and violence without actually talking about breasts, vulvas, vaginas, penises, bottoms, and how we touch and use them.
Added to this are the broader social myths about women's bodies, women's sexuality, and men's sexuality. The bottom line in responding to sexual harassment and assault is that you have to accept that it's about power and violence more than it's about sex and sexuality, and you have to accept that patriarchy exists. A tall order for people who 'just want to dance'.
But I don't want to reinvent the wheel when there's fab stuff like this around: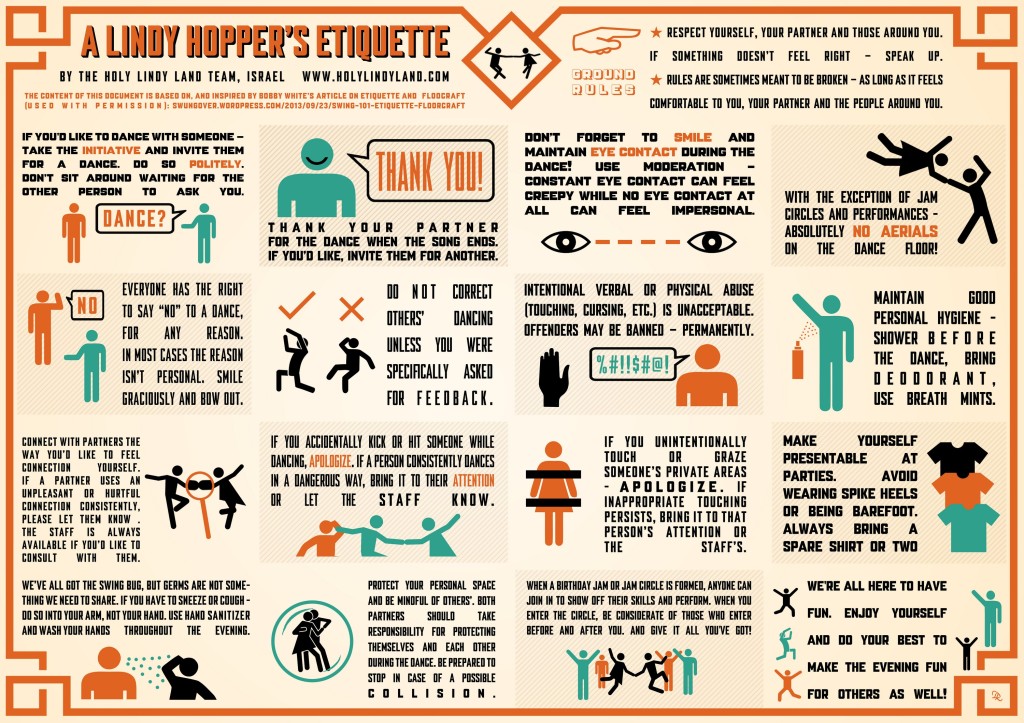 This is an etiquette guide produced by Holy Lindy Land, the Israeli lindy hop community. Which of course you should know about, because they sent an open letter of peace and friendship to the lindy hoppers of Palestine, which makes me cry like a little baby with the love. (You can read more about the two scenes' work in this lovely piece).
I like this poster because it does simple things like replace my awkward description
Avoid 'boob swipes', touching a partner's bottom, groin, upper legs – you know the deal. If you accidentally do so, apologise immediately. If you do this repeatedly, you will be warned, if not ejected from the event.
with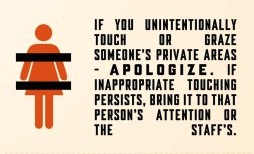 I think that lindy hop could also do with some of the sharper edged humour that would help us get real about sexual harassment.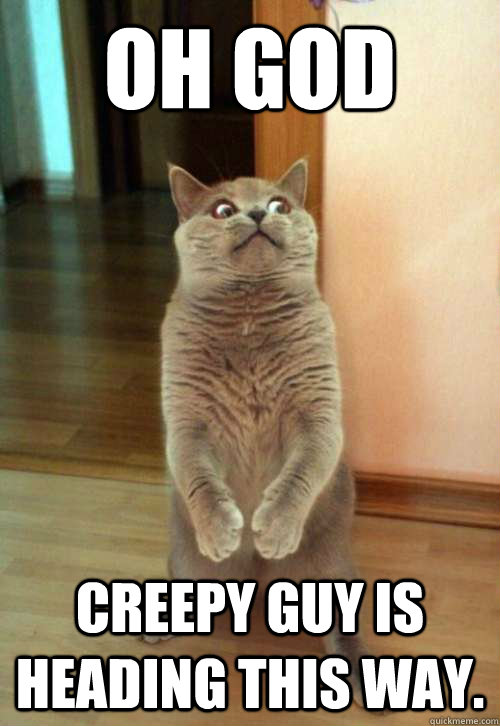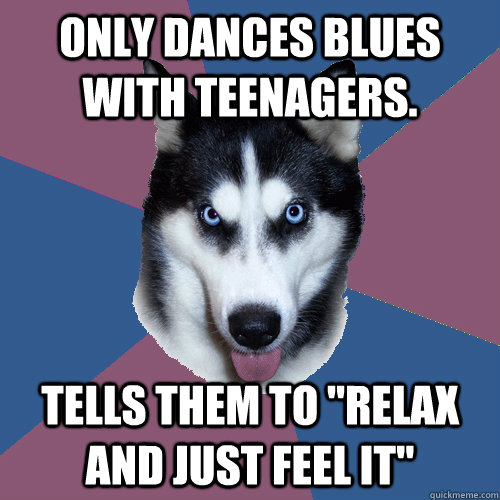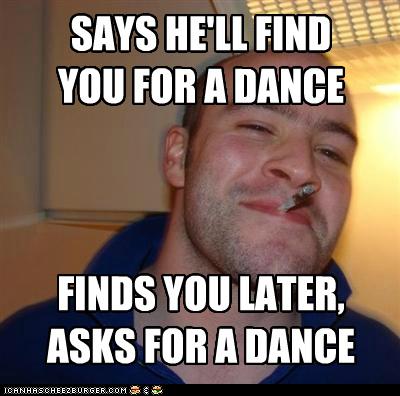 There was a most excellent swing memes thread on yehoodi years ago, where most of the images are sadly missing now :( I'm especially fond of Good Guy Greg.
And of course tumblr brings the gif with people like lindy hop problems.
But these are, of course, not 'official' responses to sexual harassment. They are very important, because they give us a way to comment on issues, and also to 'talk back to power' if we don't think organisations are stepping up.
I'm thinking something by an artist like Tomeito would be pretty useful: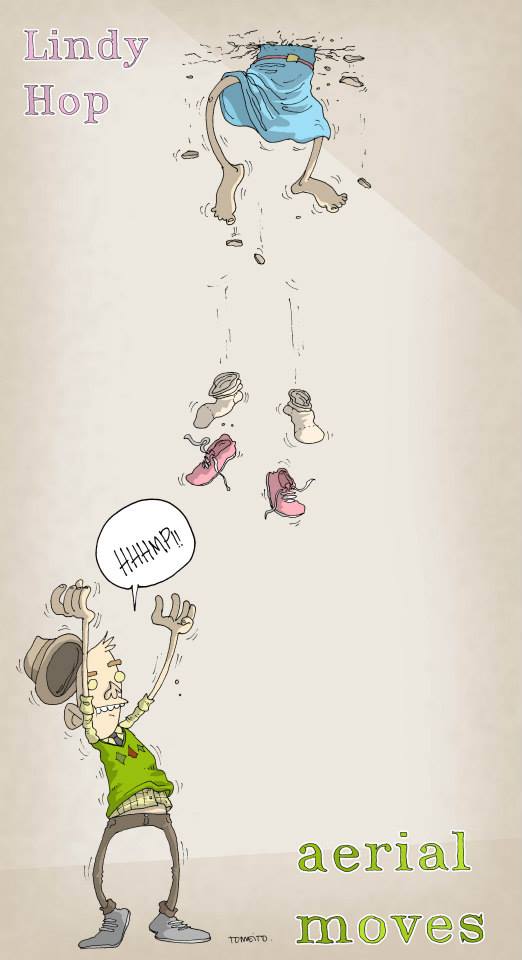 At any rate, I'm working on it. Slowly but surely…. :D
Resources:
Mobtown ballroom code of conduct (casual, human tone to the talk)
the SES (State Emergency Services) position sexual harassment as an occupational health and safety issue rather than a 'women's issue' or 'sexual issue', and have some EXCELLENT training material available
AFL (Australian Football League) have Respect and Responsibility, a hardcore response to s.h. and assault which targets men (because it is a male-dominated sport), and uses the Australian discourses of 'mateship', 'team' and community responsibility (or club-loyalty) through the language of the sport ('taking the tackle' etc) in a powerful way. Their posters are great. I admit it, my Uses of History: Frankie as Teaching Tool in-class strategies are an attempt to do the same thing. To use the language and model of our most important and powerful cultural imagery as a strategy for dealing with sexual harassment.
Australian Human Rights Commission (for identifying and defining s.h., and researching the legal status of s.h.). My federal government's current push to destabilise and ultimately destroy the AHRC is making me very angry.
AHRC's 'know the line' campaign, which feels a bit naff to me, but uses a strong poster campaign and website/poster tie-in.