Here are some things I've learnt about promoting dance or music related businesses online. I'm not a marketing specialist, but I am a media studies specialist who's been promoting dance events online for about 15 years now.
You need a website.
You need an email newsletter.
Why?
With both of these media, you are the producer broadcasting a message to your readers.
Audiences tend to regard these as authoritative sources, unfiltered by social opinion.
If a social media platform collapses or moves out of vogue, your data won't disappear with it.
They don't need to be fancy. In fact, the simpler the better. A single page website with clear headers and a simple structure is best. A newsletter can be sent out maybe once a month. So long as it's sent out _consistently_, at the same time each week or month, it's all good.
What about social media?
Important, but in a different way. Think of your behaviour on social media as your brand (which is the public version of you and your business) interacting with lots of real people and other brands out in public. It's a way for you to develop personal and professional networks in your community or industry. And social media get used a lot, by a lot of different types of people, of all ages and demographics. Perhaps the best thing about social media, for marketing and advertising, is that it allows you to know who's seeing your ad, when, and where. Something that was harder to judge before social media. Before social media, a brand used social media to 'broadcast' a message. With social media, a brand can interact with audiences in a much more complex way.
Websites are important.
Of the two, the website is most important. If you do a tiny bit of audience research (eg we used a very simple survey to routinely ask all our dance class attendees how they found us), you can see which media are most important. For our dance classes, a 'google search' accounted for 90% of our attendance. Even if they saw a post on facebook first, they still used a search engine to actually get them to class (and make the sale).
This is where we talk about SEO. Search Engine Optimisation. It's not magic, it just means 'make it easy for search engines like google to find your website'. We know a lot of things about google. We know that when it indexes your website, it pays attention to the words you use. ie it 'reads' your code. And google tells you how to make it easier for their search engine to find your site.
What should your website include?
Your name. The name you want people to use when they announce you over a microphone or list you on a program.
Your contact details. A phone number, and an email address. Right at the top. And in the footer too. Make it really easy for busy bookers, festival programmers, and prospective clients to find you. If someone's prepared to pick up the phone to talk to you, they want information quickly, and they're close to making a decision.
Some useful key words. What do you do? Dance teacher? Then you need 'dance teacher' right at the top of your page. Are you a lindy hopper? A jazz musician? Do you run weekly balboa classes? Then say so, right there in text on the page. Make it easy for google to find you when your audience does a google search.
Pictures?
Most importantly, don't hide information away in images. Search engines like google can't 'find' your information if it's hidden in an image. All google knows about your lovely instagram graphic is that it's a .jpg file, 1080px x 1080px, created on 2 January 2022. Even more importantly, people who use screen readers can't find your information if it's locked inside an image.
Do use photos on your website or newsletter, because they look nice, and it's easier to sell a product if people know what it looks like.
Don't hide information in an image.
Each image should have a 'title' tag, and 'alternative' text ('alt' text) to that tag. If you're writing your own website code, that's easy to do. You just add alt="the information from your image" to the image element. Most website building tools (like squarespace) and newsletter tools (like mailchimp) offer you the option to add alt text as well. Yay!
As an example, this little graphic is very effective for instagram. It has all the information we need – there's a party, when and where it's on, and bring cake!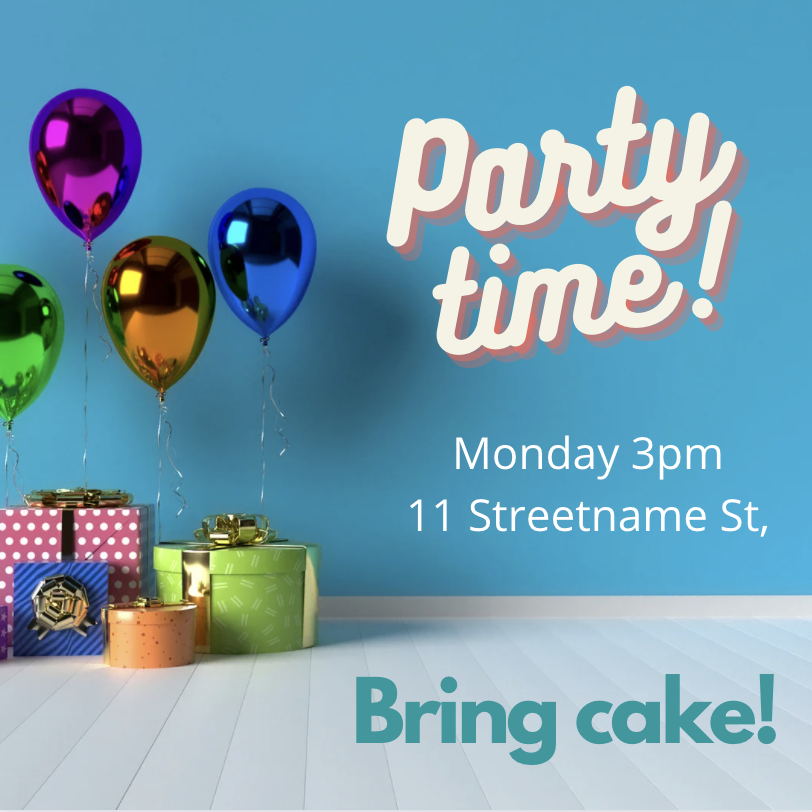 But without alt text, all your web browser knows is that this is an image, 812px x 812px, called 'Screen-Shot-2022-04-06-at-2.30.41-pm.png'. No one will come to your party.
If you add alt text like "party time! Monday 3pm, 11 Streetname St, Bring cake!", then a google search will be able to find the information and serve it up as a result in a google search.
What about a newsletter?
Don't underestimate the value of a newsletter. People actively choose to sign up for your newsletter, which is a way of signalling to you 'I am interested enough in you and your product to give you access to my inbox'.
Newsletters give you lots of useful information about your subscribers as well. How many people click on links? Or open the email at all? How many unsubscribe? How many 'bounce'? All these analytics can help you improve your newsletter: which subject lines convinced people to open the email? Which calls to action in your newsletter got a response?
If you use a newsletter service like mailchimp (and you really should. For privacy, security, efficacy, and ease), you often have the option of displaying an archive of your past emails. Each of these past emails is another tool for improving your SEO: another hundred or thousand times a search engine will read your name on the internet and add that page to its index.
Most of all, a newsletter lets you speak directly to a group of people who are even just a little bit interested in you and what you do. Gold!
Take this seriously
If you're going to stand up on stage and play, or run a class for people to learn to dance, you have to let people know. Even if your business runs mostly via word of mouth, having a solid website can work just like a nice business card. Something that means a lot more in a world where most people have a smartphone in their pocket (or hand!)
If you need a hand with this stuff, drop me a line I can give you some tips. For a very reasonable rate :D