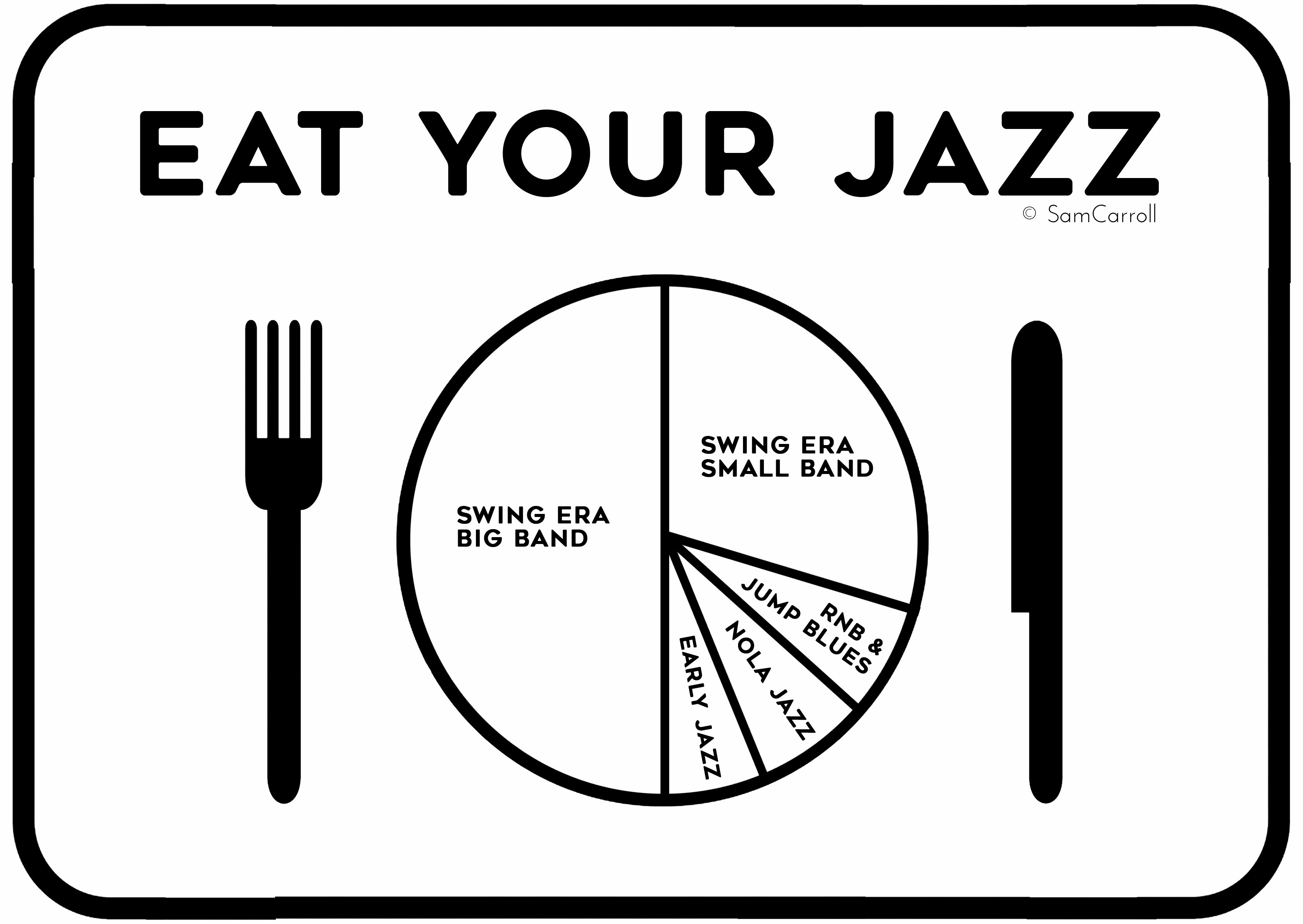 The now-infamous 'Herräng no list' came up in my interview with Ryan for his podcast. I'm not sure how it developed, but this 'no list' was a complement to the 'yes list', which sadly gets a lot less attention. These lists were playlists on spotify developed as a general guide to the type of music you may or may not choose to play at Herräng. The 'yes' and 'no' titles are typically Swedish. Functional. :D
The first year I DJed at Herräng (2015?), there was an actual booklety thing, setting out the same sort of information, but as a pie graph, with percentages.
Last year I made up a new version of this pie graph for myself. You can see it at the top of this post.
That's three ways of saying the same thing: this is the type of music we'd prefer you play, as a staff DJ at Herräng. This is a fairly specific description, and it aligns nicely with Herräng's branding as 'vernacular jazz dance' blah blah.
The rules for DJing at Herräng are as you'd expect:
Play swinging jazz from the 1930-40s (with a smear of 50s)
Don't just lean on the standards
So really it should be a 'do' list, not a don't list.
Does it sound like there are a lot of rules for DJing at Herräng? Not that I've noticed. In fact, DJing at Herräng is lots of fun because our bosses simply assume we know all this and won't play any bullshit, then they just set us up with a time slot or a task, and say "GO." And then we just go sick. There's a microphone, there're lighting switches, there's a dance floor full of Europeans in a democratic socialist country with far too much daylight. NO RULES TIL BROOKLYN
Advantages of each of the 'rules':
Point 2.
You have to really work on your set, not just play your easy-win faves. This makes you work harder and play more interesting sets.
This is especially true because we are on staff for a week, playing every night. One set in a weekend means you can phone it in, but 7 or more sets in a week means you really have to stretch.
This makes the whole week more interesting for dancers, because they're hearing a wider range of music (within a genre): they get a deeper taste of swing music. But it also makes it more interesting for DJs, and much more creative. You're more likely to take risks. Here is the good bit. More risks = potentially more errors. But really good DJs know how to recover from errors, and how to avoid them.
So while a DJ's collection is on display, their skills are too.
I actually love it. I come away from the event with a much better understanding of my collection, having played far more than my usual 'safe' songs. And I've heard sets that are far more than just a handful of Naomi Uyama and Gordon Webster favourites.
Point 1.
This seems obvious. Playing from the swing era makes for good swing dancing. I see far better lindy hop at Herräng, in part because the music makes it easier to lindy hop.
Less jump blues. This is one that caught me by surprise. I hadn't realised how much I leant on 40s jump blues. Louis jordan, Big Joe Turner, and others. Wonderful, but when I pushed myself to limit the number of these in my set, again they improved. How? a) different rhythmic emphasis and structure to the songs, b) less vocal driven, more ensemble driven melodies and structure, and c) a shift away from jump blues = shift towards small and big band swing. More complex songs and arrangements. Much more interesting for dancing lindy hop.
So the point isn't that the no list stops you playing songs. It's that the no list asks you to start playing a whole heap of other songs. Songs that are just much better for lindy hop and balboa.
I know I come away from the event a much better DJ. Two thumbs up from me.