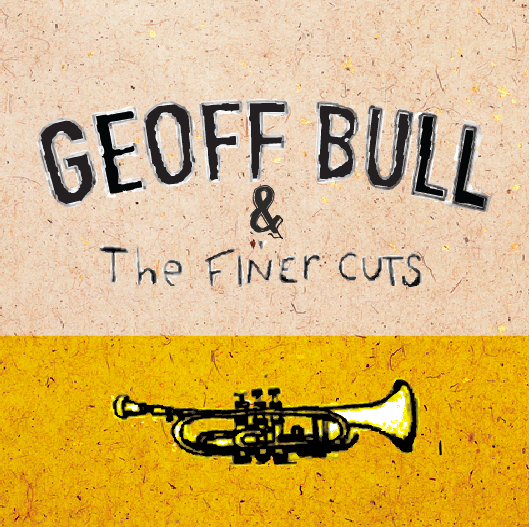 With all my talk about Australian jazz history (I have to warn you: I've just been to the doctor, and am now on some SRS DRUGZ to combat another installment of the fucking sinus infection, so this post is probably less coherent than even the earlier ones. even.)…
So, as I was saying. With all that talk about Australian Jazz History, I forgot to tell you about Geoff Bull and the Finer Cuts.
Things to know:
The band is headed by Geoff Bull, who is an old school Australian jazz musician with cred. He plays trumpet and sings. That last part is important, because I find a lot of Australian vocalists really irritating in jazz. I know. It's a silly response. But I do. Geoff Bull's vocals, however, are really nice.
The other people in the band are young, and some of them are from The Cope Street Parade. Including the trombone player, Grant Arthur, who is currently rocking my boat in a big way. And not just because he has a mad beard.
They play on Sundays at the East Sydney Hotel. For free. This is a squishy venue, but a good one. Now that the Unity Hall Hotel has fucked up everything with its 'renovation' (goodbye piano, goodbye dance floor), the East Sydney is (even more) important.
They also play at the Corridor in Newtown on Tuesday nights til about 10pm. This is a tiny venue, but this is a great gig. You should go. It really reminds me of the Virus gigs at the Laundry in Melbourne in about 2002. It's also free, but buy some drinks, yo. Maybe for the band? Yes.
They have a new album/ep thing out. It's called 'Geoff Bull and the Finer Cuts' and you can buy it on bandcamp for just $4. YES, THAT'S FOR JUST FOUR DOLLARS. I paid $10 for an actual CD, which was nice, as it has nice pictures on it.
The album is a product of Yum Yum Tree Records, which is important because it's the sort of collective organisation that jazz really needs. Shit gets done, the right way.
When I first heard the CD I was all "omg, this is the worst thing I have ever heard." I was tempted to delete it. I know, harsh, huh? But I had just been wallowing in my new Coleman Hawkins set (ie in sixty million 1930s big band recordings of the highest order), had just bought the latest Gordon Webster album and was really feeling quite over the 'little street jazz band combo' thing. I wanted a huge, sophisticated rhythm section. I was over rowdy solos.
I know. I'm a dickhead. It's like I forgot what jazz was all about for a minute there. Maybe it was because I was getting sick. Who knows what was going on inside my head.
But I gave the CD/EP a rest, and then I came back to it. After I saw the band at the Corridor. That gig really impressed me. I wrote about it here. I really like to see a combo working well. And they did. So I gave the CD another go.
Now I'm all "omg this is good. I will even DJ it." The song 'Glory Glory' is gold. It's really quite lovely. I Approve. I really like Geoff's vocals and trumpeting. I do like the piano. I'm still not 100% sold on some of the vocals, but then it took me a while to come around to Jesse Selengut's vocals, and that was obviously crazy talk. But then I'm quite conservative. I know a lot of people do like the vocals, and you might too.
In summary, then, you should:
Go to the Corridor or to the East Sydney Hotel to see this band;

and

Buy this goddamn EP. It's only Four goddamn dollars: complete bargain;

and also

Buy the band a beer.