What's going on with my Australian Safe Space Legal Fund?
Here is the latest update: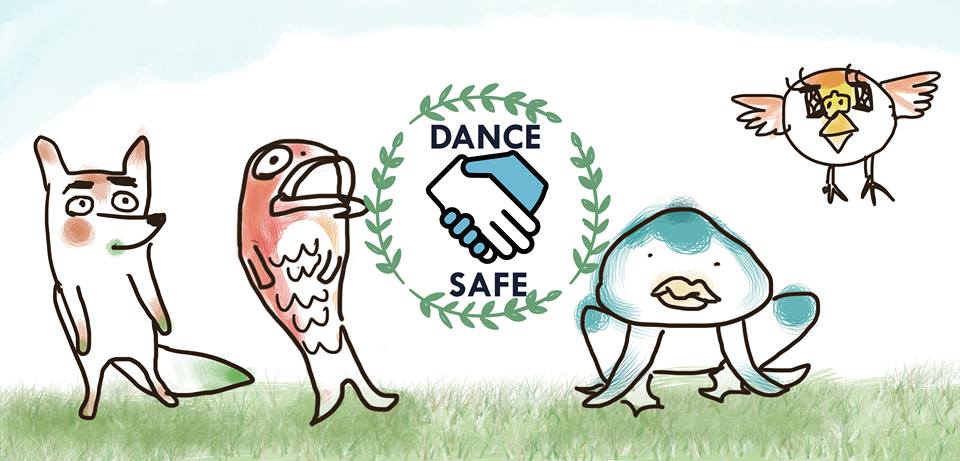 Hello friends!
You've no doubt been wondering what's been happening with this project. Well, here are the details.
I've paused the fundraising element of this campaign, as we have raised enough money to cover the latest round of legal fees. Phew.
Now I've been able to honour my work commitments in our scenes. And to take advantage of this work to meet and learn from safe space workers all over the world.
I (Sam) was booked to DJ in Korea (at the Rhythm Korea event), and at the Herräng Dance Camp in Sweden. Mid-June I left Sydney for Korea, where I was not only a staff DJ at this event, but catching up with local dancers and organisers.
Korea is, of course, home to the Dance Safe Korea organisation, which is one of the largest and best-organised safe space organisations in the international dancing community.
Each time I visit Seoul, I take note of the public posters, pamphlets and information brochures DSK have at all the dozens and dozens of swing dance 'bars'. There are posters with information about how to treat dance partners respectfully, and how to get help when you need it. And these posters have been printed by the hundreds, and distributed all over this city of 10 million people.
Rhythm Korea also gave me a chance to meet and catch up with dancers from outside Seoul (Incheon! Busan1), from Thailand, from Japan, from Hong Kong,… and other Asian cities. Not to mention visiting teachers from Sweden and France.
I am always inspired by the DSK team. Their awareness-raising work is backed by some of the most comprehensive survey and statistical work I've seen in the dance world. And they are truly great people.
After Korea, it was off to the Netherlands. I spent time in Amsterdam and Rotterdam, two very different Dutch cities, and had a chance to meet and speak to teachers, organisers, and dancers from both those cities. Each local organisation has a different approach to safe space policies and actions, but it's fascinating to see how the socially progressive Netherlands fosters a very different (and diverse!) dance culture.
For me, it was wonderful to see and speak to Dutch friends who have been working hard on tricky issues, and it was really _nice_ to take time to hug and be hugged by friends and colleagues who are so determined to do good stuff. <3
Right now I am in Stockholm, with a couple of meetings planned, but no firm dance safety sessions organised. From here, I will go into the Swedish countryside to work as a staff DJ at the Herräng Dance Camp.
Sweden is culturally very different again, and this huge, long-running event has been dealing with a range of safe space challenges. As a staff member, I look forward to the latest iteration of my (DJ) department's action and response plans. The Security Team has had a personnel reshuffle, with changes like increased gender parity, and my own DJ managers have been developing schemes that run across the five weeks and dozens of DJs on staff during this time.
I'm also looking forward to meeting up with my European friends in Herräng to talk safety policy internationally. In previous years we've run 'Feminist Fika', a catch-up session for dancers visiting from all over the world. This year I'd like to talk about peer-centred safety initiatives, and to hear about all the hard work my international friends have been doing. I'm also looking forward to more of those comforting hugs and supportive conversations.
I'll also have the chance to meet up with black dancers from the US who are addressing black lindy hop matters, and doing the hard work of interrogating the intersection of race and gendered violence in the dance world. I'm particularly keen to see what they've been up to since January.
If you're doing safe space work in your local community, or at events as you travel, make sure you take time to look after yourself. Not all the stories we hear are good, and we all need time to rest, relax, and _dance_.
You're not alone: we are here to hold your hand or lend an ear. Reach out!
Sam.