We at Swing Dance Sydney have developed a several-prong approach to this issue over the past few years. Everyone we know has been asked for advice or suggestions, and it's definitely a collaborative project. It takes time, thought, and research. I looked up other organisations' codes of conduct, and govt bodies' s.h. prevention strategies. including the human rights commission's definitions of s.h.
Each step has kind of developed from the one before. And we keep going back and revising and improving things.
For example:
We developed a code of conduct, referring to lots of other examples.
Then we needed definitions of sexual harassment for that code, so we all knew what we were talking about.
Then we had to give students FAQs for making complaints, knowing their boundaries, etc.
Then we had to be available for students to talk to us, and we had to follow up on our hunches and ask students about things we'd seen. Which meant we needed casual social spaces and opportunities for talking with our students – like non-dancing parties.
Then we had to just get rid of horrible harassers.
Then we had to have consequences for banned people.
Then we had to have processes for enforcing bans.
Then we had to tell our door people what to do if banned people turned up.
Then I told other organisers in our city that we'd banned X, and I keep them updated each time I get another complaint about anyone.
Then we had to find out what our legal rights were.
Then we had to practice doing this ourselves.
Now I'm asking myself 'how long is a ban? if it's forever, how do we maintain it if the personnel and staff change?'
And of course, this has to be an interactive design process: you have to keep getting feedback on the process, and changing and improving things. Soz, but it's never done.
My current project: a report log, and way of keeping track of issues.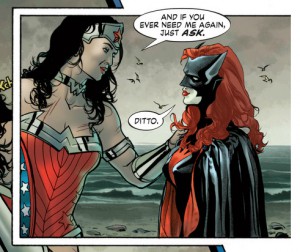 This is my experience:
As a woman, it is scary as fuck to tell a big, imposing bully of a man he is banned from your event. Or to warn one. So I had to develop the bravery to do it, and contingency plans to make sure I was safe (eg I told my male friends – don't leave me on my own for the next hour or two; I don't want to seem vulnerable if he gets nasty). I also practiced giving warnings and bans – I wrote little scripts and then practiced them with my buddies. And I told my buddies when I was going to do it, and what their job was.
So you need to skill yourself up, look after yourself, work with other women, and develop strategies, and PRACTICE. It's hard to overcome a lifetime of training which tells women to avoid conflict because they're vulnerable. You have to teach yourself that you are tough. It's helpful to think of people like Norma Miller, who was a black woman running a dance troupe in the 50s. You have to truly believe that you are the best person for this job, and that you are RIGHT.
I'm glad I do this, as I've had men get nasty with me in public at events (I particularly enjoyed that one time a man I'd warned earlier about non-consensual aerials trying to shout at me while I was DJing. NOT).
Documents (ie rules):
1. We have a code of conduct on our site. But I'm pretty sure no one reads it.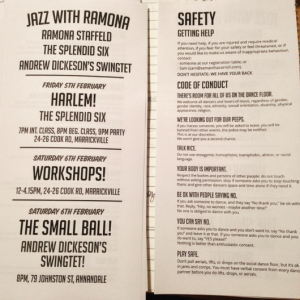 So I made an abridged, paper version which is now available at the door to events on the back of a paper program (and everyone picks up a paper program, and gets one in their rego packs), which I talk about when I'm MCing at every party and workshop day at an event. I actually say it explicitly: "Have a read of this code. There's info here about what to do if you get injured, if you feel unsafe, or if someone's hassling you." And I've actually turned to one of the (big blokey male) band members and said, "X and I were talking about this earlier, and now X knows what to do if he feels unsafe." And we all loled, but it was very effective – no awkward shyness or silliness. I just added it to the talk about where the first aid kit is and how to get a drink of water.
The online version has actual descriptions of what counts as sexual harassment. That part is THE most important.
2. We have a parties FAQ which explains what to do if you get harassed.
3. You have to tell people you have docs – don't hide them away on your website. And just be very casual and matter of fact about it – of course we have a code of conduct, don't you?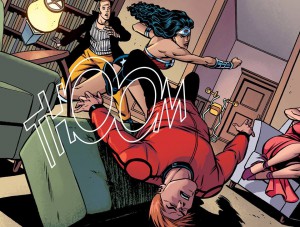 Processes:
1. I warn people who break the rules if they seem to be a bit clueless (eg air steps on the social floor, boob swiping, etc.) I encourage other people to warn other people (especially men! Men are 90% of the problem, so they should be 90% of the solution – it's not a 'women's issue'!)
2. I ban people who are serial offenders, and tell them so to their face, making it clear that they cannot attend any of my events (I name them all), and if they turn up I'll call the police. I don't engage in discussions or conversations – I just tell them straight up. And I do it at public events in public places because my own safety is important. And I put on my invisible 'I am an arse kicking fierce superhero' cloak. I literally pretend that I am as tall and strong and immovable and implacable as Wonder Woman.
3. Once they're banned, I put their name and description (and photo if I have it) on the door at our events, and circulate it to volunteers who'll be working at events.
4. I explain the process to volunteers should these banned people turn up: Say "hello, Sam would like to speak with you, please wait a minute while I find her." then find me and i'll deal with it. They all work the door in pairs, so one is left at the door waiting. They're to do some 'important paper work' while they wait, and not engage the bloke. Then I come and call the police immediately. No arguments or engagement.
-> I tell everyone about all these documents and processes. Since I started telling people I ban offenders, and since our volunteers started learning the process, I've had a scary number of people make complaints about the people I've banned/warned: knowing you'll deal with this shit gives people the guts to speak up. I keep all complaints anonymous and confidential. None of this 'right of reply' bullshit.
Cultural change:
Of course we use gender-neutral language, stamp on homophobia, etc etc. Because we are adults, and this shit is necessary. And we don't tolerate any of that stuff in our classes or at our parties. You simply CANNOT address these issues if you, for example, always refer to leads as 'he' or 'gentlemen'. It's a shitty barrier to fixing things up.
1. How we teach beginners. We talk about how to 'make connection' with a partner (eg in closed) not in terms of 'your hand always go here' but in terms of 'you want to find the middle of their back, so ask them 'is this right?' Then we get them to practice this little conversation. Boom. Winners – it teaches them that each partner is a different size and shape, and you need to adapt to that. As opposed to having rules for 'correct' connection, we make it clear that 'connection' is about working with another human. There's lots of this sort of thing – from talk about making confident mistakes to saying 'start when you feel ready' instead of counting them in.
2. We only have women teachers atm, so we start classes with "I'm Sam, and I'm leading tonight," and "I'm X and I'm following tonight" and then we demonstrate what that means. Then we say "Choose whether you want to lead or follow. You could change next week, but please stick with one role for this class." Then we let them choose whether they're leading or following, then we send them to find a partner.
3. When we ask them to partner up, we say "Introduce yourself first; don't touch anyone if you don't know their name" and we act out asking someone to dance, shaking hands, and introducing ourselves. BOOM. They just do this themselves all the rest of the class.
-> etc etc etc
4. We give the follows specific information about what they're doing in class, and we phrase it in a way which is about agency, self-determination, and power. eg I say to follows "You are the BOSS of your own body. Don't compromise your posture or timing or rhythm for the lead's. This is a class, so you should be both talking to each other, resolving these issues verbally." I often to say to follows and leads "Both of you have a responsibility to keep time and maintain a rhythm. So if you're stressing, listen to your partner's body and let them help you find the beat again." And then we explain how connection is a two-way line of communication, talking about how follows send info to leads and vice versa. Using very simple things like "Check in with yourself – is your hand a tight claw of fear? What does this say to your partner?" etc etc etc.
5. Women DJs, Women teachers, women MCs, women solo dancing, women leads, women follows, male follows, male leads, male DJs. We have them. We just do this shit ourselves – you have to be the change you want to see. And we just treat it as normal. None of this bullshit "Traditionally, men did X in lindy hop" talk because that's untrue, made up bullshit. We just DO this stuff.
6. Actively supporting new DJs, dancers, organisers, etc. In all sorts of ways. Whether they are men or women – we just step up and be useful, even if that means coming along and being a punter. A culture of creative support and curiosity is good for a community, and it undoes patriarchal cultures which are particularly obstructive for women.
7. Be ambitious and motivated. Aim to be really fucking good at all this. If you're a woman lead, aim to be really GOOD at it. If you're running an event, run the BEST event. And just see undoing patriarchy (which is what fighting sexual harassment is) as part of being really fucking good at what you do. So be good at it.
I have to repeat: you can't do this on your own. Everyone has to play a part in looking after everyone else. Me, other teachers, the students in class, your dance partners, other event organisers, volunteers at events, DJs, band members, sound engineers. If you talk to each of these people individually, involving them in the process somehow, making their role clear (eg the volunteers working on the door), then they will be invested and will do their bit. Or you get to leverage the guilt – because only a cockface would argue that this stuff isn't important :D