The Metronome All Stars.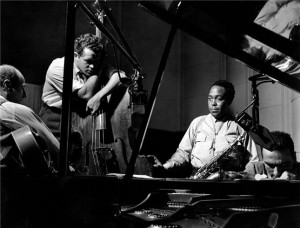 Metronome magazine had an annual comp between about 39 and 60-something, where the readers voted for their favourite musician. The 'winners' recorded a song or two that year.
BOOM. Good songs.
I think Brian Renehan first put me onto these recordings in about 2004, and I've since squeed with joy every time I find one on a Mosaic set or in some sort of collection. Many of them are on this little collection which I found in a cheapy throw-out bin in JB Hi-fi. But a lot aren't. The outtakes are solid gold, because you get to hear a stack of fab musos talking shit in the studio.
I regularly DJ the 1941 recording of One O'Clock Jump (Cootie Williams, Harry James, Ziggy Elman, Tommy Dorsey, J.C. Higginbotham, Benny Goodman, Benny Carter, Toots Mondello, Coleman Hawkins, Tex Beneke, Count Basie, Charlie Christian, Artie Bernstein, Buddy Rich), but my super favourites are the 1946 recordings with June Christy. I love June Christy. 'Nat Meets June' (top shelf, mate), and 'Sweet Lorraine' (my favourite song).
Look at the musicians in this recording: Charlie Shavers, Lawrence Brown, Johnny Hodges, Coleman Hawkins, Harry Carney, Nat 'King' Cole, Bob Ahern, Eddie Safranksi, Buddy Rich, Frank Sinatra, June Christy, Sy Oliver. Whenever people ask me to play Sinatra, wanting some gross crooner rubbish, I give them this. Because it's amazing.
https://www.youtube.com/watch?v=J2ijPiOLYCw
I wrote more about this group in the post Metronome all-stars 1946 from 2012.