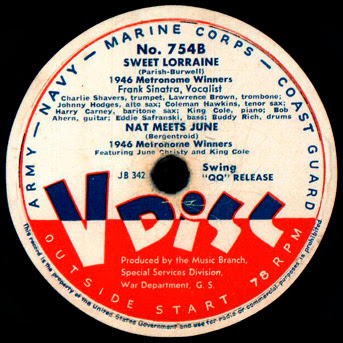 My favourite part of the new Coleman Hawkins Mosaic set is the little collection of 1946 recordings by the Metronome All Star Band. This particular session features Charlie Shavers, Lawrence Brown, Johnny Hodges, Coleman Hawkins, Harry Carney, Nat 'King' Cole, Bob Ahern, Eddie Safranksi, Buddy Rich, Frank Sinatra, June Christy and Sy Oliver (arranging), recording in New York on the 15th December 1946. All proceeds from the artists' royalties were donated to charity. My two favourite songs are 'Sweet Lorraine' and 'Nat Meets June'.
Esquire All Stars (featuring Frank Sinatra) – Sweet Lorraine:
Esquire All Stars (featuring Nat King Cole and June Christy) – Nat Meets June:
These Metronome all-star bands (there were a few, and they're listed on wikipedia), were compromised of big name stars. These musicians were chosen by polling the Metronome magazine's readership, who were asked to compile their 'dream team' bands. So we're listening to a group of big name individual megastars, who've come together to specifically to record just these songs. You can read a bit more about them on allmusic.com.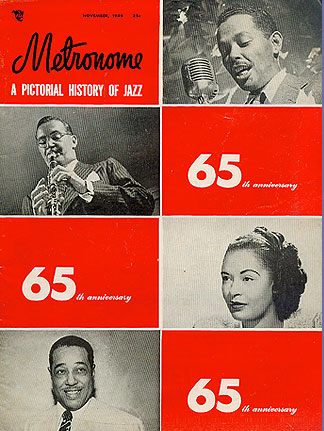 (cover of the 65th anniversary issue of Metronome magazine, November 1948)
Other magazines did this sort of stuff as well, including Esquire. It's something I've written about quite a few times, and you can check out these posts if you're curious.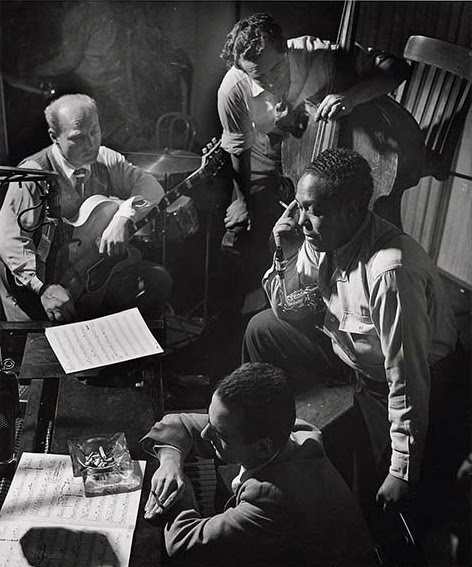 (Herman Leonard's 1949 photo of the Esquire All Stars featuring Charlie Parker and from the Morrison Hotel Gallery)
For more photos of this sort of jam session, you must search for 'Gjon Mili' in the Life Magazine collection hosted by Google.
These little Coleman Hawkins Metronome All Stars recordings are really lovely. I'm quite fond of a bit of velvety vocal and really laid back swing. Nat King Cole and June Christy are both featured on Mosaic sets (here and here respectively), but those sets aren't in press any more. I prefer the Christy one (which also showcases Peggy Lee), but both sets are lovely and chillaxed.


[Portrait of Frank Sinatra and Axel Stordahl, Liederkrantz Hall, New York, N.Y., ca. 1947] (LOC), originally uploaded by The Library of Congress
Frank Sinatra, of course, needs no introduction, but I'm not a huge fan of his later work, particularly the crooner stuff. In fact, I really dislike it …, no I HATE it, and LOATHE dancing to it (for the most part). He did some really danceable stuff with Tommy Dorsey (including a really good version of 'Blue Skies'), and some more palatable stuff later on, but it's a bit harder to find. That's one of the things I love about these 1946 Metronome recordings – he demonstrates just how orsm a vocalist and musician he was, and he shares the spotlight with other mega stars, so the vocals become just one part of the story, rather than the whole show.
I found these particular Metronome All Stars recordings on the Coleman Hawkins Mosaic set, but they're not representative of all the material in that set (unsurprisingly – it's an anthology of work from a twenty five year period). You can probably pick up these two songs pretty easily from other sources.