Before I went off on my trip last month I did a little interview with the blokes from 'From the Top', a radio show produced by ig hop in Vienna.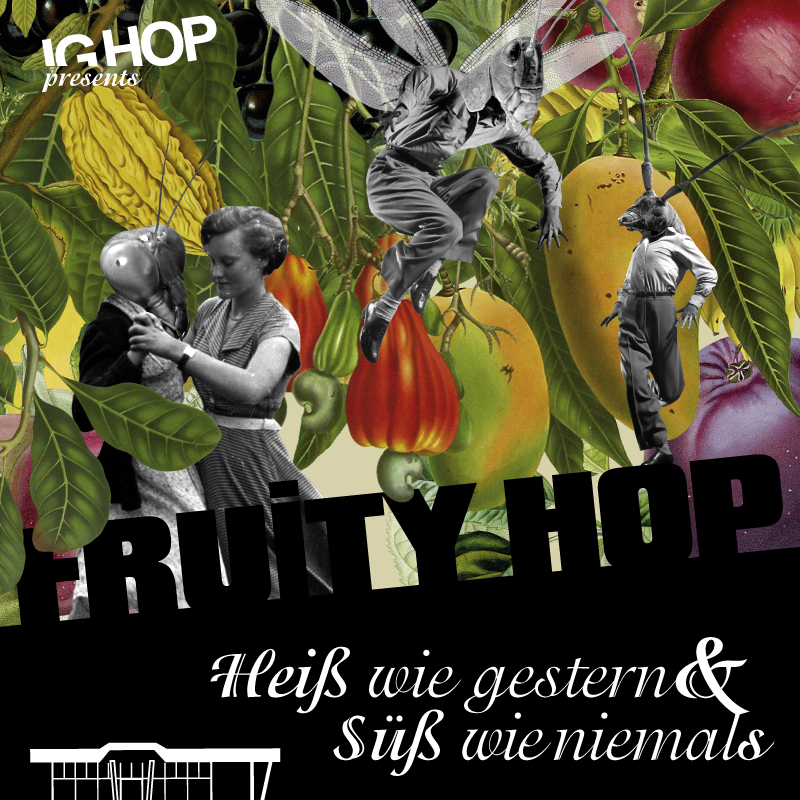 They're doing some really interesting work there, with an exciting Dancers in Residence program, the usual round of parties (with unique and A1 art) and classes, and radio show, From The Top.
The radio show is a good one. We have a bunch of lindy hop related podcasts and vlogcasts, but all of them are American, and show a decidedly American bias. To the point that I can't actually bear to listen to most of them any more. I don't like to hate on people's creative projects, but I'm very tired of listening to discussions pitched as discussing 'the lindy world', but really only discussing a few people's experience of contemporary urban American lindy hop. Booooring. The more I learn about lindy hop in Asia, Europe, and the antipodes (of course :D), the more embarrassing some of those American podcasts become. Bros need to travel.
An exception to this cringe is Ryan Swift's the Track. At first glance, an hour and three quarter long podcast where two people just talk about dancing seems intolerable. Interminable. But Ryan manages to pull it off. Mostly because he chooses interesting people, but also because he's a master of the well directed casual conversation. I am of course completely biased, because Ryan is an Internet Friend, but in this case, the bias is justified.
But From The Top is exciting. It's short, just 20, 15 minutes. Professionally edited and presented, with good topics, well-constructed stories, and a far-reaching, open-eyed approach to truly international lindy hop culture. This is no accident. The presenter and producer Alexei Korolyov is a professional journalist, and it really makes a difference. Previous episodes have discussed Health, Well-being and Social Conventions; Being a Swing Musician Today; Regionalism vs Globalisation in Lindy Hop; and Time Traveling back to the 'swing era' (you can find them all here on soundcloud.) And they're all really interesting and good listens.
The latest ep is about Gender Roles in Dance. I think it's pretty good, but, to be honest, it's not quite as good as previous episodes, mostly because I think it's a complicated issue that could have done with a little preamble to define some terms and perhaps set the tone. I guess it did, in a way, but I don't quite agree with the approach and definitions Alexei takes. But yolo, right? Despite this, I think he takes a very open approach to the issue, and has some interesting guests. This is a good piece, and it does good work.
I really liked hearing from Rebecka DecaVita, a woman dancer I've long admired and really wanted to hear speak about these issues. Jo Jaekyeong from Korea is an old friend of mine, and I really liked hearing her speak clearly about her experiences in Seoul, a city and scene I'm currently very interested in. I don't know Gregor Hof Bauer or Patrick Catuz, and while Patrick's comments were the ones I found most problematic, I was very interested to hear from some men in this discussion. And men who'd actually done some proper thinking about this issue, beyond the sort of glib jokey rubbish I've been hearing on the American podcasts.
It was particularly cool to hear from Gregor, who's an out gay bloke, speaking about following. This was especially cool, because I do feel that a lot of the American and mainstream lindy hop commentary has been very coyly stepping around the issue of queerasfuck dancing, managing not to have any openly gay peeps speaking in podcasts, vlogcasts, or in public talks. I think this is one of the features of a European production: they simply are more politically and socially progressive than the American productions, so we hear a more grown up and interesting discussion. Or at the very least, this program is better journalism for its presentation of a more diverse range of voices.
I was the other interviewee on the program this month, and I wasn't all that happy with how I did in the original interview. I feel like I crapped on too much, and could have been more succinct. But Alexei has edited the bejeebs out of me, so I come out of it sounding a lot more coherent than I actually was. Overall, it was exciting and flattering to be asked to be involved (SUPER flattering), and I enjoyed it. I admire Alexei's work, and it was so nice to be a part of something I admire. Such an honour.
In the rest of this post, I'll engage with just one part of the podcast, which is really just an accidental language slip. It is where Alexei says (as Laura pointed out) "Sam is actively involved with feminism". This is a true statement.
It's also kind of lolsome because I don't feel like feminism is this thing outside myself (the way this statement implies). Feminism is what I am and do. To say "I am a feminist" is a way of saying "Hey, I think we need to talk about gender and power, and I'm not going to shoosh up about it." Saying "I am a feminist" is a political act.
For a woman, speaking up like this, expressing discontent and generally disturbing the status quo by not being a quiet, conciliatory woman, is explicitly political. When a man says 'I am a feminist', the act itself means something quite different. Because we do exist in patriarchy. For a woman, the very act of speaking up, of dissenting, of being a 'difficult woman' is a political act. It's dissension. It's dangerous. It's powerful. So it's not so much that I am 'involved with feminism', it's that I AM A FEMINIST. I don't prevaricate, I don't add caveats or qualifications when I say that. I just am a feminist.
And when I say this, it means that I think that the way we do things is a bit fucked up. I think that there are problems. I think that men have and take advantage of privileges and advantages that women don't have. Yes, you, white straight guy. I'm speaking to you. I'm saying to you, you have advantages that I don't. And if you're not paying attention to that, if you're not asking why that is so, you are just quietly maintaining the status quo. You are complicit in patriarchy. And I'm not ok with that. I'm not going to let you rest easy on that. I'm going to be the pebble in your shoe. I'm not going to sit down and shoosh. And it's not going to be comfortable for you. It shouldn't be. Because patriarchy is not fucking comfortable for me.
Our culture makes things easier for you, men. You have advantages. As I say in that podcast, I doubt anyone says to you, male lead, "Oh, you're being the boy?" or even comments at all on the fact that someone of your gender is choosing to lead in a workshop. But for me, it is so common it's normal. But it's also a constant niggling question of my right to be in a class as a lead. It's a continual itching doubt that I am a 'real' lead. Because apparently real leads are all men. And of course, women are complicit in patriarchy by doing things like policing gender roles by asking women if they are 'being the boy', or asking a teacher to have men give up following so they can lead (and rebalance the gender/lead-follow ratio).
So this is why I am not so much 'actively involved with feminism' or a feminist project. I am a feminist project. I am feminism. I am a feminist. And feminism is about dissension. It's about destabilising. It's about being a good goddamn pain in the arse. I'm quite used to being thought of as a 'bitch' or a 'difficult woman'.
So when I enter professional relationships and interactions in the lindy hop world today, I go in reminding myself that I am awesome. It's very important to enter these interactions with confidence. With rock solid confidence in your decisions, your ideas, your skills. A lot of confidence. You must be as iron-clad in your determination as a man would be. Even though a man doesn't have to deal with all the niggling critiques and policing. Because as a woman, you will be confronted or bullied or tested by men.
I saw it happening in Herrang, in a range of contexts – male teachers testing female teachers, male students testing female students, male DJs testing female DJs, male everyone testing female organisers and administrators. Some things that happened to me at Herrang this year and last, as a woman DJ, that didn't happen to male DJs:
– I had my 'knobs twiddled' without permission by other other DJs while I was DJing.
– Male DJs said "You need to fix the levels" instead of "Are the levels ok? It's a bit squeaky where I was?"
– Male DJs physically took up more space than I did in the DJ booth while I was DJing.
– Male DJs said "Do you just DJ locally?" instead of just assuming as they do with other men that I was actually an experienced DJ who'd DJed overseas and nationally for years (and hence meant to be there).
– A male DJ described going to DJ blues as "Going to get some pussies wet" in front of me, and blanched a little when I replied "I took a few dance classes today and that did the job for me." Apparently pussies are things you do things to, rather than things you have for some male DJs.
– Male DJs assumed I was much younger than I am, and were patronising until they discovered my real age (and dancing and DJing experience).
…and there were many more incidences. These were all from male DJs who are very nice guys, who were generally very good to work with. But these are the sorts of micro-incidences that remind me that I am a woman, and that challenge me.
And the only real way to deal with this, as a woman professional in lindy hop, is to say to yourself:
"I am a professional."
"I know my shit. I am a fucking good DJ/organiser/manager/dancer."
"Here are my accomplishments, here is my history, where I did a bloody good job."
"When I speak, I know what I am talking about, so I will speak with confidence, and in declarative statements, not questions."
"When I make my needs and requirements clear to a man, I know what I'm saying, and I don't need to justify myself."
"When I challenge a man for his behaviour, I am doing the right thing. I am in the right. I am justified in my call. And he should respect that."
"When I am challenged or tested by a man simply because I'm a woman and he's used to being an alpha in interactions with women I should feel good about stepping up and pushing back. I should – I will – push back."
"I will not second-guess myself and my actions as an employer or manager. I will not verbally justify my decisions or authority with someone I've employed. I am the boss, I'm good at it, and I am here to kick heads and take names."
"As a woman boss or employer or manager, I don't have to become a jerkface bloke, or take on hegemonic modes of management or problem solving. I can be collaborative and gentle. I can talk about how I feel, and I can take into account my peers' feelings. I can be emotionally honest without being manipulative. And I can still be an arse-kickingly good boss. This does not make me weak or unprofessional."
I also think it's essential to be supportive of other women. And to remember that men who push or challenge are often feeling a lack of self confidence. The difficult male DJ is feeling doubts about his ability, and not sure you're a decent manager. So you need to convince him, through your confident manner, that you are capable, and that he can trust you to set reasonable limits and be his guide and manager. Yes, it sucks to have to mother these fucktards (god, emotional labour, much?), but just assume that they're little babies and need to be babbied.
When you're working with other women, you need to let them know that you think they're legit. Sisterhood is powerful, but collaboration is mighty. Lindy hop teaches us how to work with other people in close, emotionally intense partnerships. We can definitely take that to our off-dance-floor professional relationships.
So, yes, I am involved with feminism. In the most intimate of ways. I am a feminist.