Who wants an update on the things I'm doing right now in dancing? Yeah, we all do!
Late last year my teaching partners and I decided to relaunch our weekly dance classes as an independent business. We used to teach with a big dance school, Swing Patrol (which is run from Melbourne), but we wanted a more local focus, and to have greater creative control over our projects and direction as an organisation. And business.
So in 2014 we announced Swing Dance Sydney (boring name, right? But it gives good googles), and then on the 14th February 2015, we launched our new business with a party. Right now, three months in, things are going very nicely.
We were, obviously, nervous about the new plan. Despite the fact that we'd been running our classes successfully for three years and had lots of experience with other dance stuff. I was particularly nervous, as I'm the general manager for the business (which is registered in my name). I do have a lot of experience running dance events and projects (you can see them all here), but it's still a challenge, right?
Anyhow, I did a lot of research into tax, registering a business, labour relations and so on (you can read a bit about that in Making a Dance business and The business of lindy hop), and discovered that going legit isn't that difficult.
I've actually found the whole process really empowering – it's made me feel confident and capable. There is this idea in the lindy hop world that not declaring your teaching/DJing/event income, or not getting proper insurance, or not registering a business name is a way of saving money or fighting the man or whatevs. But I've discovered that you don't actually lose money, and you do actually safeguard your business and your own body (insurance!) If you are teaching for someone else, friends, you MUST discover whether they have work cover for you. They are breaking the law if they don't, and you are missing out on important insurance that will cover injuries, etc.
So what does my business do?
1. We teach dance.
We teach weekly classes in lindy hop. We also teach solo dance, but these are on hold for the moment as I hunt down a new venue. We miss the solo real bad!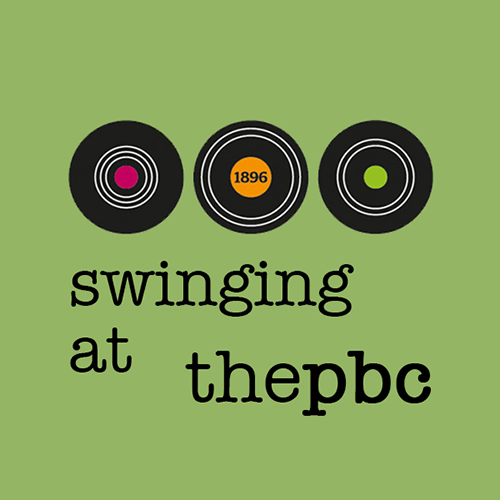 Though I've listed the classes first, this is only one part of what we do. And I'd like to rework the business 'brand' or identity to reflect the broader interests of the people involved.
2. We run irregular parties with live music on a Wednesday night called Swinging at the PBC.
I adore these. We have run 5 already, and have another planned for the 8th April, and I'm looking at one for May for Frankie Manning's birthday. I began just by using visiting bands, but now I'm branching out, and using this as a chance to foster relationships with local musicians.
We teach in a licensed venue (the Petersham Bowling Club), which has a fantastic approach to live music, to servicing and participating in the local community, to environmental responsibility, and to fostering creativity. That's us, that last part. They let us put on bands whenever we like, and they help us promote them. They are also really great people that we love working with. Most importantly, the venue has a bistro, an outdoor area (because bowling), and a good vibe – it feels friendly.
I am currently very keen on running social dancing in proper social spaces. I know it's great to have heaps of room or a great floor in a studio or hall, but in those spaces there is nothing to do but dance. If you're not dancing, you feel like you're missing out. Or you're just plain bored. There's nowhere to escape the music and talk. This vibe encourages the idea that you have to say yes to every dance, that if someone says no to your dance invite you suck, because heck, isn't that why we're all there?
In a proper social space, you make it clear that dancing is only one of the things we do here – we also talk, we eat, we drink, we take a breather outside, we play pool or pinball, we lean on the bar and people watch. Because it's the Peebs, it's also totally ok to sit and read a book! If someone does ask you to dance, you can say "No thanks, I'm just enjoying this nice cool beverage," or "Sorry, I'm waiting on a pizza!" or even, "Hey no thanks, I'm not dancing tonight – just chillin'."
When you get used to hearing people say no thanks to your invites, you get used to the idea that it's not all about you. People have all sorts of good reasons for not dancing. And you have to be ok with that. Especially you, men: you're not the centre of our world. But you women, you can also be ok with the idea that if you're not dancing, you're still ok. You don't have to dance (or be a 'good dancer') to be having a good time at a party.
We already know how to be in a pub or a bar or a restaurant, so we don't have to teach people how to beahve at a social dance in these spaces. When we use a proper social space, we make dancing more accessible to 'non-dancers'; we encourage people in, and we embed our culture more comfortably into the wider community. This whole approach undoes the weirdo shit that encourages 'rock star' dancer behaviour, makes it easier for women to enforce their own personal limits and bodily autonomy, and encourages dancers generally to think of dancing as just one of the things we do, not the most important thing. And, most importantly, it makes our dance scene more accessible for musicians.
Incidentally, I've noticed that having a smaller dance floor makes for better floor craft – our students keep their feet under themselves, are less likely to kick you, and are better at judging the end of the 'string' (ie the amount of stretch or distance between partners). A big or uncrowded space makes you less economical in your use of space, right?
These parties attract between 60 and 90 people, cost $15, and run 6.30-11pm.
The early night is good for a week night, the smaller crowd is good for socialising (in this smaller venue), and I approach these events as regular, and so contributing to the infrastructure of the local dance scene.
You would dress neat casual, you'd come for dinner, you'd expect to talk and hear very good music.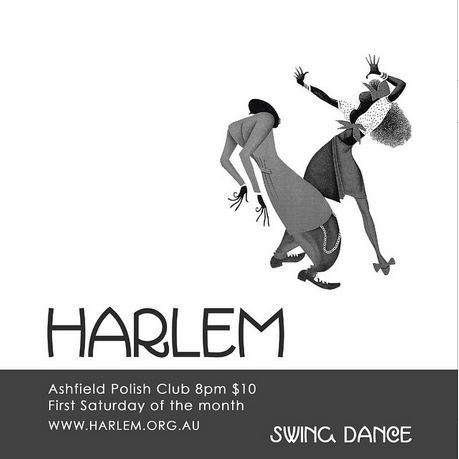 3. We run monthly DJed parties (first Saturday of the month) called Harlem.
This is a collaboration with another organiser/teacher friend, Sharon Hanley who runs Swing Time Australia. We decided to run a regular DJed night because we missed DJing together (we used to DJ at her fortnightly event Swing at the Roxbury), and we missed it!
We decided to have a DJed night (rather than live music) because we wanted to DJ. I was keen to have an event with decent DJed music that focussed on classic swinging jazz. There are two other regular DJed events in Sydney, but the music is patchy at one, and the other is more a neo-swing/rock n roll event. I feel that it's important to play the original music from the 20s, 30s, and 40s because Count Basie is important. Duke Ellington's band is important. Ella Fitzgerald's voice is important. It's also cheaper (and less risky) to be our own DJs.
This event is also run in a licensed venue that has a restaurant. The space isn't tiny, but the dance floor isn't enormous. The space is a 'mixed use' space, with chairs and tables and a dance floor (and a great piano!), and it's near public transport and has parking. And it's not a shitty, grotty divey nightclub.
Again, this is a regular event. People have asked if we'll be running it fortnightly, but, to be honest, we're both busy with other projects as well. And I figure this way we leave a space open in the calendar for someone else to run something – diversity is important! Sharing the workload is too :D
These parties attract between 70 and 100 people (I expect this to get larger), cost $10, and run 8pm-midnight.
This is a slightly larger crowd, but not enormous. A 'ball' in Sydney can attract between 150 and 200 people, so we're actually at the higher end of the scale. A really big cross-scene event can attract 700 people in Sydney, but we aren't targeting the whole neo-swing/rock n roll/lindy hop/vintage cross over crowd.
We are encouraging vintage wear for Harlem, a slightly dressier vibe than the PBC gigs, and you would again come for a drink, perhaps dinner, and a night out, talking, dancing, socialising.
4. We do private classes, wedding privates, and corporate gigs.
For the money, and to offer extra learning opportunities for students. But we don't promote them aggressively.
And that's what Swing Dance Sydney does now. I've been looking at running a larger weekend event (Jazz BANG), but I'm still sorting that out.
I did consider running a big evening dance and workshop day for Frankie's birthday, but I've since moved on from that idea. I figure it's more important to consolidate the Swinging at the PBC nights as proper party nights, and to use our venue in a more concentrated way. It's a good space, it's super cheap to hire, and it's well serviced.
In my previous role as and event organiser and administrator for Swing Patrol, I ran about 5 huge events every year. While they were fun and successful and everything, I began to feel they were big events for the sake of big events, and that the focus (financial, energy, creative, etc) on these resulted in neglect for regular social dancing. In other words, these big events became THE thing, and the focus of the whole organisation was on its hierarchy. It positioned the school as THE organising body, discouraging dancers from thinking of themselves as organisers and trying their own smaller projects. Even more simply put, the only model for 'a dance event' was a huge big thing that required the machinery of a big organisation to work. And this leviathan replaced or overshadowed other, more sustainable smaller projects. Really, though, as a keen social dancer, I want to be able to social dance every week, if not multiple times per week. A big, expensive dance every couple of months doesn't meet that need.
I feel that regular, smaller scale events or parties do more to develop the social dancing skills and culture of a dance scene. Its social and cultural infrastructure. This is what vernacular dance IS. It is everyday, ordinary dancing. Emphasising less frequent big events makes social dancing seem like a 'special' or unusual thing, and makes most dancers' experience of lindy hop be a pedagogic, or formal-class type experience. Boooring. This also tends to result in centralised power and status. Teachers become the most important and powerful people in a scene. Dancing becomes 'rare' and 'special' so it becomes the only focus for a party or 'dance night'. And this power dynamic is conducive to abuse. Sexual harassment, bullying, exploitation of workers and so on thrive in this sort of environment.
Into the future.
I have a few other plans up my sleeve. In fact, I've always got far more plans than I do time or energy.
I'd like to expand my work with bands. This is proving tricky, as it's expensive to pay bands. The social distance between dancers and bands (we just don't move in the same circles here – we don't socialise together!) also makes it difficult to initiate collaborations. Hence my interest in properly social social dancing events and spaces.
I'm doing more DJing this year. I've neglected it lately for my organising/administrative work, and I MISS it. I miss the music. I miss fussing over music. I miss the creative challenges and satisfaction of DJing for a crowd. My skills got rusty and I got mournful for it. So I'm back in the game. Harlem is a key part of that. But so is traveling more overseas (because my health finally allows it!)
I'm seeking out interesting dance events.
I've been dancing for eighteen years now, and I'm not satisfied by dance events which just slap a couple of dances on the end of 4 hours of chalk-and-talk workshops. I want interesting, creative programs of events.
I think dance events should think more like arts festivals, and offer a more interesting program. As per my thinking about regular social dancing spaces, I think dance weekends need to offer programs and spaces that are more social, but also more creatively interesting and challenging. I want musicians involved. I don't want teachers to just throw a stack of moves at me in class. I want mixed-level classes that push me to learn new ways of learning. I want to social dance during the day. I want to go to interesting cities. I want events that offer me new ways of interacting with teachers and students and DJs and bands.
This new thinking about dance events is pushing me inexorably towards alternative funding sources. So I'm looking into grants and public funding sources for dance events. I'm not keen on kickstarter or pozible for funding – I want to see what sorts of state, local, and federal funding sources are available.
Feminist work?
I used to worry about being a woman lead and a woman lead teacher. Now I just couldn't give a fuck. It's so normal to me now, I just get on and do what I do. I'm also a woman DJ. And a woman event organiser. And a woman website designer. And a woman thinker and writer and reader. I figure it's much more powerful to treat all this as normal. It's much more frustrating and confounding for idiot sexists if I just do not accept (or even acknowledge!) the premise of their attacks.
I think of it this way: if you are up and dancing, you are automatically winning. Doesn't matter how much your dancing sucks. And if your critic is sitting on their clack or crying and shitty about what you're doing, you are winning twice. You are pwning them. Ha ha, suckers.
I am also thinking that a revised approach to ordinary social dance spaces is part of a feminist project. Because it undoes that teacher-centred, lead-centred, can't-say-no power dynamic which is fucked up and bad news. Not only do we need to skill up women and remind men to be grown up humans, we also need to construct socially sustainable social spaces that make it easier to be the best we can be.
For me, personally, it's very satisfying and stimulating to work with other women in an international community that is so male-dominated in so many ways. I really enjoy my professional relationships with women and men in the Sydney dance scene (and overseas and interstate) too. I think that for me, it's important to be feminist by doing feminist things. I'm a woman too, and I think that it's important to skill me up too. And to find ways of working that are creatively and personally satisfying. Fighting the good fight is really tiring. So I try not to have to do it in my everyday work. This means that I just say no to working with dicks. It also means that I have to fight an instinct many women have – that we should feel guilty about feeling good and confident.
I'm also very conscious of the fact that I am lucky enough to be able to think this way. I am a white, middle class woman living in an affluent city in a wealthy country. I have access to opportunities that many people do not. And I try to remember this, and to do my best not to let my own pleasure and satisfaction come at the expense of others'.
So, that's what I'm doing these days. I hope you're doing dance work and dance fun that you find exciting and stimulating and deeply pleasurable too!