I'm a little slow on this one, but writing about Ultrafox, and the most triumphant Sydney Lindy Exchange this past weekend have prompted me to write about Hetty Kate and her band(s).
Hetty Kate is great.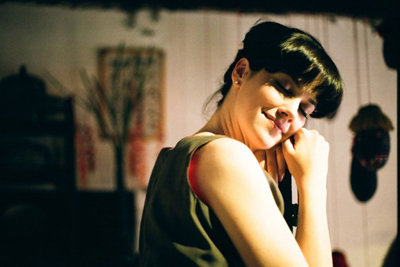 I wrote about her a little while ago on SwingDJs, saying
This past weekend Melbourne singer Hetty Kate did two really nice sets at Canberrang in Canberra. She did a truly lovely blues set at a late night and a general lindy hop gig at an afternoon gig at a winery (top shelf gig, that). I only got to hear two songs from the blues set as I was DJing at the same time ( :( ), but it was really magical. She had a light, delicate touch, rather than a gritty, down-low style, and had the dancers mesmerised. I was very, very sorry to have missed out.
I really liked Hetty Kate's stage presence, and her singing style is clear and light and swinging – a real palate cleanser after all those blues shouters.
Hetty Kate played again for dancers this past weekend at SLX, and went down a treat again. I really enjoy the way she combines a light, elegant look and sound with a crunchier, sassier stage presence. I think my only regret about these gigs is that I don't get to hear her playing with her own band(s). And I'm only fussing about that because I've listened to her recordings and I'm a fan.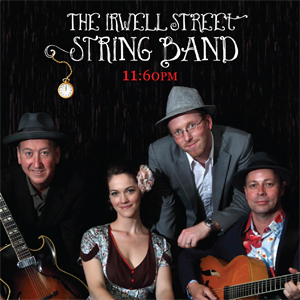 The Irwell Street String Band features some of my favourite Melbourne musicians – Sam Lemann (ukulele, guitar, mandolin), Andy Baylor (elec. mandolin, guitar) and Leigh Barker (double bass) – and I'd really like to hear the band working together as a tight unit.
…yes, that is a Baylor in there again. I'm a fan. And that's Leigh Barker, and I'm a massive fan of his band the New Sheiks. I can't remember when I last saw Sam Lemann, but well. Look:
(In A Little Spanish Town – Hetty Kate & Sam Lemann ukulele duo)
That Irwell Street String Band CD 11:60pm is really nice. There's plenty on there that totally works for dancing, though I'd be thinking 'sophisticated, smoothed out swing' rather than 'chunky, head-kicker, balls-to-the-wall lindy hop'. Which is why I want to hear that band playing together live. And if I'm going to be particular (which of course I am), I want to hear them in a more intimate venue, so I can catch every little string pluck and strum. My favourite songs on the album so far:
"I Go For That" – I've got this one in a shortlist called 'wedding songs', as it'd be a lovely song for a bridal couple dancing at a wedding. Particularly if they're a couple with a sense of humour;
"Sing You Sinners" is a more delicate version of a dancing favourite, but it makes me want to move. Not sure I could manage delicate dancing, but the precision of this performance prompts me in a different way to Henderson's. And I'm a DJ, so I like interesting reworkings of familiar songs.
"You Came A Long Way From St Louis" is probably my total favourite, but I'm not sure I'd play it for lindy hoppers. Maybe at a (very) late night in the back room when things had chillaxed a little I'd test some blues dancers or a flexible crowd. But it's a really good example of Hetty Kate's mix of sweet and salty.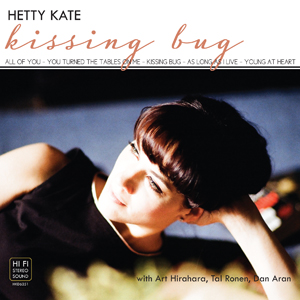 Hetty Kate's album Kissing Bug is a slightly different animal. It's definitely 'groovier' (in the lindy hop sense, not the velour pants sense), and listening now, I think it might be my favourite. Not so much for DJing or dancing, but for listening. I've got a bit of a resurging interest in 'groove' at the moment, partly because we have so much chunky hot jazz in our dancing world these days, but also because I think there was something very nice happening in the studio when this was recorded. Or at least that's what I imagine :D
I probably wouldn't play all of the songs on this for dancers, but I do like listening to it. If I was to DJ it, I'd go with "Kissing Bug", because it's cute. "Young at Heart" would make a really nice 'kissing song' (you know, the sort of dance where you hold someone close and kind of cuddle your way across the floor). "You Turned The Tables On Me" (one of my favourite songs) could work with more experienced dancers, though it has some moments which might puzzle newer dancing folk.
This album was recorded in New York, which'll ping the antennae of some of the jazznerd dancers in our scenes. Some of the very, very best modern day jazz musicians are living and working in New York, and of course we know The Ear is an important spot for visiting jazznerds' itinerary. I think the musicians are Iranian (?), though I'm not sure. Hetty Kate told me the story on the Sunday at Canberrang and I was kind of adrenaline charged/trashed at the end of a crazy weekend. But I do remember her saying that recording this was quite special.
So, friends, if you get a chance to hear Hetty Kate live, do. I know she's been doing some work with blues dancers in Melbourne, and I think they'd be very special gigs. And if you can't get to a gig, have a listen to her CDs. You can get them in person, on CD via Hetty Kate's online store, or buy and download 'Kissing Bug' at CDBaby. And if you're into 50s type, slightly different stuff, you might also like Uh-oh, her album with the 2020's.