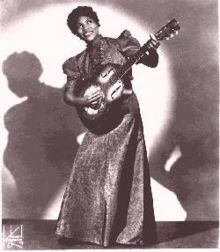 Oh, argh. My life is making it difficult for me to find time to do proper service to these posts. And I'm a little tired of just defaulting to women singers. I'd really like to post some women record company administrators, or composers or other people in the music industry. But I guess that's the point of this whole project: women in music have always found it hard to get into roles other than 'songbird' or, at the most, 'songbird with piano'. A recent Riverwalk Jazz story 'Not Just Another Pretty Face: 'Girl Singers' of the Swing Era' almost does some solid gender talk in its discussion of women singers in the jazz age.
Incidentally, I'm sorely disappointed by Riverwalk's only managing to do TWO shows about women in women's history month. And after those, it's back to the dick stuff. PLEASE, if I can manage to come up with around sixteen women musicians, surely one of the most famous, most prestigious jazz media can come up with more than two measly stories?
In researching jazz history I've come across some really interesting discussions of how particular instruments have been gendered. Krin Gabbard published an article in 1995 called "Signifyin(g) the Phallus: Mo' Better Blues and Representations of the Jazz Trumpet," (Representing Jazz, ed. Krin Gabbard. Duke U Press: Durham and London, p 104-130) which discusses the way trumpets functioned, discursively, as phallic imagery. Well, duh. This is partly why Clora Bryant is such an interesting example: woman with trumpet! OMG WIMMINZ HAS THE FALLUS!!! JAZZ IS RUINED!11
Linda Dahl goes into the gendering of musical instruments in Stormy Weather: the Music and Lives of a Century of Jazz Women (Limelight: NY, 1992). I don't have the book right here in front of me (must buy!), but my notes remind me that she discussed the way music was ubiquitous in domestic life in the late 19th and early 20th centuries, and that this music was 'home made'. Playing the piano and singing were considered essential parts of a young woman's development, and were also often positioned in faith contexts – women played the piano or organ in church. Dahl also discusses the way the music industry was very difficult for women to get into, particularly for white women instrumentalists, how the musicians' union was obstructionist in women's careers, and the way territory bands were more accessible than mainstream bands. None of these things should surprise us. Indy rock has seen more women musicians than the mainstream (though they seem to be relegated to drums and bass rather than having access to the ultra-phallic lead guitar), and I'm still chasing down ideas about unionism and social power.
So Sister Rosetta Tharpe is an interesting figure. She played the guitar. She mixed church music and blues (shock!), she was a composer, a singer, a solo artist, a musician in a big band (Lucky Millinder's, most notably), she pwnd all.
I've talked about Rosetta Tharpe before. Once as a Thursday cat blogging post, another as a discussion of how the way her guitar tuning was marked by race, class, geography and (implicitly) gender, in Retuning for white audiences – more sister rosetta tharpe.
It's cool to compare this pretty explicitly sexualised image of the female form (Lonesome Road, with Tharpe singing with the Lucky Millinder band in 1941):
with this video of Sister Rosetta Tharpe singing 'Up Above My Head' with a gospel choir, 1960s). Dang – sister is workin' that power. Safely contained by religion? I don't think.

(via flopearedmule)