I've had a bit of a rough day, so I'm going to post someone easy. Ella Fitzgerald. Because even when she was trying to sing the blues, she couldn't help but leak joy. She was just made of it.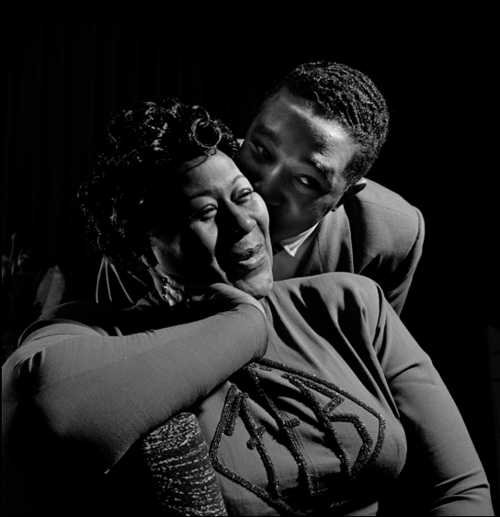 You can read about her here. My story about Ella is: I'd picked up Ella Fitzgerald sings the Gerome Kern Songbook by accident, and I was totally in love. I did a lot of singing at school and stuff, so I was nuts for someone who could actually sing. This led to my asking for 'an Ella Fitzgerald CD' for christmas, still quite a few years before I started dancing, and my dad bought me three. One was all the early stuff, which I thought sounded like rubbish. One was a mixture of bits and pieces, which I liked. It had a pink cover. I can't remember the other one.
When I started dancing, the one song we used to dance to in class (which I can remember) was a 1945 version of 'Paper Moon'. I still play it for new dancers today – it's just a lovely, simple song with a really clear beat.

Ella was my gateway to Basie. It was because of her that I bought One o'Clock Jump, a verve rerelease of an Ella/Basie/Williams CD. I didn't much like it because Joe Williams irritates me. He still does. But it gave me an idea I'd like Basie. And I do.
That reminds me of another of those nice little Verve rereleases, Ella and Basie!, which was my prize for winning in a jack and jill competition (leading) years and years ago.
My favourites of the later Ella stuff – which is where I think she really shines – are the 'Ella and Louis', and 'Ella and Louis Again' Verve rereleases. Those Verve CDs were the perfect gateway drug for a babby swing nerd.
These days I can't really hack a lot of her early stuff, because they're just such rubbishy cheesy songs. My favourite is an album Doris put me onto, years and years ago, of stuff recorded with the Chick Webb band, live at the Savoy.
So, for nostalgia's sake, Ella Fitzgerald singing Paper Moon with the Delta Rhythm Boys (who're responsible for the best version of 'Solid as a Rock' with Basie in 1950):
[photo by Herman Leonard in 1949, and that's Ray Brown kissing Ella]