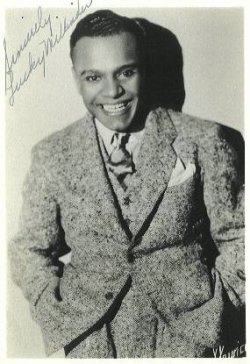 This is a song called 'Savoy' by Lucky Millinder and his Orchestra, recorded in 1942. Millinder was with the Mills Blue Rhythm Band before he led this band.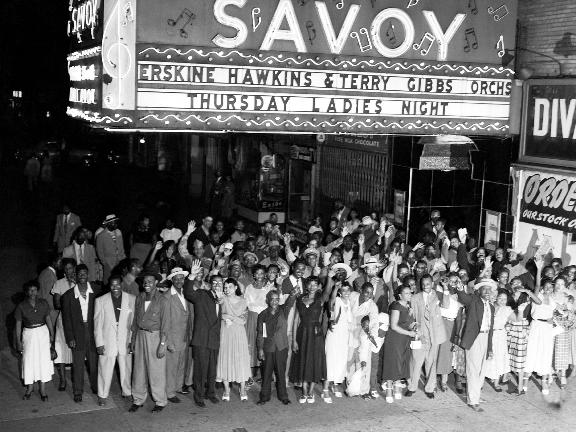 The Savoy ballroom is the most famous ballroom in contemporary swing dance culture. Opened in 1926, the ballroom was leveled late in 1956. A plaque now commemorates the ballroom on the spot. Many dancers visiting New York pose for a photo on the grounds of the old Savoy. The Savoy had 10 000 square feet of dance floor and was the length of a city block. It was not segregated.
Two bands would play in the Ballroom, one at each end, swapping sets. Chick Webb's band played there for years, and it was with Webb's band that Ella Fitzgerald developed her reputation. Webb died in 1939 and Fitzgerald took over as band leader. Fitzgerald's earlier work (in the late 30s) is often dismissed as too heavy on the novelty songs, but it was in the period immediately after Webb's death that the band (with Fitzgerald) produced a series of fabulous radio broadcasts from the Savoy.

Live at the Savoy 1939-40 is promoted as an Ella Fitzgerald album, but she sings very little. We can hear her cheering and calling solos, but this is not an album showcasing her voice. It's all live, and it's all from the Savoy. It's also really, truly fabulous.
It's an interesting example of the sorts of tempos played at the Savoy during this period. There's nothing under 180bpm, and most are over 200. It's also great, high energy, and it makes you want to dance. When I play this for dancers, I find people can't help but dance, even if they think it's too fast for them. It's just great music.
The Savoy often hosted dance competitions between rival dance troupes. Frankie Manning (who's having birthday next month) is popularly credited with inventing the first air step in one of these competitions. A step he developed with his partner Freida Washington (you can see a clip of Frankie and Willa Mae Ricker dancing this over-the-back step here). While lindy hop isn't all about aerials, it's best known for these sorts of acrobatics.
Here's a clip of the Silver Shadows (one of the best lindy hopping teams in the world today) dancing as part of the Savoy Ballroom 80th Anniversary celebrations. This is hard core lindy hop at the sort of tempos on the Ella Fitzgerald album.

(If you're interested, I wrote a bit about this routine in an earlier post).