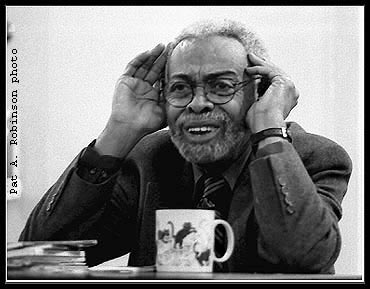 (Photo of Amiri Baraka by Pat A. Robinson, stoled from here).
Long time no post. I've been busy with a few different projects lately, most of them impeded by vast quantities of randomly-generated anxiety. I'm bossing some DJs for MLX11, I'm bossing some DJs locally, I'm sorting some solo dance practices, I'm looking at venues, I went to Church City Blues, I'm doing lots and lots of exercises to help my knees, I'm trying to improve my own DJing, and I'm working on at least two websites. They're actually all the fun things. Also, we've started cooking meat at our house. The less said about that the better.
Perhaps the most challenging part of all this is trying to get my brain in gear for writing coherent sentences. More than one at a time. Ones that link up and make paragraphs. Anything more than that is really a little too ambitious right now. Writing. Why are you so demanding? The hardest thing in the world is writing properly when your brain won't stop buzzing and fretting. Dance workshops? Actually quite good when you can't make your brain shush. Forty minutes of slow, careful strengthening and stretching exercises every day? Quite calming, actually. But anything creative or requiring sustained creative thought – choreography, writing, editing… that shit is impossible. So here is something messy. Because it's like learning to dance fast. If you never actually do it, you'll never be any good at it.
Right now I'm thinking about writing about music. Again. I think it's because I like to write about music. I'm also a woman. Wait – that last part is important (have vag will type). And because the things people write and say about music shape the way dancers and DJs think about music. And that affects the way they dance to music, which bands and DJs they hire to play their events, whether and how much they pay musicians and DJs, and what sort of music they put into the event programs. I know this is kind of old school literary studies/cultural studies/media studies stuff. And I even wrote about it in my PhD.
But now, I want to write and think about it again. Because I am organising DJs for MLX, and because I've noticed a clear trickle down (or bleed out?) affect from the developing online dancer discourse to the face-to-face. Yes. My PhD has come to life. Basically, Faceplant, blogs, podcast, youtube and all those other goodies are having a clear effect on face-to-face dance practice. Dancers are writing more about music (and dance), Faceplant has increased the penetration of this writing, and dancers are now reading more about music and dance. And this is having clear effects on how dance events are run. And on the interpersonal and institutional relationships and power dynamics of the international lindy hop scene. Yes, I will make that call. I can't help it. I'm trained to see words as articulating power and ideology. And discourse as at once articulating ideology and creating it. I CAN'T HELP IT. I HAVE LEARNT TO USE MY BRAIN. ALL THIS THINKING WILL NO DOUBT RESULT IN THE COLLAPSE OF CIVILISATION AND RISE OF OUR FELINE OVERLORDS (WORSHIP THEM).
So what I'm saying, here, is that I'm getting that niggly tingly itchy feeling in the back of my brain that tells me there's something going on that I need to pay attention to. Some dots are being joined. Unfortunately not by my conscious, rational brain, so you're going to have to muddle through some fairly irritatingly vague, malformed or downright wrongtown blog posts til I get it together. If this was a magazine or an academic journal you'd be reading coherent sentences. But it's not. So you're getting dodgy stuff, but sooner. The fact that I'm still managing all those buzzing-brain anxiety issues means that it's going to take me longer than usual to make this all into proper paragraphs. But then, I figure it's a goddamn improvement on the past few months that I'm actually able to set fingertips to keyboard and make with the sentencing.
Words: why are you so demanding?!
I've been trying to get an idea of how jazz journalism works, both in historical and contemporary contexts. I've read a bit about the history of jazz journalism/criticism, a lot of which is really concerning. Lots of white, middle class guys writing about jazz, to paraphrase Amiri Baraka. Very few not-men, very few not-white anyones. To quote Baraka:
Most jazz critics began as hobbyists or boyishly brash members of the American petite bourgeoisie, whose only claim to any understanding about the music was that they knew it was different; or else they had once been brave enough to make a trip into a Negro slum to hear their favorite instrumentalists defame Western musical tradition. Most jazz critics were (and are) not only white middle-class Americans, but middle-brows as well. (Baraka, Amiri, "Jazz and the white critic", The Jazz Cadence of American Culture, ed. O'Meally, Robert G. ed. New York: Columbia University Press, 1998: 137-142. pp 140)
Yeah! Baraka brings the smackdown! Old school 60s politics style!
What I have read has, for the most part, been really annoying. It's kind of frustrating to see jazz studies – jazz criticism – failing to really get a grasp on gender and race politics. It's like the 60s didn't happen for so many of these guys. And it's maddening to read the arguments that jazz histories emphasising black contributions are 'racist'. Reminds me of those fuckwit people who try to argue that affirmative action policies are 'reverse sexism'. …wait, I'm going to derail here for a bit of a rant:
IF we were all starting from the same place on the running track, it might be reverse sexism. But, dumbarse, we are working within PATRIARCHY, so affirmative action policy isn't 'reverse-sexism', it's simply an attempt to get us all at least onto the running track together. Of course, you've got to be a real ninja to actually pull off that sort of affirmative action effectively. So it's ok, dickhead. Your power and privilege really aren't in a whole lot of danger. We still have quite a bit of work to do. And anyway, most of our most important successes have been sneaky, and you haven't noticed them. But, FYI, just like that beefcake guy in that rubbish film Crazy Stupid Love says, convincing women they're learning to pole dance 'for fitness', that's not a feminist victory. Convincing women stripping for money is empowering: that is not feminism. That's old school sexism. So you've pretty much scored a point there.
…but back to my story.
Some of these jazz writer guys are entirely lacking in a sense of cultural and social context. And they really, really need to do a few introductory gender/race studies classes. Hellz, some introductory literary studies subjects.
But it's worth having a look about at what has been written about race and class and gender and ethnicity in reference to and within jazz criticism. Queer studies? Yeah, don't hold your breath, buddy.
So there is some critical (in the sense that these authors are engaging with the ideology and assumptions at work, rather than 'being negative') attention to jazz histories and jazz criticism/journalism. I've written a little bit about it before (in the post the trouble with linear jazz narratives + more and New Orleans jazz?), but I'm certainly not well read on this topic.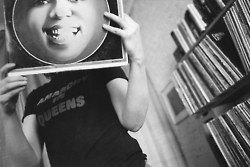 (Photo of Ellen Willis (with Bessie Smith), feminist and music journalist stoled from Ellen Willis tumblr)
That was made quite clear when I bitched (yet again) about the lack of women jazz journalists on twitter. @hawleyrose suggested I talk to @elementsofjazz (herself a woman jazz writer), who then hooked me up with Nate Chinen's article On women in jazz (criticism) and Angelika Beener's article Nice Work If We Can Get It: Women Writing on Jazz. Then I followed a million links from each of those articles to many more articles. The bottom line, here is that I mouthed off without researching the topic properly. I fell into that old 'invisible women' trap. Because I didn't see women writing for big name jazz publications, I figured they didn't exist. Just like that arsehat who recently bleated that there weren't any women bloggers or tweeters writing about politics. With that bloke, the problem was a) that he defined 'politics' using the usual, very limited party-politics-institutions-and-polls definition and b) that he didn't bother with bloggers and tweeters outside his usual sphere.
So my problem was a) I wasn't looking in the right places (I was only looking in the conservative 'official' jazz journalism public sphere), and b) I hadn't bothered to do much work to find those women journalists. Now I know better. And I'm delighted to be wrong. There are lots of women jazz journalists. Particularly when you broaden your definitions and include independent media, especially online media.
I think it's worth talking about the history of jazz criticism here. And how small independent print publications were so important to the development of jazz criticism and writing from the turn of the century. But it's also worth giving an eye (or ear) to the larger print publications like Esquire and Downbeat. I've written about this before, quite a few times, so I won't go into it here (search for 'magazines' and you'll find some old posts, or follow the links from More Esquire Talk).
What I do want to say, here, is that I've been thinking perhaps I should be asking "Are there any women writing about early jazz?" I'm wondering if the usual industrial and labour divisions of the early 20th century made it harder not only for women to get published, but for women to get read in the early days. And if there's a resistance to writing about early jazz in the modern jazz publications and sites. Surely I'm once again voluntarily making women writers invisible. Surely. Time for more research, yes? YES!