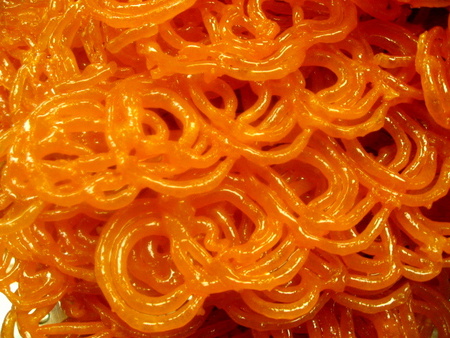 (Jalebi, my superfavourite sweety)
Today I forgot to have breakfast. Then I had take away Indian for lunch. YUM. Ashfield is brilliant for quick lunches: 2 or 3 Nepalese joints (there's quite a strong Nepalese community here), Chinese of course (mostly Shanghainese, and lots of dumplings and noodles), Vietnamese, Thai, Indian, Malaysian and now a couple of new Japanese joints. An Oporto's has just opened, which would worry me, if it wasn't for the fact that two Japanese, one Nepalese and one Indian/Nepalese joints opened in the same month in the same block (for real). There're also a few rubbishy places in the food court of the Smashmall (Ashfield Mall), but I wouldn't eat there.
Though you can get badass bubble tea at a couple of joints, there is a distinct lack of coffee and European baked bread action in Ashfield. There is a 'European' bakery, run by a Lebanese/Indian couple, but the coffee is rubbish and the cakes are meh. They don't sell bread. There are a couple of Vietnamese bakeries, but I don't like that sweet white bread. There's a Bread Top, but that's very sweet and not really European style bread. There's a Baker's Delight in Smashmall, but it's totally shit. There is one 'cafe' further down Liverpool Road, but it's actually a Chinese cafe, and not really good for coffee. There is one cafe in the Smashmall, but it's not good for coffee.
The newest cafe is an internet cafe, opened just next to the Station on our side of the tracks. It's run by an Indian family, has a coffee machine, and while one side of the cake cabinet is full of 'European' cakes, the other half is full of amazing Indian sweets. You can score cheap pirated Hindi language films there too.
So Ashfield is not a good place for 'European' food. This is a big change from Brunswick. It's also been a very good change for my belly, as I eat far fewer sweeties, as I just can't hack the hardcore sugar in Indian and Chinese sweets. We do travel over to Haberfield for bread and cake and coffee on the weekend, but we are Smashfield people. But Ashfield is a brilliant place for cheap, interesting lunches. Just not so great if you're looking for a sandwich. One of the things I have noticed in Ashfield, is that sitting down to a meal of shared dishes at lunch is a very common thing for this Chinese community. Everyone does it – from high school kids to mums with sprogs or oldies in a gang. It's nice.
Tonight, at our little flat in Ashfield, we revisited last Thursday's roasted veggies dinner. This time we did the dressing without oil, just with lemon. It was a bit sharp. We also added some fennel to the roasted veggies, but it wasn't really a good place for fennel. I think I'd stick with what we did last time, perhaps. Dave's poached eggs were as brilliant as last time. He has a talent. He should take it on the road.