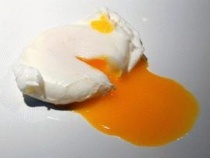 (NB I just found this egg picture online. Ours were actually better)
Firstly, let me just point out that yesterday we had fish cakes with salty eggs and a veggie/tofu stir fry take away from the brilliant Thai joint in Summer Hill. Not entirely meat free, but better.
Today I had eggs for breakfast then got STRANDED in Alexandria and missed lunch, so I ate hot chips in Ashfield on the walk home. I haven't hot chips in three hundred years, and they were PERFECT.
Tonight we had something a friend made us for dinner last week: roasted vegetables. Boring. No. DELICIOUS.
Basically:
Chop up a bunch of vegetables. Not small pieces, about an inch and a half. Watch out, though, because the potato will take ages longer than everything else, so should be cut a bit smaller.
I used:
– some blue pumpkin*
– a potato
– a spring onion (the type with the little onion at the end bulbing out like a smallish normal white onion, and the long green bits still on it)
– a zuchini (those kids are over, now, but I LOVE them)
– a chunk of eggplant (looking quite handsomely aubergine in its nice, firm skin)
– a bit of red capsicum
– some mushrooms
– a head of garlic broken into its constituent cloves
– and a punnet of cherry tomatoes, chopped. Yes, I know, tomatoes are over. But cherries are kind of ok.
Just splash on some olive oil and some salt and roast those suckers until they're cooked. 40minutes if you've a rubbishy oven like ours. You want it all cooked, perhaps a bit browned on the outside, but don't over cook them.
Make a dressing: olive oil (not too much!), lemon juice (mostly lemon juice), chopped up parsley (grow your own if you can – YUM), a bit of salt and pepper.
THEN you mix the roasted veggies in a bowl with some salad greens. Baby spinach, rocket, whatever you've got. If that's too exy or rubbish, use some finely sliced fresh spinach if it's not too tough. Put the salad dressing on and mix it. Put some in each person's bowl.
Right, now the hard bit. Poach an egg for each person. As soon as they're done, plop it on the vegetables in people's bowls. The veggies should be hot or warm, the greens beginning to wilt.
The important bit: the dressing should be quite lemony and parsleyish. If you make it too oily, it'll be too rich on your vegetables. I'd perhaps even omit olive oil if you're generous with it when roasting. You really want the zinginess of the lemon and the freshness of the parsley to complement your beautifully runny, rich egg.
IT IS YUM.
Dave discovered, on his very first try, that he is a brilliant egg poacher. His poached eggs were round, firm yet soft, runny in the middle with slightly thicker edges on the yellow, white all cooked. They were perfectly formed, and also deliciously perfectly cooked.
When we had this at our friend's place we actually had it with grilled haloumi. I love haloumi a LOT, but it's quite rich, and we had it earlier this week. It's also probably not a good idea to eat a whole block of grilled cheese too regularly. The friend had poached an egg for a lactose intolerant guest, so it was in my brain. At any rate, I actually think the eggs were a slightly better idea, because of the way the yolk and lemon and parsley got together and made sweet, sweet yum.
*not actually blue – the one with the blue skin. I prefer it to butternut or even Jap.