Another reminder that green/feminist movements are as marked by gender and class as right wing politics…
I'm seeing correlations between slutwalk discourse and this little trail of articles dealing with race/food politics/gardening/environmentalism/cycling. While I'm fascinated by discussions of food and health and environmentalism as a socialist project, for a while now I've had a little voice in the back of my brain saying "Dood, where's race in all this? Can we talk about ethnicity a little bit more? And not in a 'Mysteries of the Orient' Food Safari way?" I stumbled over The Doree Chronicles' post 'The Unbearable Whiteness of Eating: How the Food Culture War Affects Black America' on Tumblr, then traced its references back. This post read as a sort of snippet of idea, in the context of a general Tumblr blog dealing with all sorts of things the author found interesting. Tumblr shits me a bit as this sort of backtracking is unnecessarily complex, but I guess that's a consequence of personal sites which encourage a 'collector' approach rather than a 'writerly' approach.
From that little post linking food politics, race, ethnicity and the bike movement, I found Erika Nicole Kendall's post 'The Unbearable Whiteness of Eating: How The Food Culture War Affects Black America' on the Black Girls Guide To Weight Loss site. This post framed the discussion within a broader discussion of race and gender and weight loss as a health issue.
This post led me to Janani Balasubramanian's piece 'Sustainable Food and Privilege: Why is Green Always White (and Male and Upper-Class)' which linked the bike movement talk to race and gender and environmentalism and food politics. I like this piece for the way it links gender to food production, and I like the question:
Can Pollan not drive home the point that Americans need to cook more often without guilting American feminists?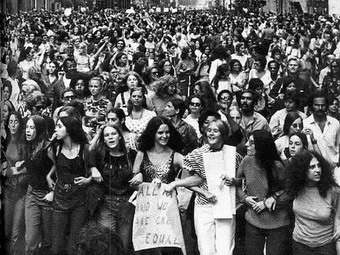 I'm really not up to speed with food politics' talk, but I feel as though all this talk is echoing some of my reservations about slutwalk, and some of my thoughts about food politics. It also reminds me of some things I've read about the civil rights movement in America in the 60s, where the peace movement in particular was also quite sexist. In that context, the 'free love' discourse was a double-edge sword. While the pill gave women contraceptive control of their sexuality and bodies, there was also an attendant shift in the way many men began thinking about these women as 'sexually available'. I wonder if we should perhaps be a little sceptical of a new women's movement (or new stream in a broader feminism) that lauds heterosexual freedom in such uncomplicated ways. Because of course the pill didn't function the same way, ideologically, for lesbian women that it did for straight women.
I feel as though we're also revisiting issues raised (and continually raised) by women of colour from that period and recently. For those women race was a far more pressing concern, organising their activism in a way that gender did not. And these women were very critical of 'mainstream' feminists for not interrogating their own privilege. Or, more simply, for not noticing that everyone signing books in the wimminz bookshops was white.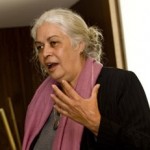 I'm of course thinking about bell hooks and Ain't I a Woman?: Black Women and Feminism, but I've also heard Australian Aboriginal women like Marcia Langton make similar arguments. I haven't found it, but I'd be certain there'd be some cool stuff written about 'bush tucker', the Northern Territory intervention (where government pensions are 'retained' specifically for buying food), gender and equity. I'm also certain that there'd be some really interesting stuff by migrant women writers in Australia (and elsewhere) about food, gender, class and social (as well as bodily) 'health'. Someone has to have taken the bike movement to task as well? I mean, if I'm banging on about it on Faceplant when people say stupid things like "There is no excuse not to ride distances under 10km", then surely someone else has made the same points more cleverly?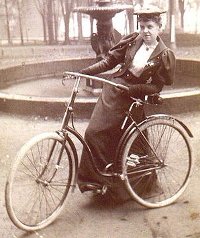 I've just had a quick look but I CAN'T find that interesting study a Victorian university group did recently where they found that if women felt safe cycling in a city, then the numbers of cyclists in that city over all were higher. I was telling this story to some hardcore environmentalist/sustainable energy types at a party the other week, and they were all "Oh shit, I'd never thought of that!" And I was thinking 'That's because you're over-achieving, able bodied, young, male engineers living in well-serviced cities who dismiss feminism as 'something for women'.' But I didn't say that out loud. Instead I laboured through a gentle (and brief) point that environmental movements have to be socially sustainable as well as environmentally sustainable. I wanted to talk about how birth control for women in developing countries is directly related to environmentally sustainable development in those same countries, but I didn't.
I think there are also some really important points to be made about 'food security' for children in poor communities and families in big cities, and how food security is directly related to educational and social achievements, and how getting enough to eat (let alone eating 'well') is directly related to justice and equity in relation to gender and race and all those other lovely identity markers. I don't know much about this at all, but I heard an interesting Health Report podcast about this and started thinking about the relationships between organic gardening, social justice, ethnicity and economic power. And goddamn bicycles.
To sum up this messy, ill-informed, poorly researched and unsubstantiated introduction to my mess of thoughts, I direct your attention to Tammi Jonas, who's trekking through the American wilds with the Jonai clan in glorious 70s campervanning style, writing and thinking about food and family as she goes. Her progress is written up at Crikey, but I quite like the posts on her blog. Tammi is all over these issues.
I'd also suggest some time with Cristy Clark who's exploring ecotarianism in real-family settings (ie, her own), and of course do drop in at Progressive Dinner Party to see related issues taken up. If you're especially interested in kids and food, then PDP's Head Cook Zoe is a good source, not to mention the Stephanie Alexander Kitchen Garden Foundation, which is all about kids, food and well-being.