Well, things are kind of boring over here in boring town. If only boring people are bored, I guess I must be pretty damn dull. I like it that the weather's cooler, and it makes me want to get outside and ride my bike. But it's also raining, and that's not much fun in a hilly town when you ride a bike with skinny, slick tires. It's weird to be wearing trousers again. It's been months and months.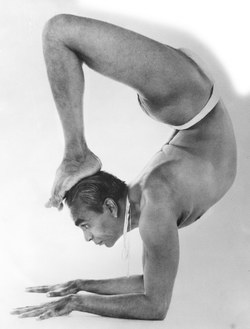 On Monday I went to yoga for the first time since I've been here. It was so nice to be yogaring again, I smiled involuntarily all through the class. That could have been the endorphines speaking. The studio is very close to our place – only 10 minutes door to door (including time spent wrestling with the garage door and my bike on our steep drive way). I do have to ride down a very steep hill, then up another very steep hill, but I'm hardcore now, so that's ok. In fact, I can't believe what a baby I was about hills in Melbourne – there's no way I could ride _anywhere_ here if I couldn't handle hills. But I can, now, because I am badASS.
So yoga rocked. It's Iyengar, and it's a baby class, but I need that babyness. I am so out of condition. My poor foot got a bit of a workout, though, which is ok. Lots of standing poses which I usually love, but which were a bit intense for my poor plantar fascia. They did give my ankle a good stretch and flex, though, which is really important. Now I understand why back bends (where you sit on your feet, knees bent, bum on your heels) hurt so much – my ankle doesn't bend enough. So some of those sort of poses freakin' hurt, but my ankle needs to be worked a bit so I can get greater movement and – consequently – ask less of my plantar fascia.
The studio was small, which is ok. The cost was only $15 per class, which is good. The class itself was nice, but we didn't do any partner work (waaah!) and we moved through poses a bit quickly for my liking. I like taking a long time to get into a pose, holding the pose for ages, then getting out of it slowly. I like the slow, careful movement because it makes me really _think_ about the way I'm using my body. It's also a lot harder and makes my muscles really work. It was strange having a female teacher. You know, men and women have different bodies? And their muscles are differently proportioned? That's some wacky shit.
Basically, I feel freaking GOOD in my body today, even with the second-day-after soreness. It's a good soreness.
At any rate, I'd like to go back tonight, but I should probably give my foot a bit more of a break between classes. Though I think it'd probably be ok. Heck, I could justify my way into going back. So long as it isn't raining when I want to leave.
What do I like about Iyengar?
I like the precision and emphasis on alignment. I am a big old biomechanics nerd, particularly in regard to dancing, and I'm fascinated by the way Iyengar develops your awareness of your muscles and tendons and fascia and bones and bits. I like the way it micro-focusses on poses, and the way you learn to do them perfectly. Because I have a bunch of knee and hip problems usually, I like the way Iyengar's emphasis on having everything properly aligned (foot under knee under hip under…) teaches my body to hold itself properly and get over bad habits.
I like the props. I like using all the blankets and bolsters and belts and things. Partly because I like making cubbies, but also because props actually make poses easier. A belt holds you in place so that you can get used to how a pose feels. But you can adjust the belt to a hold that's comfortable, so it's not freaky. Bolsters and blankets can help you with a pose that might otherwise be too strong – they give you an easier version of a pose.
I like being adjusted by the teacher. I like having that one-on-one attention because it helps me learn. It's also nice to get that attention in class and to have someone put their hands on you. I like working in pairs for that same reason. I like the physical contact because it's helpful to have someone actually put your body in the right position, and because it's just nice to work skin-on-skin with someone like that. I like working in pairs because it helps me learn – you see how someone does the pose, then you work together to make the pose work properly. I also like assisting the person doing the pose and seeing from the outside how it's working. I like having a partner when I'm in the pose because it makes it easier. It's also nice to work with other people on this stuff – you can talk through a pose and experiment. It's less scary as well, and it's reassuring to have someone else to work with. And it reminds you that everyone has completely different issues, so it's ridiculous to compare yourself to anyone else. And that reminds you that yoga is about developing your own awareness so that you can be on better terms with your own body.
I like the slowness and the emphasis on holding poses rather than rushing through them. I like the challenge of holding a pose for a long time – it's like resistance training and lifting weights, but without props (ironically). It's challenging. But it's also really satisfying. I like it that my own body is enough to provide a really challenging work out. And that I can learn to use my body in a way that lets me lift my own body weight.
I like it that yoga thinks about muscles (and bones and so on) as a complex system of parts. Unlike doing weights at the gym, where you tend to think of muscles individually. When we lift our arms out to the side in yoga, we think not only of our arms, but of how our feet are placed on the ground, how our legs are positioned, how our pelvis is sitting, how the muscles in our sides, back, neck and so on are working. All this to hold our arms out straight to the side. And of course, because you're holding all these muscles in place, you're really working, so your heart pumps and you're generally giving good 'resistance training' style effort. I really like the way yoga makes you use the right muscles for the right job. Just as with dancing, you use big muscles for big jobs and small muscles for small jobs. And you always start from the ground up. I think this is why my foot injury upsets me so much – it makes it so very clear that you can't dance properly without proper weight commitment. Your feet are so very important.
I like it that Iyengar is good for injured people. Injuries at dancing mean sitting out for a few months. Injuries mean going to yoga to help heal. I like it that everyone can go to iyengar yoga and participate, no matter how old or infirm or injured they are. It can be as gentle or as strong as you need or can bare. I think this is the most important thing for me at the moment. I've been spending the last few months thinking of my body as fucked up and an impediment to my independence. But yoga reminds me that it's not actually fucked up, that I can still get on and do things and be in it and enjoy it. I just have to respect its limitations. So with yoga I can still go and spend an hour sweating and working really hard, and not be told that I'm 'broken' by those same limitations. I think it's this sense of confidence and respect for my body (rather than resentment) that is most important for me at the moment.
I like yoga very much.
It makes me feel so good. It stops me thinking for a couple of hours.
It's gentle and non-competitive, which is nice after dancing.
It's intellectually stimulating and I learn a lot. But it's learning about myself.