If you catch covid, you have a 10-30% chance of it becoming long covid. One of the most comment symptoms of long covid is fatigue.
If we work with those assumptions, what does that mean for a community of dancers?
Let me be clear: I not an epidemiologist, a health specialist, a physiotherapist, or a disease expert. And I'm not sure if this long covid symptom is true across all covid variants and communities. But I am a cultural studies researcher. I have a lot of experience looking specifically at cultural practice within a particular community of people. So let's start with this: what could happen to a community of dancers where some of the community members are living with long covid, and those people are representative of the different groups within the community? Teachers, performers, organisers, students, new dancers, experienced dancers, old people, young people, cancer survivors, volunteers, business people, trans people, everyone.
We've already seen the consequences of managing covid risk: massive financial loss, spacing requiring larger (more expensive rooms), crowd size management, no partner changing, no partner dancing, mandatory masks (and the effect on vigorous exercise), no social dancing, increased workloads for organisers, etc.
But what about the effects of one symptom of covid itself, specifically, fatigue?
Fatigue is not just being tired, where you can push through. Fatigue means you sit down to eat your breakfast, but afterwards you're so tired from eating you can't get up from the chair. You have to sit there for a couple of hours. Meanwhile your body cramps and you're in pain. But this exhaustion is mental as well – you cannot concentrate, cannot follow ideas, and so on. What does this mean for a dancer?
If you're a professional lindy hopper (a teacher or performer, or someone working in film or television), living with fatigue from long covid, then you cannot dance. You cannot work. Your income is gone. You cannot perform, you cannot choreograph, you cannot practice. Your body, already affected by illness (respiratory illness being the least of it), loses muscle tone and fitness. Your memory and ability to retain choreography disappears. That 'muscle memory' stuff (which is actually your brain working) dissolves. Not only can you not train for the hours every day your work requires, you cannot even coach other dancers and earn an income for choreographing for other people. Living will illness, and being separated from your support networks result in serious mental illness. Depression. Anxiety. And it's impossible to do creative work living with an illness like this.
If you're a new dancer who has to live with long covid, then you simply stop dancing. And probably never return to it. New dancers are the bread and butter of most dance classes and dance schools today. Dance organisations often fund their social events and weekend events with income from beginner classes. Without that cash flow, the parties dry up. Work for musicians and DJs dries up. The ability to play for dancers dries up.
What does this mean for dancing in the rest of the community? Even if those dancers falling ill are local teachers rather than traveling professionals, all that accumulated teaching knowledge, which lindy hop is notoriously poor at retaining and sharing, will be lost. All that historical and cultural knowledge is taken out of the community. The musical knowledge and dancing knowledge is gone. Not only in that one person, but in all the people they taught, danced with, inspired, and provoked into rivalry.
This is a little like having the Black men removed from jazz music and dance by conscription during the second world war. Whereas jazz music and dance at that time were actually real social practices, happening in sustainable social spaces (families, neighbourhoods, thriving businesses, cross generational gatherings), modern lindy hop in many scenes is not socially sustainable. It collapses when just one or two key people in a local community disappear.
Most lindy hop communities are small*, with perhaps a few hundred dancers, and classes and events run by two or a handful of people. Lose one or two or a handful of those, and that local scene will crumble. If that scene is socially sustainable, with different aged people, a sharing of power and responsibility, etc, then it may be fine. But we have seen over the past ten years, particularly in discussions around sexual assault and racism, that the modern lindy hop world in most cities is not socially sustainable. Patriarchy (and late capitalism) is doomed to collapse under its own weight.
But is it so dire to see a community based on white supremacy and patriarchy break down? Nope. But the thing about covid is that it infects everyone. Even rich white men. The real, serious difficulty with covid is that vaccination and risk management is much harder when you're poor, you're disabled, you're homeless, you're marginalised.
When a local cultural community collapses, we also see innovative and new types of work in that local field disappear. The modern lindy hop world is dominated by the concept of historical reenactment, with the implication that the best lindy hop is old lindy hop. This ideology in practice (as many people have pointed out elsewhere) is racist, as it privileges the white people who've been lindy hopping the longest, and marginalises (discredits! devalues!) living modern Black culture. As Thomas DeFrantz said in his Collective Voices for Change talk, Black dance is a medium for change, for innovation, for action and activism as well as cherishing history and preserving legacy**. Long covid threatens this new and radical work.
Cancelled in 2121 by the rising Omicron wave, the Belgian event Upside Down has determinedly shifted online. But though online fun is still fun, the face to face necessity of lindy hop suffers.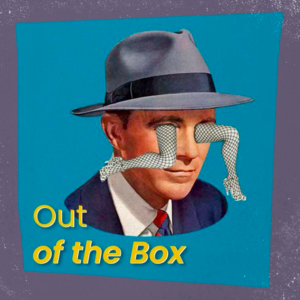 I mention Upside Down for a few reasons. It is rooted in live music, with the organisers working closely with local musicians. Musicians who are some of the best and most talented in Europe. These musicians lose a weekend of work. Upside Down features some of the most creative promotional design, art, and social media engagement in the lindy hopping world. But while some of this might flourish online, the face to face element (the decorations, the unusual party structures, the creative energy and excitement) does not. Upside Down focusses on its local city, and on local dancers. It's smaller scale (a few hundred rather than a thousand), and it aims to be environmentally sustainable. It's also responded to the Black Lindy Hop Matters movement by asking its staff and attendees to engage with race and history and social power. This type of energy and enthusiasm is staggering under the pandemic. And individual cases of long covid in key personnel could be disastrous.
The greatest consequence in the cancellation of events like Upside Down is not in the loss of the event itself. It is losing those moments of creative catalyst that result in waves of new thinking, new creativity, new activism, that spread out into the wider community beyond Ghent.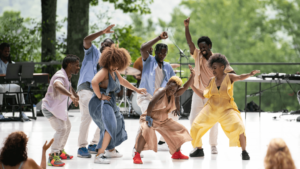 Think of the Jazz Dance Continuum project spearheaded by LaTasha Barnes and her crew. I'm knocking on wood and tossing salt over my shoulder as I type, but imagine an actor like Barnes catching long covid? The woman is a force of nature, working in so many areas of jazz dance, and the wider creative world. She's also a social agent of good, working with the Black Lindy Hoppers Fund, Frankie Manning Foundation and beyond. And what if Julie Living in New York, or Tena Morales-Armstrong in Houston became ill? These women are the backbones of their local and wider communities (once again, fucking hats off to Black women for being true forces of nature… and hardcore professionals). If we lose these types of people, the truly innovative work will be lost.
If you're a Black American, catching covid is a very, very dangerous thing, for you and your family. The disease is bad enough, but the American 'health' system has never been kind to the Black community. The people most likely to be exposed to covid (the breadwinners and caregivers in the family) are removed from the family structure. Feeding nanna or putting food on the table gets harder. And if you catch covid, you still have things like long covid to consider. Individuals are going to be devoting what little energy they have to sustaining family, neighbours, parish, school, and friends. So the Black dancers and Black culture which have begun to make a difference to modern lindy hop are once again marginalised. This is, of course, a familiar consequence of racism. Racism makes people sick. Racism reduces life expectancy. Racism destroys communities.
I'm writing this now in Sydney, where our government has decided not to enforce lockdowns or other restrictions. Our covid case numbers are higher than they've ever been before, and we are behind other countries in vaccination. Two years into the pandemic, the national lindy hopping community has been fragmented into local, capital city based scenes. The live jazz scenes in the bigger cities is also suffering. I fear for the future of lindy hop and jazz dance. Mostly because I think that any future 'revival' will be based on the white dominated communities of the 80s-2010s, as we move further and further away from the swing era.
Wear a mask. Get vaccinated. Avoid crowds.
*If most lindy hop communities are small, them most teachers are teaching locally for smaller groups, most DJing is done for local crowds and smaller crowds, most of the live music dancers listen to is played by local musicians, and most of the venues they use are smaller. The budgets are smaller, most labour is unpaid, and most of this unpaid labour is conducted by women. This is is something I learnt during my doctoral research (pre 2006), but which has remained the case in the following fifteen years.
If most teaching is done locally, then the most valuable teaching skills center on attracting and retaining newer dancers, or local people (rather than margeting to the more experienced market for weekend events). This type of teaching must, by necessity be locally specific: catering to the culture, values, and people of it's home society.
**This idea of Black dance embodying opposing forces like preserving the past and fostering innovation is not new. Embodying 'hot and cool' is a feature of Black dance, as DeFrantz, Malone and countless other point out. It is, again as Malone points out, almost the stamp of a vernacular dance to take elements of the past and rework them for current needs and wants. In other words, lindy hop wants to preserve the past and innovate and create. It is the quintessential modern dance of the 20th century.
References:
Ayah Nuriddin, Graham Mooney, and Alexandre I R White, "Reckoning with histories of medical racism and violence in the USA," The Lancet, October 03, 2020.
https://www.thelancet.com/journals/lancet/article/PIIS0140-6736(20)32032-8/fulltext
Note: this article contains some important key references to other works on this topic. Content warning for descriptions of sexual violence, racism, medical violence… heck, all of it.
DeFrantz, Thomas ed. Dancing Many Drums: Excavations in African American Dance. Wisconsin: University of Wisconsin Press, 2003.
-. "A conversation with Pr. Thomas DeFrantz on African American Social Dances, hosted by Breai Michele," Collective Voices for Change, 17 October 2020. https://www.collectivevoicesforchange.org/part-2a-defranz
Gottschild, Brenda Dixon. Digging the Africanist Presence in American Performance. Connecticut and London: Greenwood Press, 1996.
—. "Stripping the Emperor: The Africanist Presence in American Concert Dance." Looking Out: Perspectives on Dance and Criticism in a Multicultural World. Eds. David Gere, et al. New York: Schirmer Books, 1995. 95 – 121.
Hazzard-Gordon, Katrina. "African-American Vernacular Dance: Core Culture and Meaning Operatives." Journal of Black Studies 15.4 (1985): 427-45.
—. Jookin': The Rise of Social Dance Formations in African-American Culture. Philadelphia: Temple University Press, 1990.
Malone, Jacqui. Steppin' on the Blues: The Visible Rhythms of African American Dance. Urbana and Chicago: University of Illinois Press, 1996.