Yesterday I DJed a really nice zoom party/listening session for the San Antonio Swing Dance Society in Texas. I was in Sydney (still am), but perhaps one unexpected perks of a pandemic, is dance scenes' refocussing on their local community. Quite a few local scenes have been running regular online meet-ups for the crews, keeping social and creative bonds alive.
In the days before COVID, it's unlikely I'd have had a chance to DJ in San Antonio. I wouldn't have travelled so far for a small gig that can't defray costs, and I would have found it hard to make friends with the San Antonio peeps from Australia. But now – I can!
Anyhoo, the session was about 1.5 hours long, and is run weekly. It was so NICE to see a bunch of brand new people, and to make new friends! This sort of social interaction has just become so important for me during COVID. I'm used to traveling a lot during the year and meeting lots of new people. But it's been a year of no traveling, and very little socialising. I've met far too few new people. But for this set, I only knew ONE of the participants!
I've done quite a few of these online/zoom sets now, and I'm really enjoying tailoring the session to the group and expectations of the organiser. Do they want solid party hits for dancing? Do they want a radio show style session with back announcing songs? Do they want history stuff? This session involves a fair bit of conversation in the chat, and there's less dancing that pure social engagement. If everyone else is like me, they're just soaking up all those faces on the screen.
Anyway, this one was a bit of talking (more than I usually do, but I checked with the organiser mid-set a few times to see if they wanted less talking, more music), but lots of good music, played the way I'd play a normal social dancing gig.
This is what I played:
(title year artist bpm album length)
Tippin' Out 1946 Roy Eldridge and his Orchestra (Zutty Singleton) 112bpm Roy Eldridge: Little Jazz Giant 2:54
Hootie Boogie 1945 Jay McShann 148bpm Jay McShann: Complete Jazz Series 1944 – 1946 2:55
Tempo de Luxe 1940 Harry James and the Boogie Woogie Trio 130bpm New York World's Fair, 1940 – The Blue Room, Hotel Lincoln 3:19
Ridin' On The L&N 1946 Lionel Hampton and his Quartet (170) Lionel Hampton Story 3: Hey! Ba-Ba-Re-Bop 2:53
A Touch Of Boogie Woogie 1944 Teddy Wilson Sextet (Emmett Berry, Benny Morton, Edmond Hall, Slam Stewart, Sidney Catlett) 196bpm Teddy Wilson: The Complete Associated Transcriptions 1944 4:49
The Count 1941 Benny Goodman and his Orchestra (Jimmy Maxwell, Billy Butterfield, Al Davis, Cootie Williams, Lou McGarity, Cutty Cutshall, Clint Neagley, Skip Martin, Vido Musso, George Berg, Chuck Gentry, Mel Powell, Tom Morgan, John Simmons, Sidney Catlett) 169bpm Classic Columbia and Okeh Benny Goodman Orchestra Sessions (1939-1958) (Mosaic disc 04) 3:15
Take It 1941 Benny Goodman and his Orchestra (Jimmy Maxwell, Irving Goodman, Alec Fila, Cootie Williams, Lou McGarity, Cutty Cutshall, Gus Bivona, Les Robinson, Georgie Auld, Pete Mondello, Bob Snyder, Johnny Guarnieri, Mike Bryan, Artie Bernstein, Dave Tough) 174bpm Classic Columbia and Okeh Benny Goodman Orchestra Sessions (1939-1958) (Mosaic disc 03) 3:13
If I Could Be With You 1948 Kay Starr featuring Novelty Orchestra (Joe Venuti, Les Paul) 124bpm Best Of The Standard Transcriptions [Disc 1] 1:53
No Regrets 1936 Billie Holiday and her Orchestra (Bunny Berigan, Artie Shaw, Cozy Cole) 130bpm Lady Day: The Complete Billie Holiday On Columbia (1933-1944) (Disc 01) 2:38
When Day Is Done 1935 Mildred Bailey and her Swing Band (Chu Berry) 218bpm Classic Chu Berry Columbia And Victor Sessions (Mosaic disc 01) 3:32
Rose Room 1944 Esquire Metropolitan Opera house jam session (Barney Bigard, Art Tatum, Al Casey, Oscar Pettiford, Sidney Catlett) 196bpm Sid Catlett: Chronological Classics 1944-1946 5:56
Well All Right! 1939 Ella Fitzgerald and her Famous Orchestra 183bpm Ella Fitzgerald In The Groove 2:31
Flying Home 1940 Charlie Barnet and his Orchestra 185bpm Charlie Barnet : Skyliner 2:57
Redskin Rhumba 1940 Charlie Barnet and his Orchestra 186bpm Charlie Barnet : Skyliner 2:41
Algiers Stomp 1936 Mills Blue Rhythm Band (Lucky Millinder, Henry 'Red' Allen, JC Higgenbotham, George Washington, Edgar Hayes) 219bpm Mills Blue Rhythm Band: Harlem Heat 3:08
Apollo Jump 1943 Lucky Millinder and his Orchestra 143bpm Apollo Jump 3:27
Harlem Air-Shaft (Rumpus in Richmond) 1940 Duke Ellington and his Orchestra 191bpm The Duke Ellington Centennial Edition: Complete RCA Victor Recordings (disc 08) 2:59
Barney Goin' Easy (I'm Checkin Out Goom-Bye) (WM 1036-A) 1939 Barney Bigard and his Jazzopators (Rex Stewart, Juan Tizol, Harry Carney, Duke Ellington, Billy Taylor, Sonny Greer, Fred Guy) 151bpm Duke Ellington: The Complete 1936-1940 Variety, Vocalion and Okeh Small Group Sessions (Mosaic disc 06) 2:59
Harmony In Harlem 1937 Duke Ellington and his Orchestra 151bpm The Complete 1932-1940 Brunswick, Columbia And Master Recordings Of Duke Ellington And His Famous Orchestra (Mosaic disc 08) 3:08
Hello Little Boy 1950 Duke Ellington and his Orchestra 180bpm Duke Ellington and his Orchestra: 1949-1950 2:50
Hi Ho Trailus Boot Whip 1946 Roy Eldridge and his Orchestra (Zutty Singleton) 224bpm After You've Gone 2:46
All She Wants To Do Is Rock Wynonie Harris 145bpm Greatest Hits 2:34
Froggy Bottom 1957 Jay McShann and his Band (Jimmy Witherspoon) 155bpm Goin' To Kansas City Blues (Mosaic) 2:37
C Jam Blues 1994 Statesmen Of Jazz 161bpm Statesman Of Jazz 6:32
Every Day I Have The Blues 1959 Count Basie and his Orchestra (Joe Williams) 116bpm Breakfast Dance And Barbecue 3:49
Hallelujah, I Love Her So 1958 Count basie and his Atomic Band 133bpm Complete Live at the Crescendo 1958 (disc 2) 3:03
What did you do?
I began with an acknowledgement of the Gadigal people of the Eora nation, traditional custodians of this land (where I was speaking from), and a shout out to the Black history of jazz music and dance, to the elders of that community.
Why did you play that?
Then I played one of my favourite songs, Hootie's Boogie.
It has good energy, but isn't too up in your face crazy loud/fast. Also it's LOLsome.
Then Tempo deLuxe, which is another of my faves. It's a song I've started a jillion sets with in the past, because it builds from a mellow intro to an upenergy, fun finale with shouting and shit. It's a live recording from the 1939/1940 New York World Fair. This is a pretty fun connection for dancers, as the Savoy Ballroom had an exhibition at the fair. And there's footage of it:
Yep, that's women dancing with women, and men dancing with women. Always has been, always will be.
There are HEAPS of photos of people dancing lindy hop (and of lindy hoppers and jazz musicians), including this one: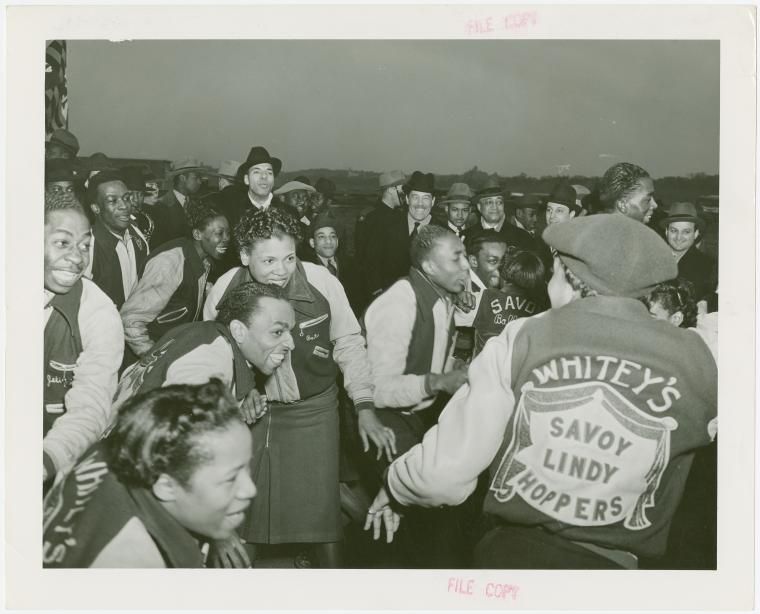 You might recognise that jacket logo from the repro Chloe Hong from Seoul did a few years ago for Frankie100. When you think about the fact Whitey's Lindy Hoppers were promoting the Savoy, it makes complete sense that they were basically walking billboards.
Apparently working the World Fair gig was HARD WORK, with long hours, few breaks, hot sun, and bullshit working conditions. It gave us footage like the Hot Mikado, but it also pushed the Black dancers far too hard. Check out Frankie Manning's bio for stories about his experiences, and the Alan Lomax bio, 'Man Who Recorded the World' for stories about how Lomax's original ideas for showcasing Black music were curtailed by bullshit.
There's a heap of stuff from the World Fair in the NY Public Library, so you should defs hunt that down!
Anyhow, I played that song second because it's by Harry James' Boogie Woogie Trio (though I think it's more than three musicians :D) and I dig the boogie vibe.
Then it was Ridin On The L & N, which is one of my most faves. It also has a boogie piano feeling, this time feeling like a train (the L&N) riding down the track.
Then we had radio transcript, 'A Touch Of Boogie Woogie' by Teddy Wilson and his Sextet. I had intended to play the 1941 Wilson Orchestra version, because it's such a surprise to hear that band play something so chunky and exciting and pulse-poundingly good. But the sextet version is equally good, BUT it features some interesting musicians: Sidney Catlett and Slam Stewart. We all know Teddy Wilson for his work with Billie Holiday, and then Benny Goodman's small groups, but Catlett is a drummer who played in Goodman's band too. But only for a few months.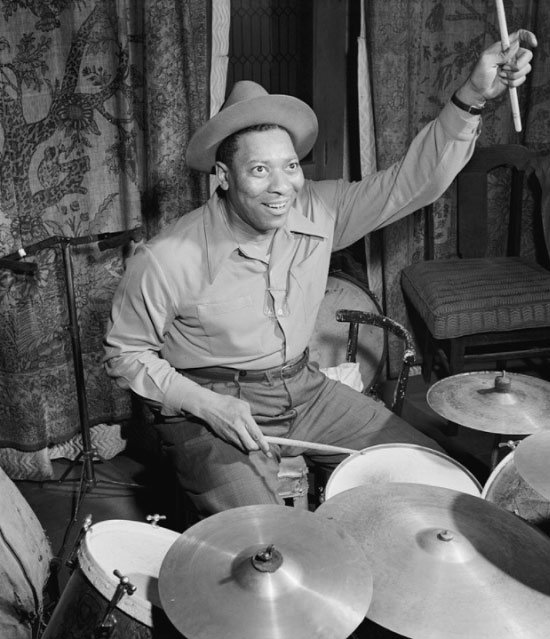 Apparently Catlett was so charismatic, so exciting, and so popular, that Goodman fired him in a fit of jealousy. I don't know if it's true. But luckily we have some of his recordings with Goodman's band, including the live album 'Roll Em!' from 1941. I don't have that album, but there is photographic evidence of the gig: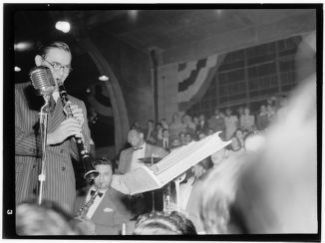 (from the Gottlieb Collection in the Library of Congress)
And of course, Slam Stewart we know from Slim and Slam, and thinking of him in Mr Tighty-Whitey Rules Mc Rulesington Benny Goodman's band is just weird. But there are recordings of him with the Goodman orchestra, and they are FANTASTIC.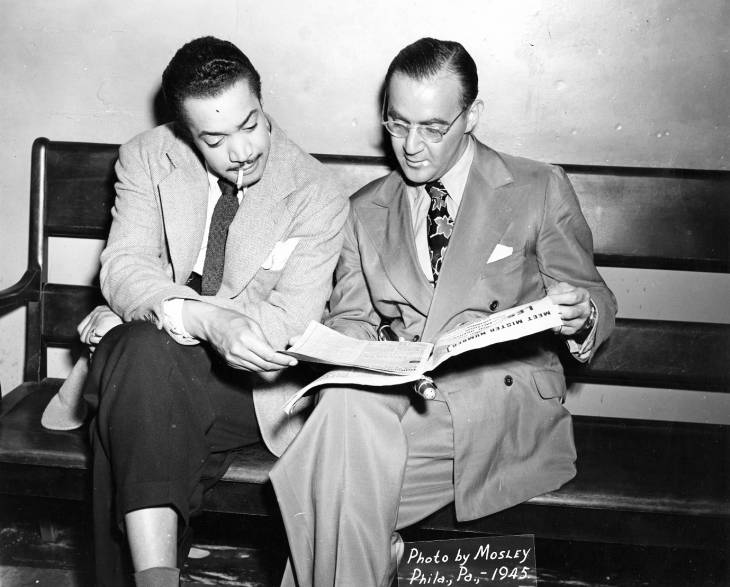 (Stewart and Goodman waiting for something in 1945 (source)).
Anyway, I played 'The Count' by Goodman's orchestra, featuring Catlett, so we could feel just how exciting the band was with this drummer. Incidentally, this song is a nice follow-up to the previous one, as it carries that big energy, lindy hopping fun with it. NB it's just as great for balboa :D
I followed up with another Goodman Orchestra recording from the same year, this time with Dave Tough (our beloved Dave) on drums. Still amazing, but also different. Two songs by one artist in a row? Don't mind if I do!
A Note: Catlett and Stewart are Black. Goodman was putting mixed race bands on stage for years, and copped flack for it.
After that, it was a complete change of pace, with Kay Starr singing 'If I could be With You'. This is another transcript, and the band features Joe Venuti, which is weird, because I associate him with gypsy jazz. But by this point, he was major famous. But it's also wonderful. This photo of them in the ABC Studios was taken ~1945, while the song was recorded in 1948.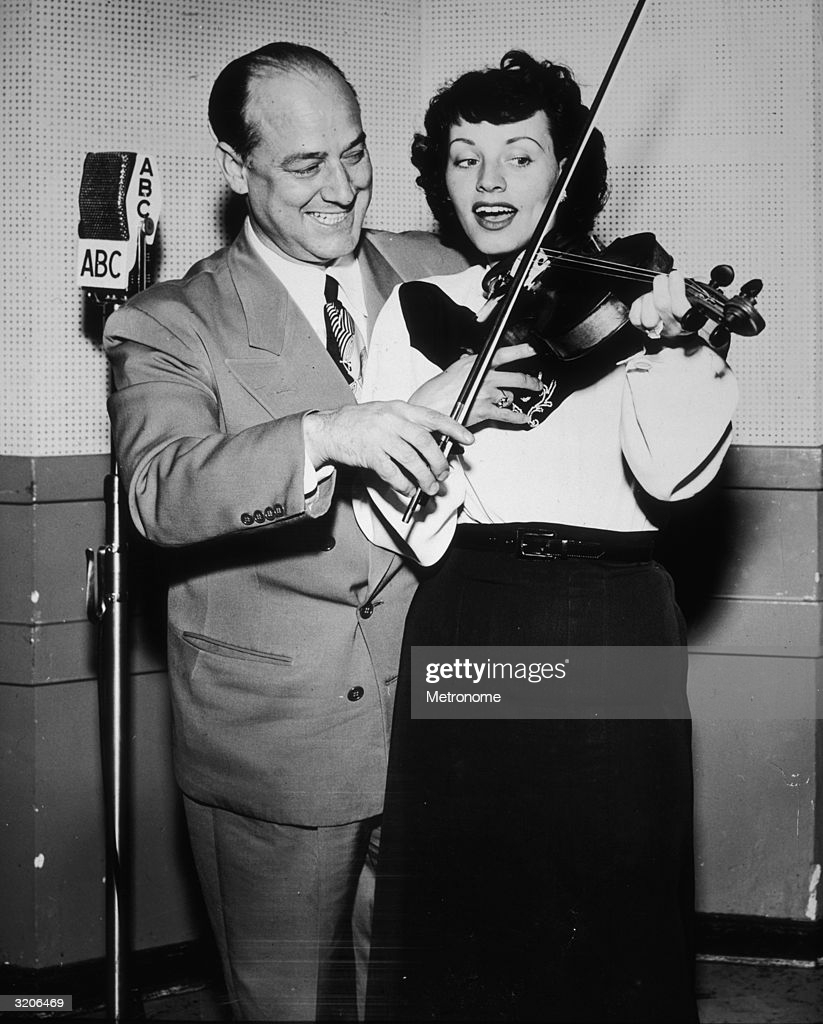 Onwards!
Then we had some Billie Holiday, because I wanted to hear some more nice female vocals, with a bit of charm. 1936 put us back into the period I wanted to explore next.
Then 'Day Is Done' by Mildred Bailey and her band, featuring her husband Red Norvo.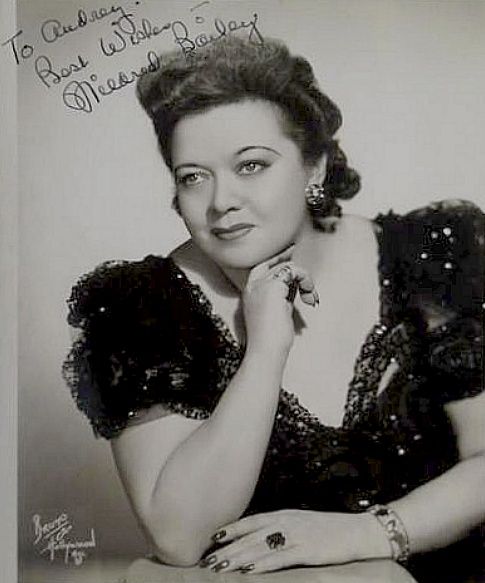 This song is a nice companion to the previous two female vocals, and she and Holiday match well. But I wanted to play these two artists because they were important in the story of Goodman's small groups. The story is that Bailey used to host great parties at her house, and at one of these in 1935, Goodman and Teddy Wilson met, and started jamming together. Later that year the Goodman Trio was born.
Bailey herself is super important as this sort of social lubricant, but also as a musician.
Then I played 'Rose Room' by an Esquire band, because it's a live recording, and it features Catlett talking to the audience directly. And it has an epic drum solo at the end.
Then I just went with that exciting big band sound, and another live recording, this time Ella Fitzgerald with Webb's band in 1939. I wanted to just play some good hard party music. YEAH!
Same for the next song, really: straight up party music. I ADORE this version of Flying Home.
And again – just another uptempo party song.
Then a slight change in tone, with Algier's Stomp by the Mills Blue Rhythm Band. I do recommend reading up about them. This song features Lucky Millinder.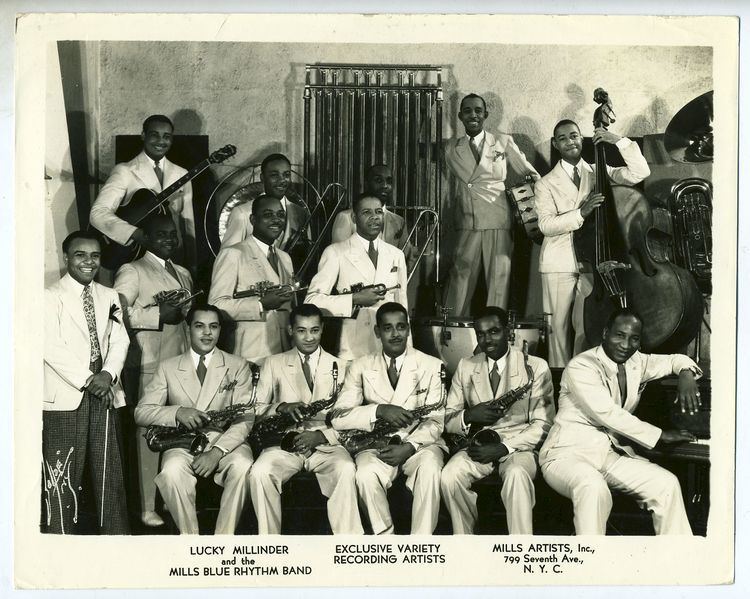 Which was my segue to playing Apollo Jump, classic lindy hop party song.
Then I switched it up a smear, to play Harlem Air Shaft, by Ellington of course. I like this song for the story about it: that Ellington composed it to reflect the sounds that carry up the internal shaft in an Harlem apartment building.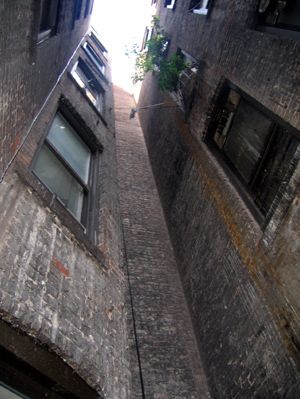 Now I'm reading about airshafts in Harlem, it's FASCINATING! Here's a little article about them.
I dropped a word here about the extreme crowding in Harlem in that 1920s-40s period, where thousands of Black Americans travelled north in the Great Migration, fleeing lynching and violence, and looking for jobs. This crowding led to extremely high rents, rent parties, and competition for housing. It also led to the burst of creativity and political activism that was the Harlem Renaissance.
[I didn't say it, but in my mind, I was thinking about how these close conditions, everyday stuff like Mildred Bailey's parties, etc all led to people living and working and writing and thinking and playing music in very close quarters. Harlem really was an important place in that moment.]
Then on to something else by Ellington, but one of his smaller groups, playing something calmer. Here, I wanted to chill us out a bit, emotionally, but stick to Ellington and that period and sound.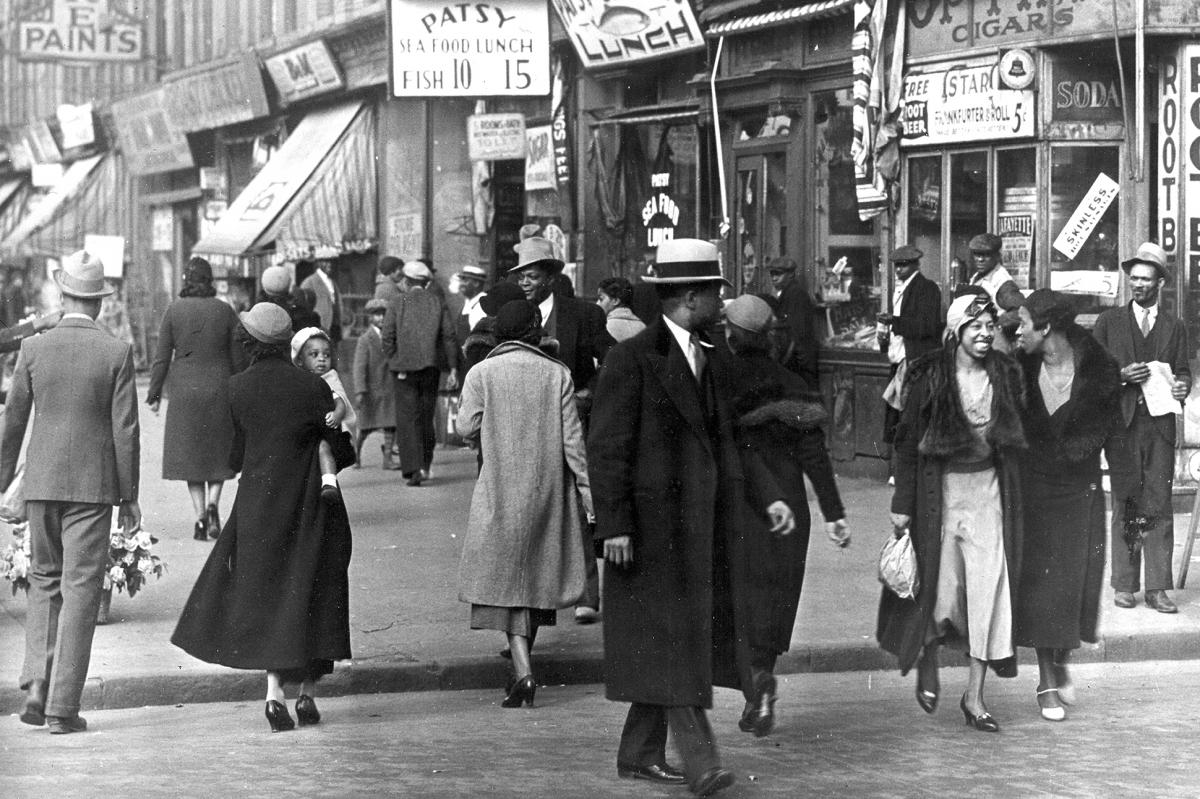 And another Ellington, Harmony In Harlem. Because Harlem. Musically, it's a bit chill, but it grows in energy. It's a nice dancing song at first, because it's quite simple and calm, but it gets louder and more exciting. Break over. Party time.
ANOTHER Ellington, but this is one of my super faves. It has a chill start, but a snappy tempo, and what makes it really interesting and fun, is the combination of characteristically weird Ellington harmonies with a solid, chunking beat, all over an old school blues structure and blues vocals. It's about as Ellington as Ellington can get. You can enjoy it for the stompy rhythm and salty lyrics, for the clever harmonies and almost-dissonance, or all of it combined.
Then I just went hardcore with 'High-ho trailus bootwhip', which is loud and fun and exciting. In my head, I was thinking 'let's strengthen that blues structure and element, and go further towards jump blues. But I didn't say that. I was just thinking it.
That song is quite quick, but it feels EXCITING. So I pulled a standard DJing stunt, and built energy with that, then followed up with a solid party hit at an accessible tempo, with shouting and clapping. Something that would fill the floor after the faster song. Wynonie Harris is straight up party music.
Then I just felt like it was a party.
So Witherspoon.
Then I realised I hadn't cued up a song :D So I fumbled, and pulled out the Elder Statesmen of Jazz, playing 'C Jam Blues'.
Then back on party track with 'Everyday I have the Blues' from Breakfast Dance and Barbecue, the first Basie album I bought. It has a great story: held at about 3am, a party held by the American Disc Jockey's Association, and everyone was drunk and tired. Then Basie's band hit the stage, and it was PARTY TIME. Worth buying the CD for the liner notes!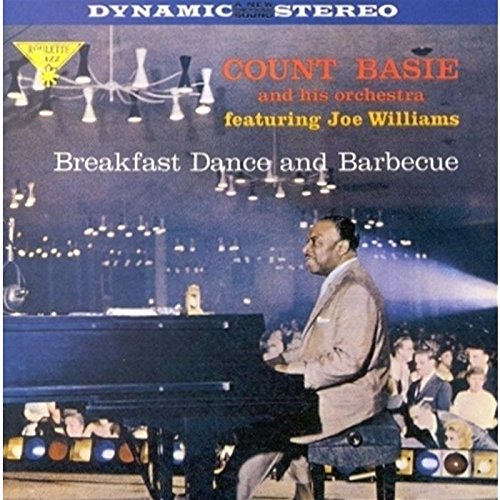 And then the final song, a party version of Basie's Atomic band playing 'Hallelujah I love her so'. This is from a huge, multi-CD set, 'Complete Live at the Crescendo 1958', which you can listen to on youtube. Or buy for the liner notes.
WHAT a fun set. Lots of nice people talking and having fun. I love it.