I was thinking about this this week. When it's hard for peeps to get to class, if our classes are extra welcoming and embracing diversity, we make it easier for marginalised peeps to get to class and learn to dance.
I think it's important for us, in this political climate, to do what we can to counter the horrible sadness and anger we feel about injustice. And I think we can do that by doing positive, excellent stuff that makes people feel good and happy. Including us. And lindy hop is just perfect for this.
This is my back story:
Our country is currently embroiled in a very nasty public shitstorm about a survey asking whether or not the laws should be changed to include same sex marriage. It's not a referendum or a binding vote. It's just a huge, expensive, shit-stirring survey intended to stir up distress and foment conflict. All because our spineless government didn't want to allow members of parliament to vote on a new bill according to conscience (rather than party lines).
Last week in class we had a few same-sex couples come to class for the first time. Our door person was wearing her excellent 'YES' tshirt*, and I'd reposted this the previous week: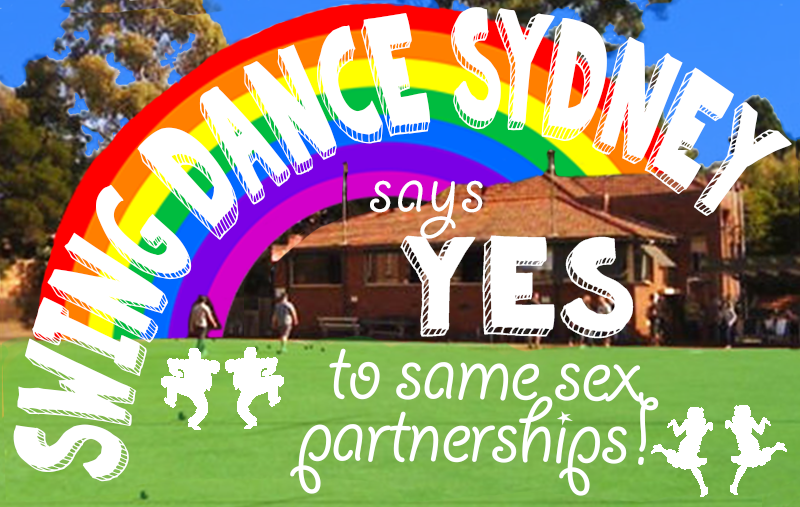 The couples felt a bit nervous about class (usually first time beginner stuff). And today I was thinking, 'I'm so glad we were making it clear that anyone can lead or follow. I'm so glad we had a same sex teaching couple that week. I'm so glad we have a friendly class that focuses on looking after each other. I'm so glad our usual students are so welcoming and nice to each other.'
It's hard enough coming to class for the first time as a shy noob. But if you're someone who's used to be marginalised, it's even more important that you're met with a welcoming class environment.
Because I believe, so strongly, that happy students do better learning. And we can do very good, important things for the world just in teaching dance. It's not 'just dancing'. It's important.
*meaning 'vote 'yes', let's change the laws.