The other week in Herrang at the Bad Taste party, I was given permission to go off-piste. I'm usually very reluctant to go the stunt DJing route, but I'd spent the hour before my set in the DJ office listening to all the types of music that comes from New Orleans, but never gets played in the New Orleans parties.
It had gotten me thinking about the other rhythms that were part of African American vernacular dance in the 20s, 30s, 40s, and 50s, yet are carefully avoided by places like Herrang. Not to mention hip hop and street dances of today, which have much closer roots with black dance history than the contemporary lindy hop community.
I'd also spent most of the weekend tapping in one tent, while drummers and dancers from Ghana Guinea (thanks for the heads up, Bert) banged out insistent rhythms in the neighbouring tent. And scatting. And learning to understand, remember, and reproduce complex rhythms.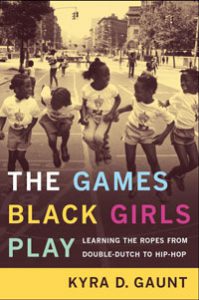 There's a very interesting book called The Games Black Girls Play by Kyra Gaunt.
If I cut down the blurb for the book, we can summarise it as a book about skipping, clapping, and rhythmic games that black girls play in America.
More generally:
…the games black girls play — handclapping songs, cheers, and double-dutch jump rope—both reflect and inspire the principles of black popular musicmaking…

…these games contain the DNA of black music…black girls' games …teach vital musical and social lessons that are carried into adulthood. In this celebration of playground poetry and childhood choreography, she uncovers the surprisingly rich contributions of girls' play to black popular culture.
I've written about this book before in a post about double dutch skipping and gender.
One of the points Gaunt makes in that book, is that clapping, skipping, and rhythmic girls' games teaches black girls complex rhythm recognition, reproduction, and improvisation skills. Both with their brains and their bodies.
When I was DJing that party, I had songs like this in my head:
Big Chief by Donald Harrison featuring Dr John.
And
Step, Clap, Go! from Opening Ceremony on Vimeo.
Step Clap Go ad for clothes for teenaged girls from Target featuring Bad News From the Bronx steppers.
I'd also gotten a little angry in a history talk that failed to name or mention most of the women in the lindy hop partnerships, and also did some serious racefail that a couple of the Frankie Manning ambassador kids picked up. I know Herrang may like to talk about black dance and history, but it's a very white place. And also quite a patriarchal one. So when women, girls, black kids, black women, and especially black girls speak up, they're usually very quickly silenced.
With all this swirling through my brain and muscles, it's inevitable that I ended up playing the clapping song:

Shirley Ellis' "Clapping Song".
I actually played it three times. And got into trouble for it from Lennart. But it felt quite wondefully cathartic to break the rules like that, to be openly defiant, and to say FUCK YOU to all the stifling genderfail, safespace fail, patriarchal white washing of black dance history that was going on. If we're going to valorise lindy hop as a black vernacular dance, we are doing a very bad thing if ignore all the history of black dance after lindy hop. All the black culture after lindy hop that living generations of black kids and adults participate in and own. I'm absolutely not ok with being part of the strange exoticism of some white lindy hop culture that deliberately places this culture well beyond contemporary black cultural practice. A white woman playing a song for a bunch of white european lindy hoppers isn't really revolutionary, but I was playing a song by a black woman, a song which is an adaption of a black girls' rhythm game. And I was repeating it.
As a DJ, I think the stunt worked well. I played the song three times, but in between each playing, there was a stack of solid, hardcore swinging jazz. All upenergy, and all solidly within the 'will make you dance the lindy hop' genre.
What happened with the crowd? The first time they were quizzical, but tolerant. The second time they started losing their shit. The third time they were out of control, and I could see them literally leaping into the air all over the room, jamming, rocking out, even swinging out.
It was a punt, and three times was definitely enough (even in a week where playing the same song multiple times was the stunt de jour), but it did what I wanted it to do. It was in 'bad taste', it played on the crowd's crazy/nervous masquerade night costume vibes, and it definitely took advantage of the hilarity of that night's cabaret performances. The burlesque cleaning show in particular.
I would never do this on an 'ordinary' night of dancing at Herrang. It did remind me a lot of the crazed Twist party from a few years ago. Particularly a few songs later when they all formed a caterpillar, as my french friend called a congo line. I didn't plan it, I didn't encourage it, and I was a bit scared when my boss turned up halfway through the second song and asked what was going on. I definitely didn't plan for the whole room to turn into one looping snake of chanting, dancing, scatting congo line dancers. But what I do think happened is that the perfect storm of conditions led to the sort of natural chaos that happens in Herrang sometimes:
– over-excited dancers wearing costumes that make them feel crazy
– the uptempo fun swing songs let them feel relaxed
– the clapping song said 'the rules may be broken' and was also exciting
– the repetition of the clapping song said 'unexpected things will happen'
– the burlesque act with its mix of sexual and off-kilter humour stimulated people's excitement
– it's a _masquerade_ party, which means that people are masked/feeling permission to be other than their usual selves
– it was mid-week, when people are tired and also very relaxed.
Anyway, it was a very interesting moment. Me, I'm now obsessed with rhythm dances in a whole new way. Yes, it's possible to get even crazier about this stuff.