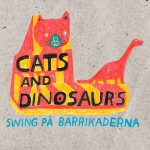 Hej hej, Sverige!
'Swing på barrikaderna' – Cats and Dinosaurs– 2016
Disclaimer: I was approached by Tove Casén Nylander to review this album, and provided with a digital copy of the album.
I then met 
Filip Bagewitz, another band member, at Herrang, and we made friends.
This is another of those happy stories of a band working with dancers, or being a band of dancers.
Cats and Dinosaurs are a Swedish band, based in Gothenburg. More importantly,
The socialist-feminist swing collective Cats & Dinosaurs plays original lindyhop dance music with political lyrics in Swedish.
I was approached by Tove Casén Nylander by email to review this album in month, and then I failed completely to write a review. I think I seem to do my reviewing when I'm stuck on a bus or a plane, and have time to sit and think about the music without interruption. So apologies to everyone.
This is an interesting one. First off, all the lyrics are in Swedish. Which is both excellent and frustrating. Excellent because SVERIGE! But frustrating because the musicians are politically engaged and vocal. The band members I met are all fairly lefty, and very much interested in issues of gender and sexuality (providing a neat dovetail with our feminist fika that year). And the lyrics of these songs, and their delivery, are informed by this thinking. But I don't speak Swedish, so I don't know what they're talking about!
Ah, well.
They remind me a little, musically, of the Underscore Orkestra, for their inclusion of a range of European folk musical influences, mostly in the violin and a few percussive instruments. There are strong New Orleans street jazz influences in instrumentation, delivery, and intensity. Some of the vocal deliveries are similar as well – sort of shouty, again informed by lefty folk pop. I hear echoes of bands like Tin Pan in the earlier days in the discordant bits, and Choinure Boys in the shouty exuberance. These seem particularly relevant to a music which always had one foot in the popular, and the other in the political.
Unlike the Gamble and Doyle albums, this is not a carefully mainstream swing recording. It is not going to attract a huge mainstream lindy hopping audience.
I quite like it. I like the vocalist's almost androgynous quality. Is this a man or a woman? Does it matter? Not so much. 'Jobba Mindre!' is a fun opening to the album, with a shouted, repeated chorus which makes for good singing-along, and there are shouting and clapping bits, which everyone likes. It gets in and out in 2 minutes, BOOM. Total pop song material.
I do like the combination of piano and violin. It very much positions it in European folk music, but by way of American street jazz. There are bits in songs like 'Sång till valfriheten' where the instrumentation is particularly awesome at the beginning (though sadly it lacks a bit of variety later). And 'Sex timmars arbetsdag''s use of the vibes is quite lovely. I think this band would be a lot of fun live, especially at a rowdy party. The feels are strong, and convincing. I feel, even without any Swedish, that the musicians are committed to the story their music is telling, the feels they are communicated.
It is, though, the album of a relatively raw jazz band. They straddle styles in a way which many dancers would find uncomfortable. Your hardcore lindy hopping purists wouldn't enjoy this band, but the more relaxed jazz dancers and newer dancers would.
I'm off to DJ in Seoul this week, so I might see how this song goes down. There'll be Swedes in the audience, so I'll enjoy seeing how they respond to the radical left wing lyrics in a fairly politically conservative city. I have a feeling it would go down well with Japanese dancers who are used to bands like Choinure Boys.
I wouldn't recommend this band for hard core lindy hop DJing, but I would recommend it to people who are interested in this particular type of 'jazz fusion' (ie street jazz + european folk music + radical politics + fun). Buy it to support and encourage the musicians, who are also dancers.
'Swing på barrikaderna' – Cats and Dinosaurs– 2016