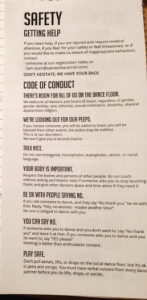 I've been fussing over what to put on a paper version of our code of conduct to have at all our classes and parties. Until I realised I could just use the 'back' of the Jazz with Ramona program I developed.
SORTED.
When I get more time I'll break up the text a bit or add some amusing line drawings or something.
btw, I'm fine with people using the content from this document.
BUT it is far more important to develop your own, so:
It reflects the culture of your organisation,
You actually understand and really believe everything in the document (ie haven't just cut and pasted something out of obligation).
It works well as part of your broader safety strategies – how does it relate to your online policy document/page? Do all your staff understand it, and have they been trained in (and know how to) apply it? Do YOU know how to use it when you have to actually ban/warn/press charges against offenders?