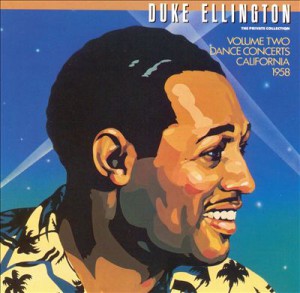 Though I have a STACK of Ellington, I'm late come to Ellington playing live in the 50s, and it's such a joy to discover him now. DJ Ryan Swift put me onto 'The Private Collection, Vol. 2: Dance Concerts, California, 1958' and vol 6 of the same series.
This tip was part of a long, interesting discussion (fansquee?) between some very big Ellington fans and jazz nerds on the facey, when I was chasing a song called 'Wailing Interval' that I didn't know the name of.
I'm a big New Testament Basie fan, and have stacks of live Basie from the 50s. It's a joy to compare Ellington from this same period, and to think about the role of the Newport Jazz Festival in these band leaders' lives.
Anyhoo, this album is quite wonderful. I intend to play it every single time I DJ until the mp3s explode. You can pick it up on itunes as I did, but you'll miss out on the liner notes, which I have. And as we all know, you don't learn much about jazz if you don't know who's in the band.