Here's a long post I wrote on the plane on the way to Snowball last December. As per usual, it goes on a long time, so get yourself ready. No complaints about long posts! This is a blog – that's what they're for!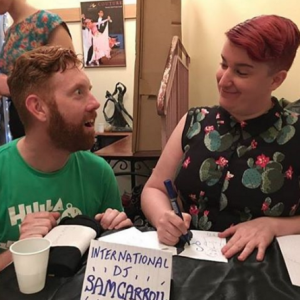 As Ramona says in her talk with Ryan Swift on the Track, practice practice practice, and then when you get on the dance floor, just DANCE.
This post can be summarised as:
1. Make it easy for everyone to have fun.
2. What you play is not as important as the combinations you play them in.
3. These combinations are dictated by the crowd's feels, not how you feel in your pants.
Here is the long version:
I can't believe I'm going to say this, but I reckon most DJs think too much while they're DJing. Normally, when someone tells me I think too much, I roll my eyes at them, because that's fucked up. But I do reckon DJing is like dancing: it's an exercise in being present. Be right there with the dancers. Feel what they feel. Read their bodies like you would your partner's, and work with their feels. Respond with empathy. Help them feel good, because you want to feel good too.
And you know what? Your incredible collection of rare and unusual jazz means nothing NOTHING, if you haven't looked at the dancers during your set. Get out of your ear phones NOW. Look up. STAND up! Get the feels. Your heart should be pumping like you've just danced all those songs. Get a contact high. Feel their feels.
Here's the sad news, buddy: your music is pop music. A zillion people have already 'found' that song before. So take pleasure in fun songs, rather than in finding something rare that no one else has. Your JOB, your PURPOSE as a DJ is to share music with people. Not share as in 'give this bounty to the people' but share as in 'do you like this song? Here, I'll play it, and we'll see what we think.' Most of the most popular dance songs of today are popular because they meet dancers' needs and are nice and simple and fun. And that is ok. Lindy hop: it's not brain surgery. It's FUN.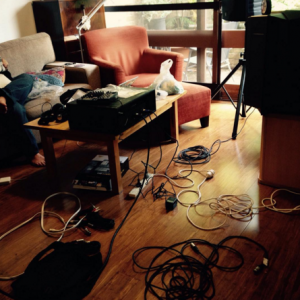 That's how I DJ. I do all my thinking before I get out there, I practice practice practice.
What do I do before I DJ?
I classify my music.
listen to my music and classify the songs. I note bpms. I note whether it's 'upenergy' or 'mediumenergy' or 'lowenergy'. Which are as simple as they sound: does this song make me crazy with excitement? Or not. If I think it's 'fun', 'lovely,' or 'nice', I put that in the comments. Is it really long? I use the genre tag to describe city/style/etc – eg NOLA small group male vocal; 1930s big band instrumental; etc. I give it 3 stars or more if it's something danceable. I classify it as a 'kissing song' if it's ~110bpm, and feels like you want to kiss your squeeze rather than dance. I note whether it feels like 'charleston', 'lindy hop', or 'blues. These last 3 are just for my own brain, and give me an idea of feel, rather than how people should dance – that's their business. And if I think it's great, I put it in my 'should play' folder.
I listen to my music.
I have a really shitty memory, so I have to go back through my expanding collection to remind myself about what songs sound like. I move them around in my 'should play', 'favourite', and 'maybe Event Name' folders when I'm preparing for a set.
I practice combining them in real time, as though I'm actually DJing.
This is the most important one.
I make sure I know how to use my computer, and I keep my system really simple. I don't want anything to stop me looking at the floor. So I practice with my gear, and I get rid of the fancy software.
I get good noise-cancelling ear phones that won't give me ear-itch.
These days I don't do this preparation stuff as much as I should. I don't listen to music enough. Teaching has changed some of my ideas about music: teaching doesn't make you a good DJ, I'm afraid. You tend to pre-select for song without long intros (social dancers are fine with intros and outros), you prioritise 'simpler' songs for class demos and work (unless you're looking at un-simple ideas in music for your class), and you're more conscious of tempo. You also try to find a variety of classic swing styles for teaching lindy hop, because that's part of a class: teaching people about the music.
DJing is not like selecting teaching music.
Don't be a Dick.
I've heard a handful of DJs say things like this in the past year: "I like to challenge the dancers," "I want to educate them [the dancers]," "I want them to hear things they never usually hear." That last one was from a visiting DJ who'd never played in that Australian city before.
Total dicks, all of them. And all men.
I do not ever go into a set with an agenda. That is fucked up. Don't go out there to 'educate', don't go out there to 'blow people's minds'. Don't assume your audience are plebs living in hicksville who've never heard jazz (that one happens a bit when American DJs come to Australia. Those DJs usually suck balls).
Go out there ready to be what the dancers need, right then. Be their friend.
While I'm DJing, my only rule or 'agenda' is:
MAKE IT EASY FOR PEOPLE TO HAVE FUN
That's it. That's all I plan.
That is 100% of my job. To make it easy for people to have fun. I don't make them have fun; they do that themselves. 'Challenge dancers?' Fuck that noise. The opposite is my job: make it really easy for them to have fun. Whether they want to show off, to chillax, to go like the clappers, or whatevs.
My other only rule is:
OFFER PEOPLE REGULAR INVITATIONS TO DANCE
I try to offer people regular 'ins' to the dance floor. Regular chances to get on the floor. Sometimes that means playing something slower tempoed. Sometimes it's a familiar song. Sometimes it's less manic, more relaxed song. Sometimes it's a crazy fun uptempo song everyone knows. Whatever. I want to give people a chance to invite someone onto the floor, whether it's a teacher, a noob, that person they love, their favourite dance partner, or Chaz Young.
I know DJs who'd die before playing Nina Simone's 'My Baby Just Cares For Me'.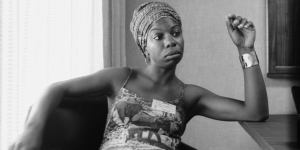 But for me, it's the ultimate invitation to dance. It's slow. It has a nice walking bass line. It has a lovely vocal about a lover who wants you because you're you. But it also has interesting changes in timing, it has really satisfying phrasing, and it's fun to dance to. New dancers have never heard it before. Experienced dancers know it's 'safe' for asking a noob to dance.
Most of these 'invitations to dance' songs are medium tempo favourites, but not all. Mostly, I try to make them really easy to dance to – a song that'll get those people who've been standing on the sidelines onto the floor. Wether they're tired, old, young, unfit, exhausted, overstimulated or Chaz Young. I want them to feel brave enough to ask someone to dance. I want to make it easy for them to have fun. And I like to drop these in regularly, so people who like to talk a lot can step in and out of the dance floor occasionally.
I often like to follow these songs with something a little more. Maybe it's faster, maybe it's more exciting, maybe it's unfamiliar. But it's not a huge change (because that would feel like a betrayal – I just got them out there! They'll probably dance two songs with this person, so let's make this one good too!).
After that, I might change it up completely.
HOW do I start a set?
But I don't go in there planning a set like this. I don't think 'Ok, this is my invitation to dance song, this is my challenge song, I'll play them in these orders.' I go in there thinking 'Did you do a wee, DJ? Do you have your power cord? What is the previous DJ playing now? Stop, spend a bit of time looking at the room and observing what they're doing and feeling.' And then I think 'Aw fuck, go do another wee anyway. Just in case.'
I get quite nervous before DJing, particularly for my first set of a weekend, so I like a few sets over the event. And to do a few wees before my set (not only because it's a chance to sit down in peace and quiet and get it together; mostly because one time I got locked in the stall mid-set, and I've never recovered). And I need to be gentle with myself before I start DJing. No caffeine or sugar (it makes me stressy). I like to walk around the room before I DJ, not dancing, but just checking out the vibe, a bit separate to the dancing vibe. Are people grumpy? Happy? Tired? Manic? Frustrated? How do they respond to the DJ's music? Enthusiastically? Dancing just because they want to dance?
I often dread following a really good DJ, because I just don't feel I'm terribly good at clever DJing: I tend to just go for the fun. So if the DJ before me has already played all the crazy fun, I'm going to have to work harder. And that's where I can really suck.
I also like to have a look and listen to my music while I watch the crowd. Does this song's feel match their vibe?
What has the DJ before me played? Avoid those songs. But get an idea of the vibe they've had going on before. It really helps if I've been dancing during the night.
Incidentally, I don't think you can be a great DJ if you don't dance the dance you're DJing for. So I am rubbish at blues DJing these days. And I try to dance to all the tempos, so I know what 'fast' feels like. The DJs I really admire do that – they social dance a lot, to all tempos, and they're continually working on their own dancing, deepening their physical understanding of jazz.
But I like to start with a nice song that either starts mediumenergy and builds, or comes in with a bang. I tend to start with something like Basie or Hamp, or otherwise pretty meat and potatoes. HELLO PARTY HAM IS HERE! LET'S JUMP AROUND!
Unless I'm the first DJ of the late night, then I start with a completely different vibe.
No rules
So as you can see, I have strategies. But these strategies aren't 'rules'. They're just ways of applying my knowledge of my music to what I see happening on the floor.
Make it easy for EVERYONE to have fun.
Everyone. Not just the rock stars and wannabe-rockstar cliques hugging the stage at the front of the room. They don't really care what you play – they just want you to make them look good and play songs they like.
I play to everyone in the room, especially the middle 2/3 of the dance floor. That's the bulk of the crowd. They come early, they leave last, and they dance a LOT with LOTS of people. The rockstarwannabes only dance with a small pool of their besties, and they have limited dance skills – they can only dance with their besties to 'cool' songs. I like to pitch to the bulk of the room. And as a DJ friend taught me, it's good to play to people who aren't dancing yet as well.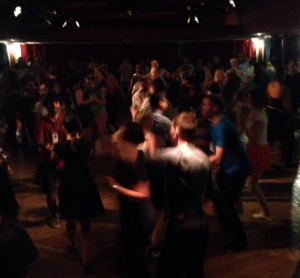 Having a full floor is my base line, rather than a mark of a successful set. A successful set is where the whole room loses its collective shit. Where they stay on the dance floor all night and occasionally run up to shout at you, all sweaty-faced, with their hair stuck to their cheeks and foreheads, and kind of wild-eyed and sweaty. They've forgotten to change their shirt. They're dehydrated. They shout loud, incoherent stuff. Both up at the DJ and to each other on the dance floor. They just run and grab partners and leap back onto the floor.
I'm actually ok with an empty floor occasionally. Somewhere like Herrang, where it's always overcrowded, a momentarily clear floor can be a good thing. Especially if it's fast and exciting. You can follow up with an invitation to dance that capitalises on that high energy.
I usually spend the first part of a set letting dancers know they can trust me. I don't play any shit songs. I don't play wacked out songs that change tempo mid-way through*. Once they know I can be trusted, I play more risky stuff. I play stuff with the odd intros, because I know they know that I won't play some piece of shit hip hop whatevs.
While I'm DJing I use my notes about energy and style to search my collection – eg I think 'ok, they're buggered, we need to back it off a bit tempo and energy wise. I need something mediumenergy and in the 150bpm range' so I search for 'mediumenergy' and then arrange by bpm. Then I scroll through, listening to the song playing over the speakers, and looking for something that will meet these criteria and suits the feel and style of the song that's playing. If I'm lucky a new song idea comes to me and I don't need to search – I think 'GOODMAN! NOW!' and then I search through my Goodman stuff for something in a tempo range and energy style. Or I just look for a specific song.
I have to preview songs, because I have a shit memory. But I also like to listen to a song with one ear in the headphones, and one ear in the room, to see how the two songs sound next to each other. I want a nice, comfortable transition. Unless I want to shake things up (but that is a risky proposition).
Mostly, I'm trying to work a tempo wave (so they don't die of exhaustion), and an energy wave (so they don't die of overexcitement). I tend to work this wave with my attention 100% on the crowd, and how they look and feel. Are they physically tired? Are they emotionally tired? If it's the former, drop the tempo. If it's the latter, back off the NT Basie wall of sound and get some tinkly Goodman small group in there.
I do like to aim to get them worked up, so I like to get the energy really freaking high during a set. But people can't sustain that, emotionally, for a terribly long time. Just like a panic attack only lasts about 15 minutes max (eg 5 x 3minute songs), I find the emotional highs have to come and go. Like waves. So while I build a single wave during a whole set (a tide if you will), that tide is comprised of smaller waves, working the energy up and down in steps. But once you get to about an hour, you kind of have to reset a bit and start again. Or else it's a bit boring.
And of course, it depends on the crowd. Really experienced lindy hoppers in good physical condition at an exchange on the main night of the event (eg Saturday of a weekend) want to PARTY, so they make it easy for you: bring the adrenaline, and they're into it. But if it's day 5 of a 7 day event, perhaps they want something a bit more cerebral? Some Kirby small group, perhaps?
My big rules:
If I try to pre-empt the crowd, I will DJ to an agenda and fuck up.
Don't DJ to an imaginary crowd that you've planned out before the set. DJ to the people right there in the room.
Like Mona says: practice practice practice, then get out there on the social floor and just enjoy yourself. Go for the feels.
*I'm surprised by how many dancers don't realise that most tempo changes – from slow to fast – are usually where the tempo doubles. So you can just keep dancing at the same speed, except you'll be dancing half time when the music gets faster. So be cool, yo. And like an old timer: half time is way radical awesome doods.