I'm very late on this one. So very late. But this has been a very busy year for me, and sadly, recorded music has had to take a bit of a back seat while I get on with things like live music.
Earlier this year Leigh Barker and his New Sheiks released a new album.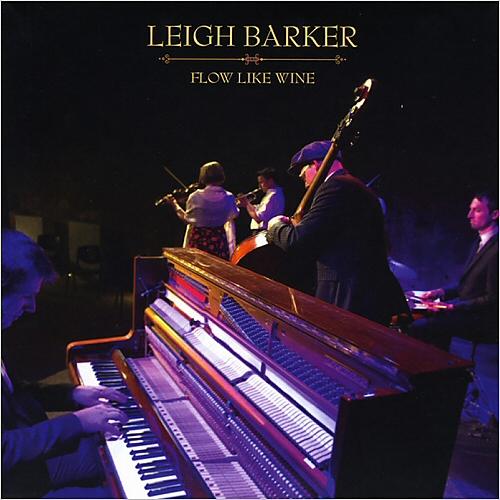 Flow Like Wine is pretty damn good. You can buy it here on CDbaby. Here is my disclaimer: I was approached by Leigh to write the liner notes, and sent a copy of the album to listen to before I wrote about it. Luckily (for me :D ) it's a great album, and I had lots of nice things to say about it.
The New Sheiks have actually released three albums, now. The first one was Sales Tax, which I wrote about when I first heard it in 2012. That's the sort of album that has things dancers would like to dance to on it. The second one was Australiana, which isn't so much a dancing album, but is perhaps more a listening album. Both are great.
It's important to point out that the New Sheiks are part of the Melbourne Rhythm Project, a collaboration with tap dancers, lindy hoppers, and solo jazz dancers. This group does the sort of cooperative work that's relevant to lindy hoppers, but also to jazz musicians and fans.
I think it's unique because it at once celebrates the history of jazz music and dance collaboration, but also looks forward to new types of creative work. That means, in simpler terms, that some of what they do looks and sounds like lindy hop, but some of it looks and sounds like 'new stuff'. Which I think is what makes it so interesting. A lot of the dancer/musician projects in the modern lindy hop world tend to be intractably recreationist, which is nice and all (and important), but not so great if you're looking for funding. Or for the new. Jazz wasn't meant to stand still. It is improvisation, and it's meant to change.
If you get a chance, you should see the MRP in action – it's great dancing, and great musicianship. Truly great, not just talented amateurs; this is professional dance and music. This group are focussed on this idea of 'rhythm first' dancing, which I've discussed in this post 'Sea of Rhythm Rambling', and which is super chic in the international lindy hop scene at the moment. Incidentally, Sea of Rhythm is run by tap dancers who've worked with the Melbourne Rhythm Project in the past.
I think this is very important: collaborations between dancers and musicians has led not only to some good shows by the MRP, but to a whole series of other projects which have influenced the wider Australian lindy hop scene. Many of these projects have been entirely unrelated to the MRP (eg the session we did at Jazz BANG), but I think it's fair to say that there's something of general trend in the lindy hop world to approach dance events with closer relationships with musicians.
Back to Flow Like Wine.
The New Sheiks are made up of some very good musicians, people who, while relatively young in jazz terms, have some pretty serious chops. IF you chase down their bios, you'll see they've won all sorts of awards and prizes, played in all sorts of bands, run all sorts of projects of their own.
The dancers reading this will be asking "So what do they know about dance music?" and I'd answer, "Heaps." I've been dancing to bands including Eamon McNelis and Don Stewart since 2001. Leigh Barker's been playing some very excellent bands for dancers (including a hot combo that blew my brain at MSF in 2013, and included people like Mike McQuaid, Jason Downes, Andy Swann and other Melbourne guns).
The MRP have featured some Sydney musicians too. Ben Panucci and Justin Fermino are part of the Basement Big Band, the Finer Cuts, the Cope Street Parade, and the Corridors. And all of these bands are custom built for dancing. As I write this now, I'm struck by just how motivated and energetic these people are: such exciting projects! …heck, I could go on and on.
Can you just trust me when I say that these musicians are a) good, and b), have been playing for dancers and paying attention? And they've been talking to dancers about music, which is something quite a lot of jazz musicians don't do. I think the New Sheiks understand that jazz – olden days jazz – was dance music first. That means it has to make people want to get up and move their bodies. And if it's really good, those people up on their feet will stop, and turn to stare at the band, because it's just that good.
The thing I like about Flow Like Wine, is that it gives us some very good blues music. Or music you might dance slowly to. There are some more moderate tempo songs on here, and yes, they are great, but I want to talk about the slower songs.
There are some really shitty bands being hired for blues dancing gigs in Australia (and around the world, I suspect). I'm not sure why. Perhaps it's because there are a lot more 'blues' bands than there are 'swinging jazz' bands out in the world, and these blues bands can be cheaper. Maybe the people hiring them don't know much about music. Maybe the scene is more tolerant of less excellent bands, or perhaps they're more open-minded about musical styles. I don't know.
But the music on this New Sheiks' album makes me want to run a blues dance weekend. And I've never had this urge. I don't think I'd even dance at this weekend – I'd just sit and watch the bands. So long as I could include this band in the line up. I think that you can't really play good jazz, swinging jazz, if you don't understand how blues music works. Not an original idea, I know, but I think that the lindy hop scene tends to schism a little bit when it comes to blues and lindy hop. Though the two dance scenes may be slipping apart, the music can't.
The musicianship on Flow Like Wine is really top shelf. I'm kind of a nut for Matt Boden's piano. And I tend to gush about Eamon's trumpet. But it's more that the musicians in this group have a rapport that really makes for wonderful dancing. I think that this album is so good because the band have been working together for much longer than they had when they recorded the first one. They are a band, and this coherency makes for just lovely listening.
I'm sorry this post is so rambly. It's new year's eve, and I'm a little distracted :D
I do recommend this album. You should probably buy it.
[EDIT] That song 'come on in my kitchen' is a massive ear worm. I can never get rid of it.[/]