Trust me. It's fantastic. And some of the recordings are live.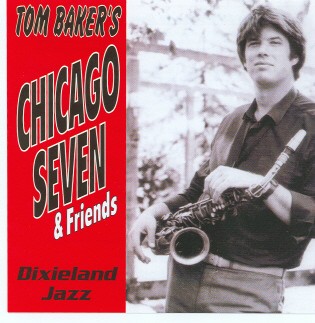 Tom Baker's Chicago Seven and Friends' album 'Dixieland Jazz'
This album features a veritable who's who of Australian jazz greats:
Tom Baker, Don Heap, Lynn Wallis, Roger James, Paul Finnerty, David Ridyard, Paul Furniss, Pat Qua, George Washingmachine, Pat Qua, David Parquette.
Lynn Wallis is my favourite Australian drummer. He blows my pants off. He used to be in the great little band Virus with a top shelf guitarist John Scurry. If you ever get a chance, go see this bro play. He's getting a bit fragile these days, so make it soon. Though he lives with his mum, who's about a million years old, so he could just keep on playing forever.
The other guy I'd like to note on that CD is Paul Furniss, who is a really nice clarinetist. Nice in the sense of being a lovely person, and nice in the sense of being a really great musician with a lovely touch. He's on a few great Australian recordings, and in bands like the Ozcats (sadly disbanded after their leader passed away a day or so after he did a memorable set for dancers in about 2009), on Monica Trapaga's recording, Carol Ralph's recording, and son on. Most importantly for ME he was a guest in the band we hosted the other week at our Swinging at the PBC party the other night. And it turns out his wife's BFF is a student in our classes, who luuurves jazz as much as we do, and has mad dance skills.
Anyhow, I discovered this album after I googled Paul, when Andy Baylor suggested including him in the line up for the Swinging at the PBC gig (which is something we'll be doing more regularly in the future… or perhaps a few more than the two we did in 2013 and two in 2014 – we have one on Wed 14th Jan, btw, to launch our new business Swing Dance Sydney). These Swinging at the PBC gigs are really nice. A small, friendly venue (which now has a piano!), with great acoustics, a great bar and kitchen, and community-run with NO POKIES. That's where we teach our Wednesday lindy hop classes, and I love it.
…anyway, back to Paul. I googled him, and I found this fantastic live recording of Woodchoppers' Ball which is actually on this CD.
This song is just too good. It's my pick from the CD. But then I've also played their version of 'Tar Paper Stomp' a few times lately. Yes, I've been DJing 'In the Mood'. But it is a CRACKER. I also recommend 'Curse of an Aching Heart' and 'Careless love'. The whole track listing:
Weary Blues
Mable's Dream
Ory's Creole Trombone
Tar Paper Stomp
Curse Of An Aching Heart
Bugle Boy March
I Ain't Got Nobody
Georgia Swing
Bogalusa Strut
Black Bottom Stomp
Skylark
Wrought Iron Rag
Careless Love
Wood Choppers Ball
No surprises, for an album called 'Dixieland Jazz'. But the musicianship is really special, and I think it gives you a good idea of the sort of approach Australian jazz musicians take. Informed by the NOLA tradition and the NOLA revival movement in the states, but with a unique Australian flavour. If there's one thing Australians do well, it's laconic humour. And that's what this album has.
Totally fabulous dancing. Great listening.
WHATEVER. How do I buy it?
Go to the online store and click the add to cart paypal button, then follow the instructions. The CDs are about $20, which will seem exy to Americans, but that's actually very reasonable for an Australian recording – it just costs more to do music here.
Mine arrived within a couple of days, but it was only traveling inside Sydney.
I don't know what the other recordings are like, but I imagine the 'live at the straw'b' CD is good, and the Yarra Yarra Jazz Band is one of those groups that was a legend when I first started looking at booking bands when I was living in Melbourne. Unfortunately they were impossible to book when I was finally ready to get them (because they'd moved to Sydney).
Will you make sure you let me know what you think of the other CDs if you buy them?