Omg I am so busy. SO BUSY.
Next Thursday I fly to Melbourne for MLX, the biggest, oldest, best lindy hop event in Australia. It's fucking great – if you're coming to Australia to dance, come for that. Nothing else comes close, and Melbourne is a great city. Weather is shitty, but there are good pubs. The music is THE BEST.
I'll be head DJ for that, and the increasingly ambitious MLX program has made my job trickier this year. The number of bands: HIGH. I aim to dance until I might chuck. Yeah, that's me running from the dance floor with my hand over my mouth. Super professional.
I get back on Monday. On the Wednesday our little teaching venue is hosting the charming singer Hetty Kate and the phenomenal guitarist Ian Date for a once-off 'Swinging at the PBC' gig. Every time I describe Hetty Kate as charming, or see her being described as 'lovely', I lol, because she is the saltiest arsekicker femme ever. We are very lucky to have them do this gig for us: Ian Date is now based in Ireland, and Hetty Kate is based in Melbourne.

That's the very awful ad I made. I wish I could have a solid designer on my staff to whip up these ads at a moment's notice, because I need approximately one million items a year to promote things online and face to face.
I think it's worth pointing out that Hetty Kate has the best online presence I've ever seen in a jazz musician. She has a lively, interesting instagram account, which was particularly cool to follow when she was recording with Gordon Webster. She's fun to follow on twitter, she has a fab website, which has everything a promoter needs: high-res photos, tour dates, downloadable posters, pdfs with bio information. She also keeps an up to date facebook page. And she managed a very effective pozible campaign, where she capitalised on a performing relationship with Gordon Webster to record a crowd-funded album. Working with Gordon is, of course, promotional gold in the lindy hop world – the guy has massive pull. All of this is just so great when you're promoting her for events. Add to this the fact that she's a very good 'product' – a great singer, an entertaining performer and a very together, organised professional – and she is the perfect musician to hire. If only 90% of jazz bands could figure this stuff out.
I am quite excited about this gig because I'm running it independently. It's tagged on the end of our classes, which we teach through a big dance school, but this social dancing bit is independent. I just thought 'fuck it – let's have a good party.' I don't care if no one turns up: it will be a brilliant fun time, and I figure: here's a present for our group. I run a lot of events during the year, but this is the first one I've run completely independently. Well, there are still a lot of people involved, working the door, teaching with me, helping put the band together (there're more musicians than just Hetty Kate and Ian), etc etc etc. But this is the first time I've gotten up the guts to do it all on my own. WINNAH.
On the Thursday after that, the teachers for the Little Big Weekend arrive, and the classes begin.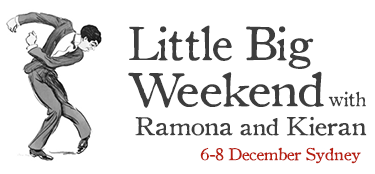 The Little Big Weekend kicks off officially on Friday night. I'm running this one, too, but I run it for the dance school, which means they fund it, but I plan and manage it, and work with a few superawesome people to run it on the weekend. It's not possible to run a good event entirely on your own, and furthermore, it's not a good idea: get other people involved to save your sanity, but also to give other people a chance to get involved in event management. The more people with more skills in your local scene there are, the higher the quality of the events, the greater the range of event types and styles. Diversity is good for lindy hop.
This is the fourth Little Big Weekend (they're biannual), and it's the most ambitious. Leigh Barker's band the New Sheiks is coming up to play the Friday and Saturday night gigs, and they're part of the Melbourne Rhythm Project. The MRP is a collaboration between dancers and musicians – lindy hoppers, tap dancers, guitarists, pianists, trumpeters, fiddle players….
They will be performing at the Saturday dance, but the dancers are all coming up mostly to hang out and be a part of it all. There are only three main workshops on the Saturday, but the third one will involve the musicians playing in-class, as we look at musical and dance structure and history.
This is exactly the sort of thing I LOVE, so that's very exciting. And it's very very nice to finally get to work with Leigh on a project after such a long time emailing and talking online, and chatting in person. Even if the entire weekend collapses (which it won't – we've sold out of workshop passes already), we are still WINNAHS because we are trying something very interesting, and right in our own creative and professional ballparks. And it will be MAD FUN.
But that's not all there is to the Little Big Weekend. The Speakeasy kids are flying in another Melbourne act: Andy Swann's band. He's been involved in lindy hop almost as long as I have, and he has mad skills. That party is already fully sick (at the last one I nearly did chuck up because I was dancing too much), so I'm not sure I'm physically capable of handling it. That party is one of the main reasons we don't have Sunday workshops: it is not physically possible after the Speakeasy. The Speakeasy is the sort of late night party where people can dance seriously hardcore lindy hop, and then find that they're just dancing all over the place. Not 'solo dance', but just rocking out. And the band usually bring their girlfriends (yes, the bands are all straight men. I'm working on that, though) and friends and they get up and just rock out, and it is awesome. There's really good food, a blues room, a nice cool, quiet room to chill out in (I rarely avail myself of that – I like to keep on rocking). When the band ends at 4am you think 'wtf? we just got started!'
Anyway, the week after that we don't have any classes to teach because our venue has finished for the year, but I'm off to Melbourne again for Sweet n Hot to do some classes with 'Skye and Frida'. Seriously doods, why doesn't anyone ever list the follow's name first? I mean, Skye is great and everything, but Frida is freaking powerhouse. She has unmatched dancing experience, talent and knowledge. I have booked a nice, quiet single room studio space on airbnb, so I'm going to chill. Hopefully there won't be any chucking up on this trip.
Then it's back to Sydney for a nice, quiet christmas. Until January comes, and new plans are set in place, and shit gets even realer.
I like what I do for a job, but sometimes I worry that dancing isn't really important enough to spend this much time thinking about. But then I remember that running a business and being an event organiser and teacher and all that is actually a lot of work, requiring skills that are useful in all sorts of businesses. And dancing brings people joy, and sends joy out into the world. I could be working in fucking retail again, for fuck's sake. But dance is about empowering people, and I think it's important. THE END.
To sum up, here is Norma Miller being fabulous again: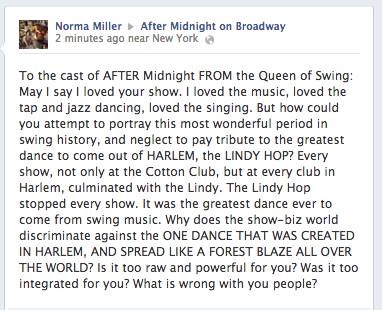 Someone replied to my posting this by pointing out that the show itself didn't seem so bad. That was interesting, but when I read Norma's comment, it didn't occur to me that I should engage with her criticism of the show. Who knows what that show's like. I was reposting her criticism because Norma Miller is exciting. She makes me feel strong and reminds me that you need to be confident and loud and powerful.
My response was:
The thing I like about this is that Norma Miller is a confident black woman who calls herself 'Queen of Swing' calling out some dood who made a stage show, on public media. She just doesn't give a fuck – she has a point to make.

Every time she calls someone out or declares, with confidence, that she is THE BEST, I get excited, because women aren't allowed to do that in lindy hop. I bet no one sends her hate mail. Or if they do, she finds them at a party, stands really close to them and gives them the biggest telling off OF THEIR LIVES.

She's fearless. FEARLESS. And for an older black woman living in America – that shit is AMAZING. …fuck, for a woman living anywhere these days, that shit is SO INSPIRING.

So I don't even care one bit about that show or what it's about. This is a story about how awesome Norma Miller is.
I love her comment, because she's obviously doing a bit of self promotion (queen of swing), she's calling bullshit, she's shamelessly stroppy. And that's what's so exciting. Women aren't supposed to be these things. We're supposed to be shy and meek and modest. And Norma is not.
So, I'm going to end this post with this nice little quote which I found on I hope you like feminist rants: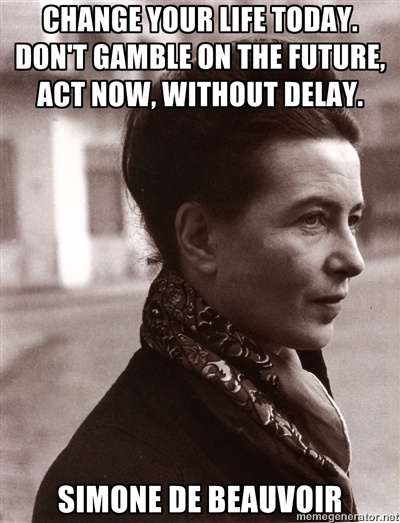 I think that a lot of women would like to do more organisationally things in lindy hop. We're not all designed to be the famousinternationallindyhopcelebrity. There's so much body image shit going on there, so much gender crap about working with male partners. But if you are ambitious, and you do have ideas, and you want to just do more than dance in lindy hop, there are lots of options. Start small, and work up. You don't have to run events or DJ or do stuff like that. There are other cool things.
You could start a once-off performance group with two friends. I've done this many times, and it's great. You mightn't do the best performance ever, but the process will teach you SO MUCH. You could work the door at a dance. Sure, it's not glamorous, but the people who work the door, bump in and bump out of dance events are the ones who make the whole thing possible. It's like the office lady at uni: she is the most important person in the department. And seeing how an event works in front-of-house teaches you how important it is to have a friendly face greeting first time dancers: lindy hop scenes are built on welcoming dance spaces. You could design and make dance costumes. You could design decorations for dances. You could learn to work sound gear (please, please do this and come and work for me – I NEED you! I will CHERISH you!) There are so many interesting options!
For example, Sydney Lindy Hub is run by a woman. This cool guide is the most thorough, most comprehensive guide to swing dancing in Sydney. There are quite a few guides to jazz music for dancers around. I ran one myself years ago in Melbourne. But this one does it right. What's so great about it? Firstly, the listings are comprehensive. You'll find all the band gigs, all the DJed gigs, all the dancer-run gigs, all the council run gigs, all the musician run gigs, all the live music venue gigs there. This thoroughness is the result of good research skills and – even more importantly – good networking. People contribute gigs to SLH, they contribute reviews of gigs, and they are engaged with the site. This is a total WIN.
This engagement is a product of the guide's cross-platformness (a website + FB + twitter), but also of the administrator's style. She responds to people positively and with enthusiasm, and she's proactive in her support of events. I never get a chance to send her my event's details, because she's already on it. I never get to suggest live music gigs, because she's already there. As an organiser, I see SLH as an essential promotional tool, so it's in my interests to engage with it (and with the administrator), but it's also a pleasure to engage with it, as it's so useful and productive.
I like the positive, inclusive tone of the listings. I LOVE that SLH encourages people to go out and review gigs. It's easy to just list a heap of gigs, but it's the dancers' reviews that make this site so powerful. The up to date listings help make SLH a really useful social calendar as well. People organise their nights of dancing around SLH FB posts and listings.
And finally, SLH is perfectly positioned in this moment in Sydney. There was a bit of a decline in organised dance events a few years ago, and SLH slipped in just as local dancers were getting really desperate for social dancing. I think that Sydney dancers' current passion for live music (and fierce enthusiasm for seeking out new gigs) is largely due to the role SLH plays in the swing dance community. It brings people together, it's a useful information tool, and the tone is light, fresh and enthusiastic. WINNAH!
I don't think the administrator's gender is particularly important in the general scheme of things, but if we are talking gender, and we are talking about how seeing other women inspires women, then I do think it's important. For me, it's important to know that I'm part of a network of creative, ambitious, enthusiastic women in lindy hop. It really helps to know that I can ring up a woman organiser in Melbourne to talk about how to manage employing international teachers. It's exciting to get a call from a woman oragniser in another city who wants to do a collaborative project. And it's just so NICE to get together with other women organisers at exchanges to just talk shit and then DANCE like fools.
And then, it's even more thrilling to see women doing things like organising the Melbourne Rhythm Project (Ramona is a driving force there, though I think it's a pretty collaborative project generally). It's really creatively stimulating to get together with other DJs (male or female, though increasingly female – we have so many great women DJs pushing up to the top tier in Australia), and I am particularly fond of a woman blues DJ in Melbourne, Manon von Pagee, who has such fascinating observations about DJing for blues dancers. Which I just don't understand. And, finally, it's wonderful to be on a dance floor where I know there are heaps of other women leads, so that I'm just one of them. I'm with my peeps.
Men are important and great too, but when there's so much bullshit in your everyday life, telling you over and over again that you should shut up and be invisible (so you don't get harassed on the street, sent nasty emails, challenged in dance classes, critiqued on the dance floor), having a couple of powerful women figures out there doing shit is so important. Norma Miller, you are loud and stroppy, and I mightn't always agree with your opinions, but by fuck: you make me feel powerful.