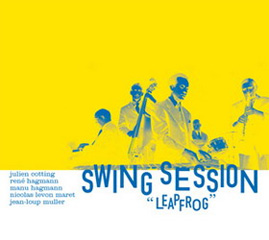 I bought Leapfrog by the band 'Swing Session' a little while ago, and it's great. No, not this Swing Session, though that's fun too. The Swing Session I'm talking about is Swiss, and I found them via the Red Hot Reedwarmers' site…. actually, I'm not sure where I found them. Looking at their site, I can't make the French translate (because FRAMES! ARGH!), but the .ch suffix makes me think Switzerland. I recognise some of the band names in the musicians' bios, but that's not enough. In fact, if you scour the internet for the bands listed in these guys' bios, you'll find some really nice stuff.
It was a bit tricky getting hold of this CD. I had to send an email to someone or I had to use paypal on a French language site or something. It was all a bit complicated. But If you want a copy, you should send an email to Manu Hagman, who is a top bloke, and was very helpful. His details: Emmanuel Hagmann ehagmann at manusound dot net Or you can go to his site and buy directly from him.
So, anyway, this is a good band. I like this CD a lot.
What does it sound like? Well, firstly, you can tell some of the blokes in the band are Benny Goodman fans. There's some spanking vibraphone in there. You'll recognise songs like 'Flying Home', but the treatment is quite different. If you pushed me, I'd call this chamber jazz meets power groove. But that's not a very helpful description. It doesn't really explain the way the piano works in this album. You can listen to audio clips from the band on their site.
If I was to DJ from this CD, I'd play the really good version of 'Bag's Groove', which is definitely powergroove, and has some really neat nonsense-mumbly scatting, a la 'Incoherent Blues' and 'Mumbles' by the Oscar Peterson small group. In fact, listening to it now, I don't know why I don't play it more often. It's really, really good. Sometimes you just want to get down into your hips and pretend you're Virginie Jensen.
The nice version of 'Leap Frog' on there is slower, and again it's getting towards power groove. But I don't think 'power groove' is actually a very useful or accurate description – there's enough get-up-and-go in that track to make it a bit more exciting than your average power groove.
They do a version of 'Yacht Club Swing' which is really nice. These doods are super talented. But this treatment is a little more in the pocket than Fats'. In fact, the whole album tends to ease off the beat a bit. But it still has a really driving beat that makes you want to get up and dance. And I really like the vibes in this version of the song. It's a really nice approach to what we tend to think of as a 'piano song'. It's as though Benny Goodman's small group decided to do some Fats Waller.
So, if you like the sound of this, and can handle the convoluted ordering process, get ordering.