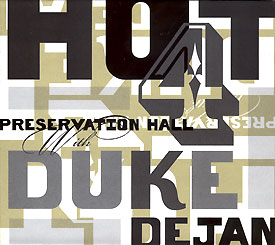 This is my favourite Preservation Hall Jazz Band album. It's called Preservation Hall Hot 4
"with Duke DeJan" and I like it because it's a smaller group, and while they're definitely trucking along, it's a calmer, quieter album. Their version of 'Dinah' is my most favourite, probably because I used to run to it every morning, back in the olden days, when my knees could hack both lindy hop and running. Ah running, I miss you so :(:::
I should write a post about Pres Hall at some stage, but for now, the basics are: this is a band that's been around for squillions of years, and is really the 'house band' for the Preservation Hall in New Orleans. The personnel have changed over the years, but the core ethos – play good music – has not. They have a jillion albums, and if you like jazz, you really should buy them all. I especially like the album with Del McCoury's band, but you mightn't – there's a lot of stringy old timey action there. I also like the Preservation: An album benefitting Preservation Hall and the Preservation Hall Music Outreach Program album, but the Hurricane Sessions one is good too.
Dancers tend to favour their version of 'Shake That Thing' (from the album Shake that thing), 'Last Chance to Dance' and 'Sugar Blues' (from the Hurricane Sessions album). But I prefer this quieter, gentler album. It's really quite a different type of jazz – less of that raucous collective improvisation. More of that quieter, listening-to-each-other stuff.