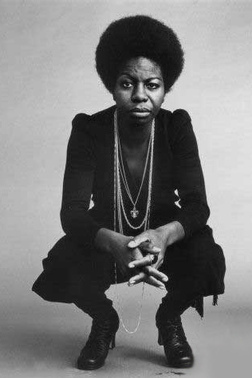 There's no trying to pretend that Nina Simone was a jazz era musician. She was born in 1933, and though she began playing piano at the age of six, she reached mainstream popularity in the 50s and 60s. Despite this historical distance from the 'jazz era', Simone's playing and singing was clearly informed by classic jazz and blues as well as soul, rnb, gospel and modern jazz.
Simone was, first and foremost a gifted pianist, one who also sang.
Nina Simone – Love Me Or Leave Me
There're a few bullshit pieces about Simone online, with stupid lines like 'Simone had a chip on her shoulder', as though her fury about racism in America was an overreaction by some silly emotional woman. Simone's anger was well justified.
This is my favourite Simone song, which some white guy once tried to tell me wasn't political. I can't even.
(Nina Simone – Backlash Blues)
The lyrics were written by Langston Hughes:
Mr. Backlash, Mr. Backlash
Just who do think I am
You raise my taxes, freeze my wages
And send my son to Vietnam

You give me second class houses
And second class schools
Do you think that alla colored folks
Are just second class fools
Mr. Backlash, I'm gonna leave you
With the backlash blues

When I try to find a job
To earn a little cash
All you got to offer
Is your mean old white backlash
But the world is big
Big and bright and round
And it's full of folks like me
Who are black, yellow, beige and brown
Mr. Backlash, I'm gonna leave you
With the backlash blues

Mr. Backlash, Mr. Backlash
Just what do you think I got to lose
I'm gonna leave you
With the backlash blues
You're the one will have the blues
Not me, just wait and see
(Photo of Nina Simone, taken by Jack Robinson, 30th October 1969)