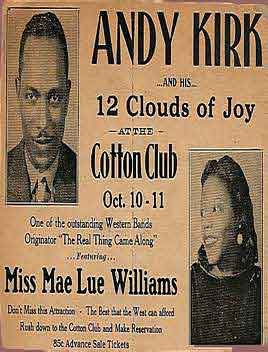 Mary Lou Williams was a phenomenal piano player, and one of the few who's generally (though not hugely) well known in the lindy hopping world. She's probably best known for her work with Andy Kirk's band – as pianist and arranger but she went on to become an well known public figure and performer.
Read more about Williams here in this fascinating biography (which is where I found that image at the top of this post).
Williams composed, arranged and played on this 1938 version of 'Little Joe From Chicago', as well as heaps of other well-known songs by the Kirk band.

(Andy Kirk and his twelve clouds of joy – Little Joe from Chicago)

(An untagged photo of Mary Lou Williams in the Gjon Mili Life Magazine collection)
NB That's Pearl Primus in the back, to the left.