This is going to be a crazy, incoherent post about how much fun I had last night.
First, there was a dance at the old Jail in Darlinghurst, in the National Art School's Jail House Theatre. Amazing venue. Amazing: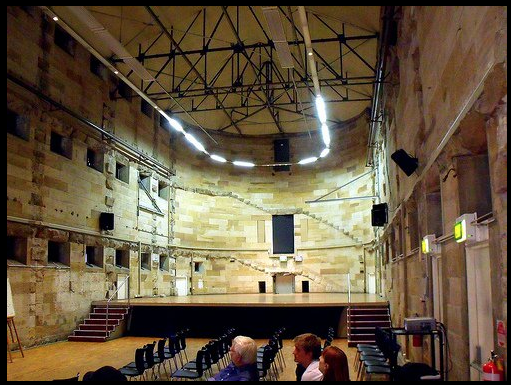 Secondly, the band were the Ozcats, who are a Bob Crosby tribute band, and feature some of the best musicians in the country:
Bob Barnard – trumpet
Trevor Rippingale – tenor saxophone
Paul Furniss – clarinet
Dan Barnett – trombone
Dave MacRae – piano
Stan Valacos – bass
Lawrie Thompson – drums
John Blenkhorn – rhythm guitar
Ron Falson – arranger and 2nd trumpet
I'm a big fan of Bob Crosby, and I really like the Ozcats I have one of their CDs, but I wasn't all that excited by it. But I've seen them live before, and they're really, really good. This is a very professional, very tight group of musicians who really know their shit. But they're also very inspired (and inspiring) and really make fabulous music.
From the first song last night, I was enraptured. It was my perfect tempo for the first few songs – about 180 to just over 200. Beginning dancing, I was prepared to just have a nice time. But by the final chorus, my mind was BLOWN. This was the best band I'd lindy hopped to in… well, ages.
I looked around at the dance floor, though, and saw only about ten couples. There were 200 or so people in the room. Uh-oh. After about 4 songs, the band played a version of… 'Makin Whoopee'. As I heard the first few notes I thought 'Oh no. Sell out.' But the dancers (who were mostly beginners – this was a beginner-focussed dance) suddenly surged onto the dance floor. And by about a chorus into the song I had revised my opinion. This was an interesting, exciting arrangement and performance of a (fairly tired) workhorse. And, wonderfully, the dance floor stayed CROWDED for the rest of the night, though the tempos were quite high on average (though there were plenty of slower songs dropped in). It was cool to hear a band do what a DJ might do – play an old favourite in a basic tempo range to fill the floor, then follow up with something fun and high energy to keep them there.
I did hear a dancer say they thought the band was "a bit samey", but I pointed out "They're a tribute band." I refrained from pointing out that, you know, they're a band and not a juke box. And a good band puts a lot of effort into developing a unique style and sound. But it did really draw my attention to the fact that the acoustics in the room weren't brilliant. When you got further to the back, the sound lost a lot of its richness and layers. So from then on I danced up against the stage, destroying my eardrums and yelling up at the band between songs.
In fact, I'm embarrassed now by the number of times I told different musicians how much I loved their set, their band, their solo. Nerd. Nerd. Nerd. I was a total fangirl nerd for these old blokes. Eventually I spent the last few songs just pressed up against the stage jiggling about and yelling "YAY!" I've never done anything like that before. I'm not usually so shamelessly fangirl for a band.
Thirdly, three of us did a performance at the dance, and it went well. This probably accounts for some of my crazed love for the band. It's hard not to love music and musicians when you're pumped full of dancing and performing adrenaline. But I loved them before we performed (which was at 10:45, with the dance starting at 8). We:
had proper matching costumes,
did the Tranky Doo (because we know it and we wanted to do a famous routine for our first go),
had a special announcer (Jase! Excellent! Host with the most) who we'd prepped with a special speech,
organised it so that we sort of waded into the crowd, clapping and clearing space, rather than turning on all the lights, having everyone move back and sit down,
organised it all with the DJ, carefully, so we were framed properly (yay Tim! Yay!),
did quite a bit of yelling during the performance – stuff like "apple jack!" to each other and "I'm looking at you, Sam!" before our solo and "Again!" before the repeating section. We did that mostly because we'd done it during the practices to remind us of the bits we forgot, but also because we watched the clips of our practices and thought it seemed fun,
followed it up by calling out to the crowd "Do you know the shim sham?! Can you bring the shim sham!" and initiating a shim sham, in honour of Mr Frankie Manning of course. That was a fun thing because it's Frankie's birthday on the 26th, and teachers have been running shim sham classes the past few weeks, so the beginners were all excited about it.
It was brilliant fun. It felt as though the crowd really enjoyed it. There felt like lots of energy, and while we did about three phrases of our own (very basic) choreography to get into position, when we started the Tranky Do, the crowd just SHOUTED. It was so exciting. I like to think that people shouted because they recognised the dance, and were all 'yeah! old school routine!'
It was very nice to have such support, as I haven't done any performing in ten years, so I have next to no performance skills, and I was rusty. I also made mistakes. We were pretty nervous before hand, and all the shouting and support felt very friendly and was very encouraging. I think of this as a beginning place. We weren't brilliantly perfect, but we got up there and had a lot of fun, and did a very honest performance that was actually solid and people enjoyed. No cheese. Just a lot of love for the routine and the song and for dancing.
What I hope now, is that other people think 'hey, I could that!' and put together something. We're not a formal troupe or anything (though we used the name 'the Harbour City Hot Three'), but we did get together and work on the routine pretty thoroughly. We didn't choreograph a new routine, we used a famous routine. So I hope other people have ideas for a little performance and do something. I'd like to see some more grass roots type performances by people doing shit they just love. Especially if they're not already performing.
Incidentally, the song we used was 'Milenberg Joys' by Gordon Webster's latest album Live in Philadelphia, and it was wonderful. It's a live recording, with lots of energy and a good, exciting finale, so it felt just right. I do recommend that album if you don't have it – it's really good stuff. Lots of good songs for lindy hopping, blues dancing, balboaing, everything good.
But my night wasn't over yet!
After the dance, a few of us had organised a late night dance – the Speakeasy! – at the studio where I did my hip hop class this week. We'd run one at this venue before, and it'd been very popular. This time it was even more so! It's a really fun party type dance, lots of people help organise it, do door shifts, set up, DJ, cook food and generally help out, and it's good because it isn't like a hardcore lindy hop late night.
What makes it good?
The room is a really good shape. The elevator to the venue opens straight into the room, onto the registration desk, which is an island in the middle of the room (where we put the DJs). So the 'bing!' of the lift is exciting as it opens and a whole group of people pour out. You're also immediately in the party. There are lots of couches to sit and talk, room for some dancing (but not a whole big, empty space), and there's also a smaller room off to the side, through a big archway, where the ladies set up a table for food.
There are a lot of keen bakers in the Sydney dance scene, and this time people went all out. There was a table of really top notch baked goods (cornbread, brownies (two types!), cupcakes, muffins, biscuits, YUM!), all marked with a little sign saying what they were and who made them. That was a really nice touch – it was nice to know that all sorts of people had contributed. That little room had a nice couch in it as well, so it was a nice little place to find some food and move around.
The music is 'party' music, and stays below about 150bpm. This is nice, because it feels really accessible, tempo wise. After such a fast, exciting band, it was nice to have less intense music. The DJs usually play a combination of blues (all types, usually higher than about 90bpm), early rnb, some soul, some funk, a little hot jazz, a little swing. There were even a couple of slower songs by neo bands. It's a really good mix, because the DJs all favour really good songs, and they're really high energy and lots of fun.
I'm ordinarily a real purist, and hate a DJ who plays unswing at a swing event. But this isn't a swing event. It feels like a house party. When I walked into the room from the lift, it felt like a real party. Most of the room was standing about scoffing yum baked stuff, drinking beers, and talking really loudly. There was very little standing about awkwardly. It's a hot, sweaty room, so it feels kind of good on your skin. People tend to get really loud and shouty.
After a little while, while the DJ was playing the sort of good music that gets the room warm, and a few people danced a little bit, the DJ (Tom) changed gears. It was like the bass got deeper, and the music suddenly made me want to dance. The dance floor filled a bit. It's a good venue, though, because the dance floor is kind of just one space in a range of types of spaces in the room, so you don't feel as though there's nothing to do if you're not dancing. A lot of people were standing about talking and laughing, though they were happy to have a dance or two if they were asked. But it definitely wasn't the sort of gig where you feel you've had a shit night if you didn't dance every song. But there's still lots of energy and lots of good dancing going on. Watching the dancers, I was struck by how much fun they were having. There were no serious, worried faces. Just lots of laughing and talking and shouting on the dance floor, as well as people really getting down.
Because the music is varied, people dance in lots of different ways. I saw some bal, some hardcore lindy hop, some blooz, the VERY BEST HIP HOP by one of the studio's teachers, some kids dancing de disco and getting down, some kids jumping about and just jiggling with fun. It was a nice mix. There were lots of people sort of grooving it while they stood and talked as well, which was nice.
I'll do a separate post with my set list (and perhaps an 8track) so you can see what I mean when I talk about the music. It's a BRILLIANT gig to play. I really feel as though I do my best work there. I feel like I connect with the dancers, and keep the energy high, but also working an energy wave. I like the challenge of working between styles – hot dirty old school jazz, 60s protest song blues, super-familiar soul and funk favourites and early r n b. It's tricky to make all these styles work together without abrupt, clutch-less gear changes, and I like the challenge. I like it that I'm DJing standing up and in the very middle of a crowded room, literally a hand's breadth from the dancers. It's exciting and I really feel I can connect with the dancers. But it's also a very tiring gig where I work really hard. And sweat!
After I DJed (at about 12:45am), I ate some more cakes, then danced about like a fool. Dave and I danced together a LOT, like Uma and John Travolta, like our own bad selves, and like idiots. I talked and shot the shit, I sat on the couch and watched people having a great time on the dance floor, I heckled the DJ and I thoroughly enjoyed myself.
At 3am, we admitted exhaustion, hunted down a cab and went home. Happy, achey and very very tired.