Goodness me, but that 3-5am set was a bit of a push for nanna. I used to always be there right til the end, ready willing and able to play blues til the very last dancer lay down and died. But not this weekend. I was exhausted by 2. But I still managed to get it on.
The main room closed at about 2.30am, and while I and the DJ before me were rostered to do 'blues' sets, we both figured it was a good idea to play more transitional sets. Noni played a spankingly good set of what I think of as 'power groove' – hi-fi, lower tempos, but good, fat, chunking energy. It was really great to watch and listen to, but a bit of a challenge to follow. I was just blank (again). I really don't handle these late nights very well any more. We were in the back room, which I much prefer for dancing (wooden floors, not parquetry over concrete, a smaller, more intimate setting, slightly darker lighting, etc etc etc) and the main room had closed.
The lindy hopping crowd had moved into the foyer full of couches, or started filtering into the back room. Keith, the DJ before Noni and I, had played my favourite set of the weekend: olden days stuff. Stuff I love to dance to. Small and large bands, the former of which especially suits that back room. Then Noni and I were to follow up with blues. So the crowd was still, generally, a lindy hopping group, but with a fair few blues dancers or people who dance either. It was a tricky moment, really. I'm not sure how I would have handled it as an organiser. MLX is a lindy event, so lindy should always come first, but blues is very, very popular in Melbourne and MLX has given good blues in the past.
We'd had similar issues the night before when I finished the night out in the lindy hopping main room at 4am (as requested by the organisers): people were really still interested in lindy hopping. The problem, really, was that the organisers and volunteers were just too shagged to keep going. And of course their night doesn't end with the DJ, it continues on for an hour or two afterwards as they clean up and push dancers out.
At any rate, I feel pretty ok about my set. I didn't know when to move to blues, though, and would have appreciated some guidance from the organisers. But they were particularly unhelpful with this sort of thing that night. So this is what I played:
MLX9 29-11-09 3-5am Blues
All Right, Okay, You Win Gordon Webster (with Brianna Thomas, Jesse Selengut, Matt Musselman, Adrian Cunningham, Cassidy Holden, Rod Adkins, Jeremy Noller) 137 2009 Happy When I'm With You 4:41
Intro / Time's Gettin' Tougher Than Tough Jimmy Witherspoon with Roy Eldridge, Ben Webster, Coleman Hawkins, Woody Herman, Earl Hines, Vernon Alley, Mel Lewis 134 1959 The 'Spoon Concerts 3:35
I Ain't Mad At You Mildred Anderson 158 1960 No More In Life 3:04
Blues For Smedley Clark Terry, Ed Thigpen, Oscar Peterson, Ray Brown 137 1964 Oscar Peterson Trio + One: Clark Terry 6:57
Here I Am (Come and Take Me) Al Green 95 1975 Greatest Hits 4:15
Son Of A Preacher Man Aretha Franklin 77 Greatest Hits – Disc 1 3:16
I Got What It Takes Koko Taylor 72 1975 I Got What It Takes 3:43
Hound Dog Big Mama Thornton 76 Very Best Of 2:52
I Just Want To Make Love To You Etta James 106 1960 The Best Of Etta James 3:07
3 O'clock In The Morning Blues Ike and Tina Turner 64 1969 Putumayo Presents: Mississippi Blues 2:40
I Hate To Be Alone Roosevelt Sykes 77 The Bluesville Years Volume 11: Blues Is A Heart's Sorrow 2:04
Telephone Blues George Smith 68 1955 Kansas City – Jumping The Blues From 6 To 6 3:03
Built for Comfort Taj Mahal 98 1998 In Progress & In Motion (1965-1998) 4:46
Sleep in Late Molly Johnson 86 2002 Another Day 2:47
Reckless Blues Louis Armstrong and his All Stars (Velma Middleton, Trummy Young Edmund Hall, Billy Kyle, Everett Barksdale, Squire Gersh, Barrett Deems) 88 1957 The Complete Decca Studio Recordings of Louis Armstrong and the All Stars (disc 06) 2:30
Perdido Street Blues The Lake Records All-Star Jazz Band 107 2009 The Rosehill Concert 6:05
Sister Kate Firehouse Five Plus Two 100 Dixieland Favorites 4:31
Wild Man Blues Sidney Bechet and his New Orleans Feetwarmers (Sidney de Paris, Sandy Williams, Cliff Jackson, Bernard Addison, Wellman Braud, Sid Catlett) 88 1940 The Sidney Bechet Story (disc 3) 3:20
Winin' Boy Blues Jelly Roll Morton and his New Orleans Jazzmen with Sidney de Paris, Claude Jones, Albert Nicholas, Sidney Bechet, Happy Cauldwell, Lawrence Lucie, Wellman Braud, Zutty Singleton 91 1939 The Sidney Bechet Story (disc 2) 3:10
Rosetta Blues Rosetta Howard acc. Harlem Hamfats 103 1937 History of the Blues (disc 02) 3:00
Gimme A Pigfoot Bessie Smith acc by Buck and his Band (Frank Newton, Jack Teagarden, Benny Goodman, Chu Berry, Buck Washington, Bobby Johnson, Billy Taylor) 1933 Complete Jazz Series 1929 – 1933 3:30
Papa Ain't No Santa Claus Butterbeans and Susie with Eddie Heywood sr 116 1930 History of the Blues (disc 01) 3:20
You Took My Thing C.W. Stoneking with Kirsty Fraser 111 2006 King Hokum 2:51
Jealous Hearted Blues Carol Ralph 80 2005 Swinging Jazz Portrait 3:48
Riverside Blues The Lake Records All-Star Jazz Band 88 2009 The Rosehill Concert 4:47
St. James Infirmary Allen Toussaint 107 2009 The Bright Mississippi 3:51
Kitchen Blues Martha Davis 80 1947 BluesWomen: Girls Play And Sing The Blues 3:05
Fine And Mellow Mal Waldron and the All-Stars (Billie Holiday, Roy Eldridge, Lester Young, Coleman Hawkins, Milt Hinton) 79 1957 The Sound Of Jazz 6:22
I Want A Little Sugar In My Bowl Nina Simone 65 1967 Released 2:33
Hard Times Mildred Anderson 67 1960 No More In Life 4:15
Back Water Blues Belford Hendricks' Orchestra with Dinah Washington 71 1957 Ultimate Dinah Washington 4:58
Hound Dog Big Mama Thornton 76 Very Best Of 2:52
The first few songs were very much transitions from Noni's vibe: high energy, hi-fi power groove with a live or high energy feel. That new album by Gordon Webster (who is also a dancer) is very versatile, and I heard a lot of it this weekend. I quite like this version of All Right because it's not the Barbara Morrison one. Then more Witherspoon live. I really, really like Mildred Anderson's voice, and though this song isn't what I'd think of as good lindy hopping music, it is quite fun early r n b or jump blues (I'm not sure of the distinction). I wanted to move towards blues (as briefed), but I wasn't sure people were ready to get cuddly. I also wanted to get to New Orleans in the near future, but wanted to keep the chunky basement party feel.
Blues For Smedley was a mistake. I don't know what I was thinking. Except, perhaps, that I wasn't quite thinking clearly and hadn't really decided what I was doing. I think I might have been trying to mellow the crowd out. I just bored us all with an interminable Ray Brown solo. Again.
After this, things were kind of flat/mellow. So I tried some (wonderful) Al Green because he's touring here very soon. And because I love him. I was also thinking about that r n b/soul/ house party vibe and deciding that was what I wanted to do for the next little while.
Aretha was purely an attempt at populist easy-scores. It's also a sing-along song. I DJ it at blues dances every now and then, and it still rides well with me. I was kind of trying to get to the soul/rnb side of Aretha rather than the soul/funk side of things.
I Got What It Takes was a test: were they ready for blues dancing? For slower, sexier stuff? This is where I got a bit confused. The floor emptied and refilled with a completely new crowd when I moved between higher and lower energy stuff over the next half hour or so. It was as though the blooz guys were moving in for the blooz, then sitting down when the kids interested in lindying on got up. So I was confused. I was a bit too tired to go survey the foyer and see what people were into. I would kind have liked to do a lindy set, but, really, I'd prepped for a blooz set, and I wanted to work that vibe. In retrospect, I could have done as a band would have: moved from each style alternatively. And an early New Orleans style would have worked for me. A brave move, I think, but could have worked.
Oh well.
This is clearly one instance where a bit of clear guidance from the organisers would have been helpful. And usually I can judge these things pretty well. But I was so freeking tired, and really having trouble focussing. I was also alternating between standing up and jiggling and dropping into my seat, exhausted.
Hound Dog was the perfect vibe for this particular moment. If I had more of this stuff, I'd have played it all night long. This is the stuff DJ Goldfoot plays. It's early rnb, it's gritty, it's not, in any way, associated with Elvis Presley or that sell-out, rip-off white-wash bullshit. I have decided to blow my remaining emusic credits on lots more as soon as our internet gets unshaped.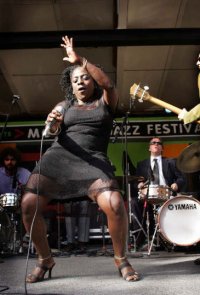 This is an interesting stylistic moment, actually. I'd put it, clearly, in the blues music camp. It's definitely blues music. But it's quite high energy. A lot of this stuff is above 100bpm, though it's really heading towards the average tempo for pop music today (about 120bpm). But it doesn't really feel as though it's in the jazz camp any more. We can hear rock n roll, just, sort of, in the next room. But it's also remembering jazz and early blues. And echoed in the work of people like Sharon Jones.
I think that I'd really, really, really like to go to an afternoon or Sunday night gig at an exchange that featured this type of band in a grotty basement bar or nightclub. Beer, food, dancing, talking shit, hanging out, singing along. Not hardcore anti-social lindy hop where we all leap about like rabbits, but real party music, where people pick up and fight and get back together and laugh and drink have fun til they're exhausted.
So then I played a Tina and Ike Turner song that's a little mellower. I love this early Tina Turner stuff – she's just so great. I wish I had more.
Historically speaking, I'm not sure how people danced to this stuff. I suspect it was a little like this: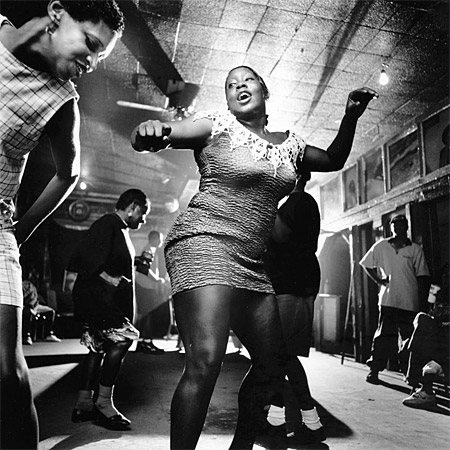 (Image lifted from here. If you're liking this Bill Steber photo, I've linked to a few more here.)
That's how I dance to it. I spent about two band sets talking to a good friend about the advantages of having a whole heap of jelly to shake and being over 35. We laughed a LOT, frightened a couple of twenty year olds and talked a great deal about >35 year old boob-sag and boob-bounty. Ultimately, if there's a pistol on the mantelpiece in act one, it's going to get used by act three. And, really, it's a crime to pack heat and not flaunt it.
Speaking of which, this Taj Mahal song is still a favourite. It's a good thing I don't DJ blues much these days, or this song would be massively overplayed. I love the lyrics. And the fact that it's a man singing. There were actually two blokes dancing together to this song and it was a delight. I think, unfortunately, the gender-flexi subtext of the song added to the social challenge of two men blues dancing together eventually led to their abandoning the dance. I was disappointed.
Sleep in Late was my transition song. I was thinking 'New Orleans'. And also '1920s.' And 'blues queens.' Which, really, is where I want to be most of the time.
That version of Reckless Blues is another I overplay. But it's hi-fi and a really useful transition track.
That version of Perdido Street Blues is super-saucy and really fucking great. And it's live, and featuring Duke Heitger. I'd had the Bechet/Armstrong version on my shortlist all through my Saturday lindy set, and was really glad I managed to stuff it in somewhere. At this point a heap of people returned to the room for dancing. In retrospect, I think they were lindy hoppers looking for uptempo stuff, but then again, I'm not entirely sure – some of them were also hardcore blues people. Ah well. Maybe they were looking for that particular style?
I'm not all that keen on the Firehouse Five any more. They're a bit cutesy. But I couldn't resist another slower version of a popular fave.
And then I _finally_ got to Bechet. If you're thinking about New Orleans, you really have to play some Jelly Roll. This is a version with cleaner lyrics, which is a good thing, as the other version is really obscene. Nothing coy or double entendre about it at all – it's just straight up obscenity. And I kind of prefer a little clever word play.
At Rosetta Blues, I was thinking 'tinkly piano' and 'dirty nannas.' I'd had a few requests for some dirty nannas kicking arse and taking names, so I figured it was time. I play this song almost every time I DJ blues so, once again, it's a good thing I don't do much blues DJing these days. I fucking love it.
I'd had Bessie Smith lined up for ages, but hadn't quite had the guts to do it. I've never DJed Bessie Smith before… well, I think I've DJed Do your duty (with Bessie Smith acc by Buck and his Band (Frank Newton, Jack Teagarden, Benny Goodman, Chu Berry, Buck Washington, Bobby Johnson, Billy Taylor in 1933), but not for a long while. It was an absolute delight to see dancers really getting into her and really responding to her performance. Smith is really incomparable as a vocalist, and even all these years later, mediated by layers of wax and crackle, she still pwns.
Pappa ain't no santa claus was a stretch. I should perhaps have not played it. Or not have played the next song. The Stoneking song is almost exactly the same as Butter Beans and Susie, but the performances aren't any where near as good. I have ongoing reservations about Stoneking's appropriation of black blues performance styles and songs, and kind of wanted to show how he's not as good as the originals. It didn't go down as well as the preceding songs, but then it was the third or fourth in a row, and this stuff is a bit challenging for Australian dancers at the moment (in my experience, any way, and my experience certainly isn't terribly broad).
All this annoyed me, and I was particularly irritated by Stoneking's bullshit, so I decided to just change gears immediately. Carol Ralph's song is another good, solid transitional track when I want to get to what I think of as 'New Orleans'. That's a good song, and it kind of trucks along with a nice, rolling rhythm.
Riverside Blues went down well as well, with an effect similar to Perdido Street Blues. I like it that I play the same artists for blues dancers and for lindy hoppers, just at different tempos. I like the implication (or evidence?) that you can't have swing or jazz without the blues, that blues dances (and the blues idiom more generally) gives lindy hop and swing its backbone.
The Allen Toussaint went down as well as it usually does, and I was tempted to just play another. Or even the entire album. It's gorgeous music, beautifully produced, and a wonderful tribute to and reimagining of the New Orleans classics. But I played it in part as a way of dropping the energy. It was time to cuddle-blues. This version of a blues dancing favourite is so lovely. I love listening to it, and it's really nice seeing dancers work with the dynamic range, and exploring the layers of rhythm at work here.
I was also trying to make my way to the lovely version of Billie Holiday's Fine and Mellow. I think Laylie had actually sung it with the band earlier that night (I can't really remember, though). I love this Holiday version because it's so, so taught with emotion and suggestion. She's trashed, but her musicianship is flawless. It's also a live performance.
So Kitchen Blues, with its light touch and Lutcher's delicate piano and lovely, rich (yet restrained) vocal are a great introduction. Kitchen is instrumentally sparse – just piano and drums, I think.
Fine and Mellow did as expected. Cuddles all round. It gives me goose bumps every time I hear it in a dark room on a big sound system.
I almost played the Bessie version of Sugar in my bowl, but went with the super-sensual Simone version instead.
The more Mildred Anderson. This time slow, slow, slow, with her lovely, velvety voice really stretched and achey.
Back Water Blues is something I always play for Cheryl when she's in the room, because she loves Dinah. And because I do too. And I figure, if I'm playing Bessie, I better play a whole lot.
And then I had to call last song because it was 4.57 and I was utterly exhausted. The kids would have danced longer, but, frankly, they would have danced til they died, so I wanted to end it before it made me hate all blues dancers. And I like to end with a full room, rather than letting it peter out.
This song's so nice, I played it twice. There was some comment on that, but, what the fuck – it's 5am and I'm the boss. And it's a fucking good song. And people liked it as much as I did, so they had a fun dance with it. There were more than a few voices joining Big Mama in the howling at the end.
So, generally, it was a pretty good set. It went better than I'd thought it was. I discovered that I'm probably a bit too weak for super late night DJing these days. Though sitting down makes it easier. Blues is boring to DJ. Super boring. Because the dancers are really introverted and partner-centred. I never see anywhere near enough solo stuff (if any at all), and I don't see enough extroverted, show-off stuff or parodic/ironic riffs on the parodic/ironic lyric content, but then, that's blues dancers for you in general. They tend to be a bit… serious.
MLX9 is over now, and I'm kind of relieved. My ankle is pretty swollen, but it doesn't hurt that much. I didn't dance much, which really sucks, but then it's kind of good because it means that I didn't hurt myself. I spent most of my time talking to people, which was fabulous. I also made a serious effort to get to all the band gigs on time so I could watch the bands. The more I DJ, the less interest I have in listening to DJed music; I want bands. And the bands at MLX9 were really really good. A really good cross-section of styles, from recreationist 1920s hot jazz to 1950s Ella and Basie. And things in between. I have a few clips to upload at some point so you can see what I mean.
Now, I think I need to go to bed. Because it's finally after 7.30 and I don't feel ridiculous letting myself sleep. The Squeeze has been fast asleep beside me in the bed for ages already, and it's very sooooothing.