Here's a little round up:
Western Swing is ME.
I am currently in love with Bob Wills and his Texas Playboys. This is in preparation for the Hot Club of Cowtown tour next month. I saw them in the UK (at the Marlborough Jazz Fest) in 2004, and they were freakin' GREAT. The next week I saw Casey McGill's band at a dance camp and they told me that their bass player had absconded for the HCCT. I'm not sure whether that's a tragedy or an awesomey.
Bad foot is still ME.
My foot is still bung. I have been to see a podiatrist to strapped me up. That helped the first time, but not the second time. I am also doing exercises to strengthen the muscles in my calves/shin to help out my plantar fascia (ie so it's not overloaded). I am down to get orthotics next week, but they mightn't work. Basically, these fibroids in my foot are never going to go away and they can't be cut out. So I'm looking at pain management and impact reduction. I danced two half dances on the last weekend and it HURT. The problem is not so much the impact (which hurts and hurts normally), but the fact that there's pivoting and my foot actually twists when we do lots of turns and things. That's where the pain is at. It sucked to find out how much it still hurt, but at least I know where I'm at. Though I think I'd have preferred to continue in blissful (and hopeful) ignorance. If I can't dance again, I'm really not sure what I'm going to do. If it's not lindy hop, it could have been something else – I come from a long line of dancing, lumbering folk, and I can't fight my DNA. Perhaps I'll learn an instrument. Any suggestions? Maybe the drums? Bass? I did a lot of singing at school, but that was a long time ago.
Allergies are GO.
I am having trouble breathing and my ear is all glued up. Again. Still, I've had much less trouble with my health since I moved to Sydney, so I'm certainly not complaining. It is melaluca flowering season, and there goddamn paper barks all over every street in every inner city suburb in Australia, so I need to deal. Won't be long now, though, and I can come off the antihistamines.
Library is MINE.
I have been back to the Con's library this week. It is a joyful place. Though it is full of students, now, and that sucks. They're almost uniformly middle or upper class, supernerds and 70% male. Guess that's what a career in hardcore arty music requires. The jazz section was all dusty when I first got in there. Now it has at least some use. The refec near the library is SHITHOUSE. The actual room is quite nice – it has a lovely little stage (with nice piano), and would be perfect for a dance gig. The acoustics are magical. But the food is inedible. I was reduced to pre-made sandwiches. Most of the students in this (actually quite nice) mini-refec were eating packed lunches. There you go.
emusic is not all mine. Yet.
I am blowing through my emusic downloads ridiculously quickly. Even when I ration them. There're simply not enough.
Quickflix is suspended.
Since we moved to Sydney the DVDs have been slower to arrive, have almost always been terribly scratched, and we never get anything in the top 50 of our list. I have suspended our account until we've decided what to do. We're still on one of their unlimited DVD accounts, but I'm not sure it's worth it, as we only get about 3 a week, which isn't much better than getting 12 a month max, is it? The video shop here is pretty good, so we might just go old school. Though using a video shop means I have no natural limit on my DVD viewing.
Dr Who and Farscape rule my world.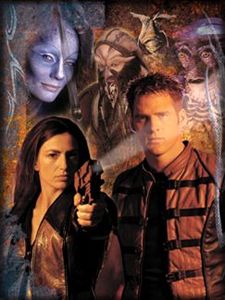 Screw BSG with its upsetting gender politics and ridiculously FAILED science. I am all about rebooted Dr Who and Farscape. I didn't dig either the first time I saw them, and never really got past the first couple of episodes. Now I love them. Farscape passes the Bechdel Test. Dr Who does not. Rose + her mum. Talking about the Doctor. Though every now and then Rose gets to discuss a drama with another female character, there's not much woman-to-woman action. I think it's partly to do with the newer format – story arcs only last an episode, rather than a week's worth of episodes. There's not as much character development. And a bit too much kissing. I like Eccleston, but I'm not struck on Tennant. His bottom jaw sticks out too far. I liked Eccleston's big nose and ears a whole lot. And was the Doctor always this manic? I'll have to rewatch some old ones (I liked brown, curly haired, long-scarf, jelly baby Doctor best).
I am a crocheting demon.
I should post some pictures to prove it. But I love complicated afghan patterns, and have been compulsively crocheting as I watch my way through the Commonwealth's greatest contributions to popular culture. We went to Spotlight in Bondi Junction the other weekend so I could stock up on yarn. That joint was totally trashed on Saturday afternoon. I need another supplier; perhaps I could order online in bulk? The poor Squeeze is buried in gorgeously three dimensional flowers, in various combinations, so perhaps it's time to stop.
…
No.
I am bike YAY!
Yesterday we rode down the Cook's River after work for a quick ride. It was overcast, humid and coming up a storm. It was great. The sun set over the river, we saw wildlife, we dodged nonnas out walking and talking and planned a longer down-stream walk for a future date. This river goes to Botany Bay, you know.
I am still dealing with the fact that we live in Sydney.
I'm surprised by the historical weight I'm carrying in Sydney. It's like all these suburbs and places are full of all the post-Invasion history of this country. Every bit of history I remember has something to do with Sydney. And most of it is narrated by songs from the Peter Coomb's song book which delighted so many good little Australians in the 1980s.
Singing too-ra-li-oo-ra-li-attidy,
Singing too-ra-li-oo-ra-li-ay,
Singing too-ra-li-oo-ra-li-attidy,
And we're bound for Botany Bay.
I'm sure that that song has celtic roots as well. One of the strangest moments of my post-MA European travel was being shut in at a Cornish pub where a heap of drunken … Corns? Cornishpeople? sang one of those sorts of 'traditional Australian songs'. But with celtic names. My Irish grandfather used to sing The Wild Colonial Boy. So even though I'm caught up in all this Australian music, it's just as Irish as the American folk music I dig.
I did arrive in Australia in 1982, straight into rural Wagga Wagga, so moving to New South Wales is far more familiar than moving to Melbourne did in 2001. The humidity is lovely. It's not as heinous as Brisbane's, but it's nicer and wetter than Melbourne. And my skin loves it. The Squeeze declared last night, as we rode up the hill towards the lightning and iron-grey sky: "Moving here was the best thing we've done!" He's delighted by the tropical storms. So am I – I've missed them. There's something wonderful about a good, heavy-like-a-hot-shower rainstorm, complete with lighting and crashing thunder. Far, far better than drizzly, wingey bastard Melbourne weather. Even if it didn't rain, it'd be cloudy and overcast forever. I don't miss that shit. Though I'm thinking the Victorians are.
Dollhouse sucks arse, Pushing Daisies is delightful.
That's it in a nutshell, really. I'm not impressed by DH.
1. The FBI/BSG guy is a crap actor. He's so crap I can hardly watch him on screen. That scene in the last episode where he and the 'dead wife' DH client chatted in the kitchen? It was so, so, so bad. I groaned. I gnashed my teeth.
2. The opening credits are incredibly, crappily bullshit.
3. I'm still not entirely sure about the gender stuff. There's an awful lot of talk about the women 'dolls' as sexualised bodies. And though there're references to their missions which don't involve sex, we spend a lot of time looking at them having sex or wearing very high heels or tight, booby shirts, or generally packing a whole lot of very conventional, bullshit femininity. It's a bit too Alias for me, but with less self-determination on their part. I had hoped there'd be a clever twist to undo some of this, but I'm beginning to lose hope. Joss Whedon is hyped, but, really, Buffy was his pinacle. I didn't mind Serenity (look, I'm losing the italics, ok?), but it wasn't great. The film wasn't great cinema. The series wasn't that good – a little too heavy on the patriarchal family structure for my liking. Yes, I get the whole male captain/father parallel, and that Mal might perhaps have been overcompensating for his wartime mistakes with other people's lives, but still… Actually, it takes Buffy an awful long time to lose her patriarch. I've rewatched a bit of season 5 lately, and she's STILL got Giles there, Watchering. So perhaps Buffy isn't so great either… God, if this is the best we can do, this string of compromises.
Anyways, I'm not impressed by DH
4. Did I mention the terrible acting by FBI guy?
Pushing Daisies, though, is wonderful.


It's charming. It's clever. It's lovely to look at. Its visual style has a lot in common with Tim Burton's brighter, more colourful stuff. It's a bit surreal and hyper-colour, but not dark like Burton. Well, except for the premise of the series: the pie maker protagonist can bring dead things back to life. For a minute. If he touches them within that minute, they go back to being dead. If he doesn't, they stay alive and something has to replace them in the deadness. The point of the series: Emerson Cod (finally, a show with a not-white central character!), a private detective, works with the Pie Maker to solve murders. For profit. Pie Maker brings his childhood sweetheart, Chuck, back to life in one of the earliest eps, so they can't touch. They love each other. The other main character is Olive, who, by the end of season two, is the very best character.
Why do I like this program?
1. The hyper-colour, phantastical mise en scene.


2. Passes Bechdel Test.
3. Olive. With her pet pig Pigby.



4. The male protagonist is a pie maker. There's a lot of talk about food and baking pies and comfort food. It's very lush. Here, have a look.
5. The singing scenes. Olive sings a couple of songs. One of which is 'Eternal Flame'. Yes, a Bangles singing scene. The other is 'Hopelessly Devoted to You'. It's wonderful.
Also, there's singing.
6. Chuck's spinster aunts (who raised her) are cheese fans and also used to be synchronised swimming super stars: Darling Mermaid Darlings. One has an eye patch.
7. Most of all, I love the dialogue. It's very, very wordy. Lots of fast talking. But it's all puns and onomatapeia (sp?) and all those other lovely wordnerd things. It looks good, it sounds good, and it's funny. It makes me giggle.
8. It's not horrid. There are some pretty gross deaths, but it's not upsetting. Most of the programs I like these days are horribly dark. But Pushing Daisies is not. It's lovely. The Pie Maker and Chuck love each other. Olive is tiny and super tough and awesome. She can bake pies or solve crimes. She's great.
9. I watch it before bed, when I'm tired, and it helps me get to sleep. It's nice.
The only thing I don't like about it is that it was cancelled before the end of its second season. Apparently they're screening the finale in the US in their summer, so at least we'll get that degree of closure. But still. It's really great telly. Here's the first bit to prove it: