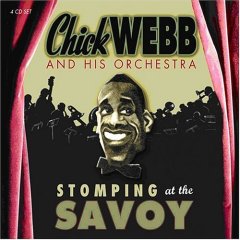 I'm sorry Brian, I'm sorry. Chick Webb does rule… well, after Fats and the Duke and Billie and… well, he does rule.
New Proper chick webb collection purchased at caiman.com via amazon for a reasonable price (check it here). Could have found it cheaper, but didn't bother.
Quality: superior to anything else I had.
DJableness: yes
Range: covers Webb's career on 4 CDs. As with other Proper collections, I guess it'll do a good job covering the key moments in his career. I'm not so familiar with Webb, so I'll have to get back to you…
If you're not a Webb person already… we're talking Old Scratchy action here.
Sweet-as swinging jazz recorded between 1931 and 1939. I previously knew Webb through Ella Fitzgerald – she got her first serious gig with his band as a teenager (and later led the band after his death) – knew he was important (in part for his association with the Savoy Ballroom, Home of Happy Feet), read varying discussions about the quality of his band and of course danced de lindy hop to him many times.
I had a few albums already (mostly rubbishy 'greatest hits' or not-so-greatly-remastered albums) and wanted something comprehensive so I could get a handle on his action, and then seek out specific albums or greater collections (let's not talk about how my Billie Holiday obsession began).
I'll let you know how it goes – so far I like it a lot. The tempos are pretty high (as you'd expect from an old skool Scratchy from the Savoy), which makes it less flexible for DJing (esp when the DJ in question seems destined never to play for anyone other than newbs – but I don't fret. I'm getting valuable skills… and one day those newbs will be advanced dancers. And then, with my army of newbs, I will conquer the world!), but it's neat for listening. Though I probably shouldn't listen to it before bed. Like watching clips – it makes me jiggly. And it could only fuel my recent series of weirdo dance/DJing/suppressed thesis anxiety dreams).