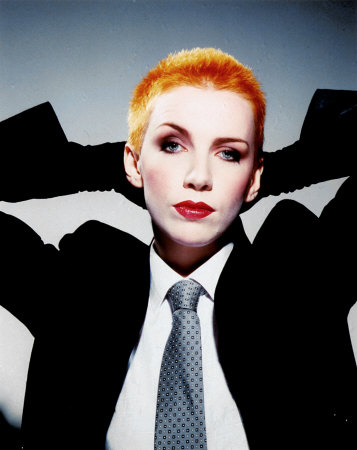 I've been revisiting the Eurythmics in the last couple of months, particularly their 1983 album Savage. Even though I love it, Sweet Dreams (are made of this) is probably my favourite album.
I really liked the video clips for the songs from Savage, and have just realised that they were directed by Sophie Muller, and that there was a video clip for each song. All the clips join up (sort of) and make a kind of long film or story. I had no idea that these videos had anything more in common than particular characters until looking them up on youtube. I do have a Eurythmics video somewhere, but I haven't watched it in years as I don't have a VCR. My favourites are Beethoven and I need a Man.
Links to all the videos (I've starred my favourites):
Beethoven*
I've got a lover (back in Japan)
Do you want to break up
You have placed a chill in my heart
Shame
Savage*
Put the blame on me
Heaven
Wide Eyed Girl
I need you
Brand new day
Annie Lennox is always good for a bit of gender play, and I like the way she used different characters in these videos. I didn't get into the Eurythmics until I was about 15, but 'Sisters are Doing It For Themselves' was released in 1985, and it really made an impression, even though I was only 11. There was something exciting about Aretha's busty enthusiasm and Lennox in her short, bleached hair, leather trousers and tailored jacket.
I'm not all that interested in Annie Lennox more recently, nor Dave Stewart, but those earlier Eurythmics albums are really fun.
I think, really, I like Annie Lennox for those characters and dressing up in the Savage videos. I like the way they contrast with her usual short hair and jackets. I like this idea of dressing up and occupying characters or identities for performing. Not in a 'I'm an actor and I'm playing blahblah' way, but in a 'today I put on this character, who'll then go and do the show at blahblah venue and sing 'Shame". It's a useful way of thinking about performance, for singing or for dance, and I think it's a fun way of exploring gender.
This post isn't really going anywhere in particular, but I'm putting together some ideas about imitation, copying, impersonation and so on. It's such an interesting concept, and can work in so many ways, and I just can't keep away from it. But Annie Lennox is a useful example (for me and my thinking, anyway) of how impersonation and identity/gender play can be subversive and quite powerful in a performance context.