About DJ Snoopdoggydogpossum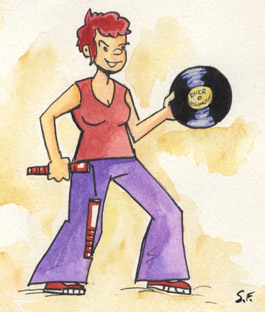 About my DJing
I have a facebook page for International DJ Sam Carroll that includes a bio and photos.
I started dancing in Brisbane, Australia in about 1998, then moved to Melbourne in 2001, where I started DJing in 2005. Now I live in Sydney where I DJ mostly for lindy hoppers and occasionally balboa dancers. I'm the house DJ at Harlem here in Sydney. I do the odd large camps and exchange in other Australian cities during the year, and DJ regularly all over the world.
I was a staff DJ at Lindy Focus in the US in 2018/19, and at the Herrang Dance Camp in 2014-2018. So I feel I've pretty much won the jackpot. I was a guest DJ in Korea at the Authentic Jazz Weekend in 2015, at Seoul Lindyfest in 2016-2018 and a volunteer DJ at the Snowball in Sweden 2015/2016.
I like hot jazz and swing music from the 1920s, 30s and 40s, but I also really like modern bands who recreate the sounds of those periods. I also have a shocking memory, so I'm always pleasantly surprised when I ask a DJ "What's this great song?" and discover that I already own a copy of LCJO's CJam Blues. I figure this excuses my overplaying particular songs in my collection. I also hope it explains my delight in songs which most of us have heard a million times before, rather than indicating a lack of imagination.
This drawing is a portrait my friend Scott Fraser drew of me for a birthday card, and I think it captures my DJing style. In a metaphoric sense, of course. The only vinyl I own is a collection of Stone Roses 12″ records, and the only martial arts I know involve paintings of generals on ponies. It is, however, an entirely accurate representation of my fashion sense. If vinyl is still cool, then I feel the wide-legged trouser is still ok.
DJing for the radio
Ryan Swift interviewed me for his podcast the Track in January 2019.
I was interviewed on a Swedish swing dance radio show in January 2016, immediately after DJing, so I was full of adrenaline and lols.
In June 2011 I was a Yehoodi Radio Guest DJ (you can see the set details here).
DJing for the radio: did like, would do again.
DJ management (aka Head DJ and DJ coordinator)
I also coordinate DJs for my own events (the Little Big Weekend, Jazz BANG, Jazz with Ramona, and so on).
If you've never DJed for dancers and would like to start, you might be interested in the post Starting DJing in Sydney: Some Basic Tips.
I like putting together programs of DJed music which suit the event organisers' musical goals but which also let DJs show off their best action. I believe in the best possible working conditions for all volunteers and DJs at dance events, and am quite happy to speak at length on this topic. Or any other topic, really.
Listen to me DJ!
If you'd like to hire me for a gig, drop me a line [dogpossum at dogpossum dot org].