A friend posted this the other day, and it pinged my radar.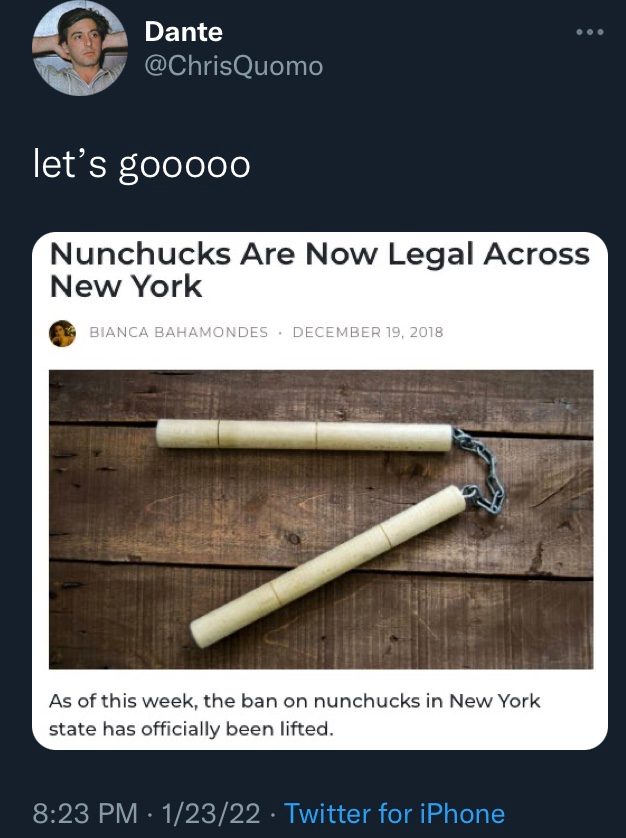 The ban on nunchucks within the New York city limits was instituted in 1974, the year this song was released:
In this USAToday article discussing the changing of legislation, they write
"The ruling went over the history of the ban, and said it "arose out of a concern that, as a result of the rising popularity 'of 'Kung Fu' movies and shows,′ 'various circles of the state's youth' — including 'muggers and street gangs' — were 'widely' using nunchaku to cause 'many serious injuries.'"
And in this New York Times article they write that
"New York lawmakers worried that some young people might be using the device nefariously. "
In 1974 'muggers and street gangs' in New York was code for 'Black kids'. 'Kung fu' films, tv, etc was hugely popular with Black kids (you can read more about that here).
The 'nunchuck' ban is interesting because it was clearly targeting this segment of the community in a period of economic freefall and city corruption.
I'm fascinated by this period in American history. There's a really good documentary called Blank City, which looks at the rise of indy cinema in NY at that moment as well (including Lizzie Borden's radical feminist film Born In Flames).