After yesterday's extra fun set for Tracktown Swing's zoom party (fun), I'm feeling interested in jazz again. Overhearing Andrew's interest in Sid Catlett's drumming, I've been digging through the Catlett in my own collection.
I can't remember listening to this song 'How High the Moon' by Al Casey and his Sextet (1945) before. The band has a pretty impressive line up:
Al Casey And His Sextet
Gerald Wilson (trumpeter), Willie Smith (alto sax), Illinois Jacquet (tenor sax), Horace Henderson (piano), Al Casey (guitar) John Simmons (bass), Sid Catlett (drums).
Every time I listen to a band like this I have to look up the personnel. Thank goodness for google. This isn't Willie The Lion Smith, it's another one. And I always forget what Horace Henderson played. I often forget he's Fletcher Henderson's brother too.
Things I noticed:
– There's a bit in an Illinois Jacquet solo (at about 0.45) where the first few notes sound just like his famous part in Flying Home (with Hamp). I'm assuming it's Jacquet. I have no clue tbh.
– The guitar is extra nice. I'm digging guitar in these sorts of swinging jazz songs atm, not as rhythm, but as soloists.
– The drumming _is_ nice.
Anyhoo, this is a nice song.
Here is Sid looking a bit over it.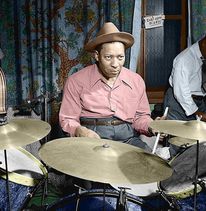 It's ok, mate, 2020 is nearly over.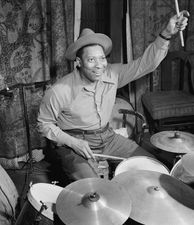 There are a few recordings by Benny Goodman's big band in 1941 that are off the charts HOT. Like, the best, tightest band, and they really swing.
I've just discovered that Sid Catlett was the drummer in the band for a few months in 1941, which explains a few things.
These recordings include Pound Ridge, The Count, a few others, an ROLL EM.

And, apparently, this live CD is pretty fricking great.
I really like this. I feel like this might be something I'd like to see Rikard dancing too.
It's got some of the gun musicians from that song in the OP, and you can hear the musicians shouting and calling out.
'Henderson Romp' (1945)
Big Sid Catlett's Band
Joe Guy, Ben Bull Moose Jackson, Hubert Bumps Myers, Illinois Jacquet, Horace Henderson, Al Casey, John Simmons, Sid Catlett.
I think I might be really into Al Casey.

And Sid Catlett is playing in this recording of 'Madame Dynamite' by Eddie Condon's band in 1933. It's worth noting that this is a mixed race band. The connection is, of course, Chicago.

Catlett also played in bands led by Teddy Wilson, Louis Armstrong, Sidney Bechet, Hot Lips Page, Lester Young, Lionel Hampton, Coleman Hawkins…
Basically, he was the shit.