Hi everyone,
I've decided to be responsible and cancel the party on the 21st March:
———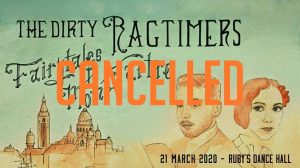 Dear friends,
I'm very sorry to have to write this to you, but I have decided to cancel this party on the 21st of March.
As we all know, the COVID-19 virus is moving into our communities. It is spread through 'respiratory droplets'* (drops of wet stuff from our mouths and noses), and through physical contact. The best way to prevent its spread is to avoid transmission through direct contact.
That means: not touching lots of people or blowing respiratory droplets onto them.
While our government have not yet asked us to stop gathering in large groups, it would be responsible to remove another opportunity for us to germ on each other :D
It's a very great shame, and I was looking forward to hearing the band, seeing you all, and dancing like a fool. But I think – this time at least – it's best to be sensible.
*I know it sounds like a great name for a dance troupe, but: too soon.