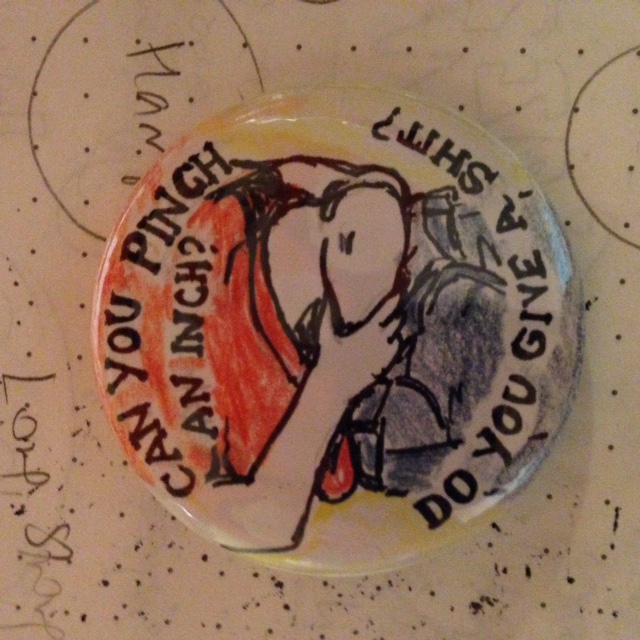 A friend has been patiently managing an ongoing thread about 'obesity advertising' on her facebook page, and I've chimed in today.
One of her friends wrote this excellently sarcastic reply to a piece about dieting:
I am NOT going to read the article, but in response to the tagline: Yes, clearly it is better to increase the pain and suffering of fat women through stigma and discrimination. After all, shame is strongly correlated with positive health outcomes.
For me, this point, that shame stops you being healthy and powerful, is the most important. I see it as directly related to the perpetuation of sexual harassment. If we are continually questioning our own worth, if we are taught to see men's sexual desire for our bodies as the only reliable proof that we are 'attractive' and of worth, then we will tolerate sexual harassment. Even if it frightens and upsets us, we won't speak up about it, because we are supposed to want this. A particularly unpleasant man commented in a public space recently that we need to "loosen up" and dance in closer position. As though our reluctance to be manhandled by unpleasant, aggressive men was a symptom of frigidity, and that we aren't actually capable of knowing our own minds and making logical decisions.
It is this sort of bullshit that makes me very, very ANGRY and also very, very determined to encourage women dancers. Your body is important for far more than what it looks like. It is a wonderful machinery, and a woman dancing is mighty. Your mistakes should be confident because they teach you. Your dancing should be brave because it is YOU dancing, telling us something about music and the way you feel and think. You can lead, you can follow, you can solo dance, you can do balboa or charleston or whatever the fuck you like, in whatever way you like, so long as you respect your partner and yourself. And being fat or skinny will not in any way affect the value of your movement.
I replied to that comment on facebook with this:
The thing that bothers me most about all this, is that we're continually reminded of our bodies, and how we should be thinking about what we look like, all the time. It fills up our brains. It makes us ask, over and over "Do I look ok?" The answer, of course, will never be a definitive 'yes', because what is 'ok' changes every day as well. Yesterday your eyebrows had to be skinny, today they have to be thicker. Yesterday you wore skinny jeans, today you wear leggings.
Various industries benefit directly from encouraging and perpetuating this anxiety about your personal, bodily value. Governments like ours make it clear that women's bodies are not as important as men's (the amount of money spent on commemorating the loss of Anzac bodies vs the lack of money spent on discussing domestic violence makes that very clear).
Even our parents and families and friends are recruited into policing our bodies: the aunts who ask if you're really eating that second serving, the mothers who put girl children on diets, the fathers who won't let daughters walk alone at night, the parents who ask when we're going to provide grandchildren.
The idea that I might use my body simply for my own pleasure and satisfaction is utterly sinfully wrong: being fat is a 'lack of control'. Eating for pleasure is 'naughty'. Enjoying sex is 'problematic'. Dancing until your heart stutters and your calves tighten is 'dangerous'. As an adult, I should be allowed to choose how I enjoy my body. But enjoying your body, being happy with the way you look is not allowed. That's how patriarchy works.
My most serious problem with this, is that it takes brain time away from what we can do with our bodies or our brains. And of course, if we are busy doubting ourselves and bodies, we don't have time or confidence to stop and say "Hey, what the fuck, patriarchy? I'm a fucking amazing writer/engineer/doctor/parent, and all this time and money I spend on what my body looks like is detracting from the time and money I can spend on being a writer/engineer/doctor/parent."
In an example, women on average spend so much more time on grooming than men do. Yes, some men are groomers, but women spend a lot more time on hair removal, makeup, clothing choices, etc etc. And I decided a long time ago that I'd rather spend that hour every day writing more. Reading more. That's an extra hour a day I can spend on tap practice. On laughing at jokes. An extra hour every day that I get to spend doing things that make me feel good, rather an hour every day that I spend assessing and inspecting my appearance.
For me, specifically, this constant nibbling at my self esteem stops me questioning patriarchy. If I'm always worried that I'm too fat, too big, too small, too never-going-to-be-right , then I won't have the confidence to question bullshit.
So, as practical examples, if I'm feeling anxious and low confidence, I won't confront that man who's been touching his female dance partners' boobs all night. I won't get on the microphone and say my own name to advertise my own DJing/teaching/event. I won't put my hand up for a staff DJ position at Herrang. I won't start my own business.
The bullshit about 'obesity epidemics' has a direct effect on my confidence: I won't get up on my feet and speak up.
So I say NO NO NO and fuck YOU to talk about diets and obesity epidemics and all that shit. I eat what I like, I exercise too much, and I assess the value of my body through my ability to breathe freely, to dance too much, to bend and move easily, to bring me pleasure and ridiculous joy.
And I take a great deal of satisfaction in telling men to fuck off when they try to mansplain the value of my own flesh.