I have to write some posts about the music at Jazz BANG.
The weekend was quite full on for me, as I overcommitted myself and failed to follow the first rule of event management: delegate, delegate, delegate. But even though I was utterly exhausted by the end, I thoroughly enjoyed myself. My cheeks cramped from smiling by Sunday. People came with such a willingness to lol and learn and have fun, such a determination to be delighted by each other, I was quite overcome by the good will. I think some of the good vibes came from people's willingness to try something new: no one else had run such a large scale solo jazz weekend, and Sydney hasn't hosted a big event in a while, so it felt new. Though, for Sydney people, it was really just like a particularly big Little Big Weekend. The local volunteers and managers are such freeking NINJAS they just fronted up as per usual, and pounded out a top shelf event like it was nothing.
I feel the music was the most successful part of the weekend. We used four bands and four DJs, with only one DJed late night party. I put quite a lot of thought into the live music program, and hand-picked bands and musicians I thought would do a great job. It was a bit of a financial risk to hire so many bands, but I think it really paid off. The event felt more professional and top shelf, and I think we really took the social dancing element to great heights. Jazz BANG was pitched as a solo dance weekend, but I wanted to make the parties feel like places where you could dance however you liked, so I needed bands that really welcomed dancers onto the floor and made it easy to DANCE.
I tried to present this idea of dance and music as one thing in all the promotional material, in the class program, in the structure of the weekend, and in the way I worked with the DJs and musicians. I wanted to work with band leaders not as interchangeable blocks to be bought and paid for, but as active participants in the project. Hence this promotional image: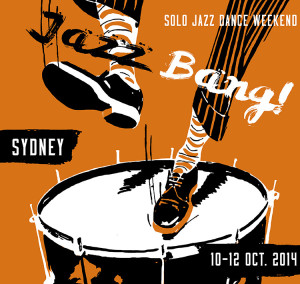 I feel weird claiming credit for the bands, so please, let me make it clear: I see my role in these things as bringing the right people together. I look for people who have the right skills, the right passions, and a willingness to work with other people and try new things. More specifically, I look for creative people who really relish creative partnerships that are challenging and interesting. Then I just try to put them in a room together, and ask them to make people crazy with fun.
All these people just rise to the challenge. I love, LOVE it when I can see their brains fire up, and their skills and passion take over. People take my weirdo suggestions and just go nuts. I mean, I told Lennart my sneaky political goal for the weekend was to convince people that solo jazz and lindy hop are really the same thing, working together, not separate disciplines. And then he did some stealth politicising. I asked Marie to draw on her chorus line experience to develop an exciting set of classes strongly rooted in historic dance, and she came through like a GUN. I asked a bunch of musicians and dancers to just talk about why they think Basie's band was important, and then just let them go. And they did AMAZING things!
And of course, then I ask a couple of hundred people to come join in. And they DO! They all turn up saying YES! Let's TRY THIS! And then they engage! They really ask questions, and demand to be challenged, and thoroughly test out these concepts and ideas. Then they take these things as just beginning points, and go on and do really fucking wonderful stuff on their own, in their own cities, with people in other cities, with other dancers. It fucking thrills me. And they do it with such a sense of fun and enthusiasm, I'm just overwhelmed. I think that jazz is wonderful: the way it combines improvisation and structure, all wrapped in a light, joyful, exciting enthusiasm.
I just feel so excited about being able to work with such talented people! It's such a pleasure – it's so exciting! I feel my own creative juices fire up, and I come away from these projects really inspired and excited. Not just about dancing, but about music and running projects, and generally doing all sorts of creative work. I'm just SO LUCKY!
Anyways, enough of that hippy feeltalk. Let's talk about the first band.
Friday evening: Andrew Dickeson's Swingtet (Brad Child (sax), Jim Pennel (guitar), Peter Locke (piano), Brendan Clarke (bass), Andrew Dickeson (drums). And with guest trumpeter Eamon McNelis from Melbourne.)
I wanted a small, swinging combo for the Friday night, because I wanted to kick off the weekend with a 'friendly', accessible band that made people think 'this is going to be FUN' right from the very first moment. I wanted songs that would be 'easy' to dance to, that invited people onto the dance floor. So I wanted stuff that was built for lindy hop. No djank, no street jazz, just solid swinging jazz. And that's what I got.
That gig was co-opting our regular fortnightly social dance, which always includes lots of beginners. So I wanted a beginner-friendly band (ie swinging, classic jazz, not pre-jazz or anything too hot), and I wanted a band leader who really understood how swing works. Andrew Dickeson was that man. He responded with enthusiasm to my ideas about playing for dancers, so I figured this would be fun.
I wanted a band made up of Sydney's more experienced musicians. The guys who play around town a lot, and tend to get overlooked because they're occasionally over-exposed. I'd seen Adrian Cunningham pull a brilliant performance from some of them at Rug Cutters' Swing earlier in the year, and I had a feeling a strong leader with clear set of goals could really pull the best performance from them.
These guys are experienced, skilled, professional and really bloody good. They're great to work with (focussed when they're working, easy going off-stage, and respectful, but still with lots of lols and a good sense of humour.) They just needed a clear set of goals to really focus all that. I've worked with these musicians a few times, now, and I'm really happy with their work. At some point, though, I'll get Peter Locke a real piano to play, because he has MAD skills. And I also managed to convince Eamon McNelis to come to Sydney and sit in with the bands. This guy is my favourite Australian trumpeter, and I just love him in a band. He has a talent. A gift. There's something about the way he adds an energy or depth to the feels of a band. It's like he is really THERE, 100%, and his presence just pushes the other musicians, says "Hey, fuckers, got jazz? Bring IT!" and then they all go nuts.
This band was many people's favourites, and when we got to the second song, my pre-event nerves just melted away. Yes, I though, this is going to work. I can trust these guys to pull this off. They did a really great job, to the point where people actually complained that they didn't play long enough. At one point they had everyone in the room up and dancing. EVERYONE. To something like Moten Swing or something similar. The energy in the room was just fantastic, and Andrew had hit just the right song in just the right way at just the right time. I've seen really good DJs do this, but I've rarely seen band leaders respond to the dancers like this. It was the perfect way to start off the weekend.
Andrew put a lot of thought into that gig, and really worked with my suggestions and preferences. I don't like telling bands what to do, because, ultimately, if you're going to micromanage a band, you might as well get a DJ. But there aren't that many bands in Australia who really understand how to play for lindy hoppers. They think they do, but they don't. Playing for dancers requires a great deal of empathy, observation, and responsiveness, and not all musicians are up for that. I figure being a band leader is like being a really good DJ or MC – you have to have your finger on the vibe, and be able to respond to what's happening at a moment's notice, or to pre-empt changes or direct the flow. With a gentle touch. This is partly why people love Gordon Webster's band: he's good at this stuff.
Anyway, Andrew sent me a set list on the Friday day. I received it sitting on the train with Lennart and Marie and Bec and a couple of other dancers, so of course we all had a look and a discussion. This is what Andrew sent me:
First set
130 Undecided
160 It Don't mean a thing
120 Squeeze me
150 Lady Be good
130 Don't get around much any more
190 Caravan

Second Set
140 Moten Swing
170 Sheik of Araby
130 I let a song go out of my hear
190 Take the A train
120 Do nothin' til you hear from me
150 Things ain't what they used to be

Third Set
140 Honeysuckle Rose
170 Brand new suit
120 Confessin'
180 Lester Leaps in
140 Swingin' the blues
If I remember rightly, they actually finished off with something faster and upenergy that resulted in a really exciting jam.
I showed this text to Lennart who pointed out that you can't really tell just from reading a set list what it'll sound like. This is, of course, the challenge we face when dancers work with musicians. We don't have a common language for talking about music. Or, we do have common words, we just don't use them in the same way. But I figured, heck, I have to trust the band. I have to delegate. Not just the physical work, but the creative responsibility as well. I have to trust other people not just to do their job, but to say YES and try stuff, come up with creative ideas that I couldn't ever imagine, let alone do. And as Lennart himself says with a naughty grin, "We will see what will happen."
I'd sent Andrew quite of lot of instruction before the weekend, something I really HATE doing, because it feels really bossy, and I always think it cramps a musician's style to give them too many constraints. But then I really needed this gig to work, because Jazz BANG was a big, high profile event, and my professional reputation is based in large part on my approach to music and bands. So the bands were, to a certain extent, representing me. And I also needed the bands to really make it easy for dancers to have fun. And nobody likes it when a dance floor's empty and a gig bombs – it's no good for dancers or musicians.
So this is what I'd sent to Andrew:
Andrew,

Regarding the songs the band should play on the Friday night….
What do you have in your book that you really dig at the moment? I'd prefer working with what you're digging, because funsies.

So far as tempos go, because it's a mixture of new students (who've just come for the class), and experienced people who're there for the whole weekend, we'll need a mix of tempos. Below is info based on my experience DJing a lot over the years. I hope it translates to musician talk properly :D

For us, 120bpm is slow and beginner friendly, but kind of draggy. 140bpm is easy and comfortable. 160bpm feels like fun. 180bpm makes us work a bit hard. over 200bpm is fast.
So if you're playing for two hours, you'd work the tempos like this (if you wanted to play a very safe set):

first set:
– begin at 120bpm
– 120bpm
– 140bpm
– 160bpm
– 120bpm
– 140bpm
– 180bpm
– 150bpm
– 170bpm
– 140bpm
– 190bpm

second set:
– 140bpm
– 160bpm
– 180bpm
– 130bpm
– 150bpm
– 190bpm
– 150bpm
– 120bpm
– 150bpm
– 180bpm
– 140bpm

It's best to end a gig on a moderate tempo (about 140bpm) with lots of energy, so everyone can join in.

We call this 'working a wave', where you move up and down tempos in a gradual way. Bands can get away with more dramatic drops and increases than DJs can. But it's a good idea to avoid going from really fast (eg 220bpm) to scary slow (eg 110bpm), because 110 reminds people that they're tired. If you went from 220bpm to 140bpm, people's energy stays up, but they still get a rest.
110bpm is often a real dead zone for lindy hoppers, as it's harder to dance lindy hop that slow, but it's not slow enough for blues dancing.
Experienced dancers make all tempos work, but newer dancers really struggle in the 90-120 and 170-250 zones.

As a general guide, 150bpm is average jogging tempo, and most new dancers aren't very fit. Most experienced dancers are like runners. They can dance at 150 for 6 hours. But they like adrenaline, so they really enjoy the spike up into the faster tempos. And slower tempos give new dancers a chance to get on the floor and experienced dancers a chance to really work the rhythms.

As the night goes on, the average tempo can creep up. But it's best to vary the tempos, so people feel inspired.
You can do one or two very slow songs (eg a blues at 80bpm), but one is really enough.
No latin rhythms, please.
We like to avoid crooners too (the only Sinatra I like is Sinatra with the Dorsey band.)

Sam's black list:
Songs I'd prefer you didn't play:
Fly Me to the Moon
In the Mood
Moon Dance
String of Pearls

We don't really dig on boogie woogie, and jump blues can have mixed results.

We love Ellington. We love him bad. We also love Basie, Hamp, Webb, Lunceford, Slim and Slam, Django, Bechet, Kid Ory.

What if a jam happens?
A jam is where dancers feel really excited by the band, and see a couple feeling the feels bring their shit. They form a loose circle around that couple, clapping, and then other couples take turns coming into the circle to show off.
Faster songs usually stimulate a jam.
They rarely look at the band when they're jamming, but at those moments, they are _really_ listening.
When the song ends, if they really feel the feels and want more, they'll turn and look at the band and cheer and stay in the circle.
If they're done, they drift away.
The best jams only last one or perhaps two songs, or a total of about 5 minutes max. After that people who aren't showing off get bored and tired.
It's best to follow a jam with a nice moderate tempo (but high energy) song (about 140bpm) so everyone can get back on the floor, and you can take advantage of the energy and excitement generated by the jam.

For us, the best dancing happens when the band feels the feels and is really responding to what's happening on the dance floor. We hear the musicians get excited, and we feel it, and it makes for great dancing. So it's important you guys like the music you're playing.

Hope that helps!
Sam.
As you can see, I am prodigious emailer. So props to Andrew for working through the whole thing. He really took the advice on board, and then responded with some clever insights and suggestions. I don't feel ok reproducing his correspondence here, but you can assume that it was clever and useful. He knows his shit. We were also talking about the workshop with the musicians and teachers together, and I think that helped feed this set on the Friday.
And you can also see that my advice RE tempos is informed by my DJing. I make a very safe recommendation about flow and waves, which I really hesitated to do. I don't like to micromanage like that. What's the point of hiring professionals if you then proceed to tell them how they do their job? But on the night, the band actually went with the vibe of the room, the way they were feeling, and the way the whole thing was working as a night. So while all this correspondence seems quite antiseptic, on the night it was quite exciting and organic. And it was a very successful band gig. I've worked with a lot of bands now, and some of them think they know what's what, but they end up playing what really amounts to a wankfest on their part that leaves the dancers cold.
Andrew's band did not leave anyone cold. Not even a little bit chilly. Shit was hot.
It was fab to then hear Andrew talk about music in the musician/dancer session on Sunday. This reminded me a bit of the way we've structured teachers' workshops in the past: we have the guest teachers teach general workshops on the Saturday, moderate a workshop about teaching for dance teachers on the Sunday, and then we have them teach total beginners how to lindy hop on the Monday. We get to see the process, hear the thinking behind it, and then ask questions and get a practical workshop to explore the concepts ourselves. I guess, ultimately, it's like hearing the rhythm, scatting the rhythm, and then dancing the rhythm.
Jazz dance, you're the best. You're even more challenging and interesting and fun than doing a Phd. I'm so glad I gave up academia for you.