This is an exciting year.
Last weekend Alice and I taught workshops at the Christchurch Swing Festival. It was a really nice weekend: great music, top shelf dancers (and dancing), excellent (and very nice) hosts, an event with a relaxed feel, yet still with that professional edge that makes an event unstressful for workers. I recommend it, and I feel a fool for never having danced or even visited New Zealand before. It is a magical place.
This was our first international teaching gig, and while we were both a bit nervous at first, the actual workshops went very well. I was a bit ill on the Friday (vomiiiiting between heats while judging a dance comp: now there's a feminist challenge), but came good and ended up having a great weekend. I was happy with the classes (really amazing dancers in those workshops), and even though I was trying to be sensible about overdancing at the evening dances, I still had a GREAT time social dancing. Sunday night, with no responsibilities ahead, it was ON.
I don't know how teachers stay up to all hours then teach the next day: I'd be far too buggered. And I'm far too responsible about being rested for doing decent teaching. Being a hard core social dance and naturally loquacious, it was superhard being disciplined and not stay til super late. But I am still tired now, so perhaps not so hardcore after all.
The upshot: enjoyed, would definitely do again. I'll certainly be returning to New Zealand for social dancing!
My other big news is that I'll be a staff DJ at Herrang this year, in week 2. I'm a bit scared about the sheer quantity of DJing I'll be doing, but I also figure: do it now, or you'll never do it. And I'm looking forward to it, very much. This trip was a bit last minute, and I had planned to do the Frankie stream workshops in week 2, then solo jazz in week 3, but I can't really DJ and workshop in one week, and I'm still waitlisted for week 3. There are 7 people ahead of me on the list and it hasn't changed much lately. :( Waaaah! I'd really like to do solo, but if all else fails, I'll register for lindy hop workshops as a lead and get my lindy hop on.
And, thirdly, I'm in the middle of organising a big weekend event here in Sydney, for the 10-12 October 2014.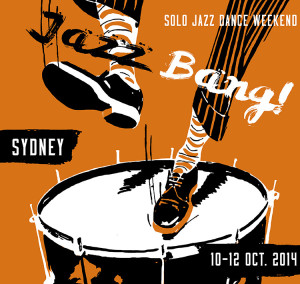 Jazz BANG is a weekend with workshops with international guests (Lennart Westerlund and Marie N'Daiye – you heard it here first), and plenty of parties and social dancing. We're also adding some daytime touristing activities on the Friday, because Sydney is a fabulous city and needs to be explored. While the workshops are focussed on solo dance, you can dance however you like at the parties, so come just for the social dancing if you're not into solo. I have a bunch of bands on the program, which is proving challenging to organise (international bands = drama), but hopefully that will all turn out well. There's been unprecedented interest in the weekend (I'm fielding a lot of email enquiries), which means I'm suddenly worried about venue capacities as well. But this is really all just par for the course when planning a big event. My sound guy is on board and ready to go, I have my (lovely, easy to work with) teachers booked, and I have a great musician putting together bands for most of the nights, so I feel ok. My priorities: good music. And some sort of dance floor. The rest is icing.
Perhaps the most tiring part is developing the website and art work for the promotional material as well as all the other organising stuff. I really like working in css, and it's fun to update my skills, but it's really a bit of extra work I could really do without. Ah well.
The weekend will be a lot of fun: Sydney does good parties, and my local team has experience running events now, after four Little Big Weekends in two years, so we are good to go. The bands here are very good, and have worked with dancers quite a bit now, so I'm confident in them. And I have a couple of nice venues on the program that I'm also feeling confident in. And I adore my sound guy: we have put a lot of work into getting good at doing sound for acoustic jazz in old, echoey spaces, so my good bands will sound good, which is my highest priority.
If you are interested in coming to Jazz BANG, perhaps consider arriving on the Thursday morning, as we will be having our guest teachers teach at our local Thursday weekly solo jazz class, and then doing a masters/challenge class on Friday night. Friday day is Cultural Activities day, and I'm talking to a local musician/teacher about an educational talk, and then we will all go to the beach, or to galleries, or site-seeing, or shopping, or eating, or whatevs people feel up for. And then the serious dancing begins.
Sydney is a great city to be a tourist, so it'll be a good weekend for visitors, and hopefully fill local peeps' learning and social dancing needs.
I'm a bit tired, you know. I've already, here at the beginning of May, run two large dances, teach three days of weekly classes each week, taught overseas, I have two big dances to run before October, I've done one interstate event as a DJ/punter, I'm planning another international trip, and then there's this big event at the end of the year and the usual round of exchanges in Australia. I am a bit tired. But it's all ok, really. I especially like putting together the musical programs, and I'm having a lot of fun working with musicians and music specialists around the place. A teaching gig I'm doing at the University of Sydney has put me back into the university world, which is quite nice. But coming at it with a phd in hand already, and no hardcore commitments, just interest and a sprinkle of professional impetus is really nice.
Ok, that's the end. We're all caught up. Let's catch up in Europe, ay European friends?