I read some thing on vernacular jazz dance about the lack of female DJs at European swing dance events…which I now realise was a response to my joke post about women DJs, which was actually Olive and Astrid in Fringe, being science nerds.
This past MSF (which is one of the two biggest Australian events), we had these DJs: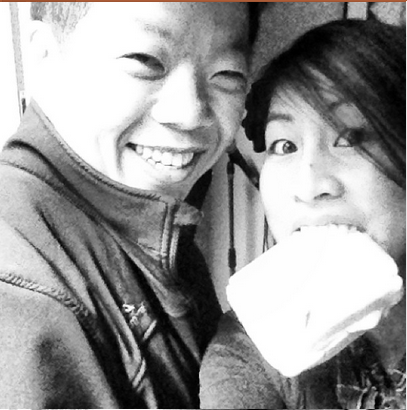 (c/o KatGalang)
me (I'm a woman btw)
Kat Galang (woman)
Alice Roberts (woman)
Barb Heggan (woman)
Allie Payne (woman)
Manon van Pagee (woman)
Mike Healey
Trev Hutchison
Gas Fernandez
Keith Hsuan
Tim Jones
Matt Greenwood
That's 50% wimminz, 50% menz.
I was the DJ coordinator. I don't think about gender when I'm putting together DJ teams. I look for:
– mad skills (ie can work a room, keeping the floor full is just entry level requirement)
– professionalism (answer emails promptly, on time, have the right gear, get their shit together, on time, etc)
– personable and easy to work with (grumpy poos can get fucked)
– good music collection
– experienced (I don't use new DJs for big events)
Any DJ who gives me shit is immediately blackballed – eg if they send me nasty emails because I didn't hire them (yes, this happens about every second event); if they're nasty to _anyone_, if they do something I asked them not to (eg play soul in a swing set, dance during their set, etc etc), if they miss sets or are late to sets, etc etc. This last set is the most important criteria for me. This job is kind of tiring and annoying, and I just don't need some dick giving me shit at 2am on the third night of an exchange. If I've told you to play fucking swing, play fucking swing and shut that funk down.
I don't think it's an accident that I get good men:women ratios. Most of the local DJs in most local Australian scenes are women. But they rarely step up to national level events – they're under-represented. I think that's because they're not confident about stepping up, and aren't supported (I've written about this a LOT, so you may want to search for more posts on this if you're looking for some rants).
Why do some Australian events have massively more male DJs than men? The events that have these imbalances almost always also have pretty shitful working conditions and pay deals for their DJs, and they almost always have pretty awful approaches to DJ recruitment/hiring. They just hire randomly. They hire DJs who approach _them_. Seriously, why would you do that? If you want good DJs, you chase THEM. Don't give them a chance to approach you – woo them! This means that they get the pushy blokes on their roster. And they miss out on the less confident ninjas.
There are times when events have fewer women DJs than men and the organisers have done everything right. Some years and some events, this is just how things pan out. But if you don't have a good female:male DJ ratio for your event year after year, _you're_ doing something wrong.
Why should you chase DJs? Isn't that more work? Yes. But fuck, do you want good DJs or do you want people who pimp themselves out aggressively? Also: don't be a lazy arse. Get your shit in gear.
Once you get your DJs, treat 'em right.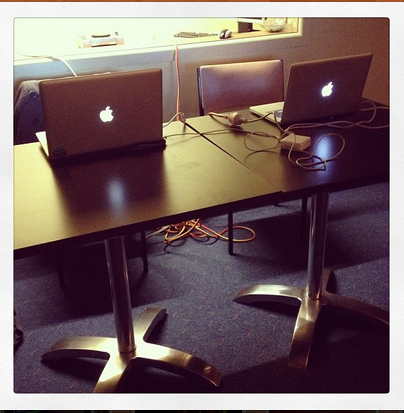 (c/o KatGalang)
I treat my DJs with respect. Even if I'm exhausted. Because YOLO, so you bloody well owe it to people to treat them right. And being nice to people makes you feel nice. WIN.
I pay DJs as much as I can, and I agitate for better pay ever year. btw the base line for a decent event is now: a free pass, plus at least $25 per hour. The best deal is a free pass + $30 per hour. I think this is total rubbish. DJs deliver the bulk of music at Australian events, yet is has the lowest value. WRONG TOWN. I don't think we pay our DJs anywhere near enough, so I keep banging on to organisers about improving pay.
I'm also very strict about working conditions for DJs – safe, clean work spaces. Good notice on set times. If you're booked for a set, I pay you for it, even if it's cancelled. If you pay longer, you're paid for that. Your name is plastered over the PR material. You get lots of public props. Prompt pay, in cash. Don't harass your DJs. Make sure they're not being harassed by the punters, and if they are, shut that shit down. If a DJ has a problem, YOU solve it – they just handball it up to you. BAM!
If I can't manage these things (sometimes shit happens), I make sure I fix it as SOON as I can. And I apologise. I chase down DJs after events for feedback, and I assume that we can always improve things.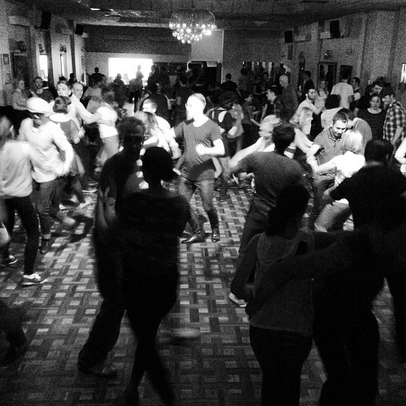 (c/o DJTrev)
I'm also always on the look out for new talent. Yes, I do favour experienced people, and because our national scene is so small, you're going to see the same names on my lists. But that's because they're good. I don't do nepotism. I do awesomism: if you're awesome, I'll hassle you until you DJ for me.
When I find new talent for big events, I only use them if they have experience with smaller events. They have to have been DJing for a few years, and dancing for longer. I have to have seen/heard them DJ before.
I try to give all the DJs I hire a lot of support – I deal with their problems, etc etc. And I try to make sure newer DJs have support too – maybe an experienced DJ buddy, or perhaps they need more time to set up before a set. Or maybe they need a bit of a pep talk. Or some quiet time. Whatever it is, I try to make it work. I think that if I want ninja DJs, I need to invest in ninja DJ development.
I also try to make sure the experienced people don't get too burnt out. But that's hard – we have too few DJs to work all our events. I also try to offer them interesting set briefs, and I encourage interesting set ideas.
So, basically, if you treat your DJs well, and get up off your arse and hunt down some peeps with mad skills, you'll get good gender ratios in your DJ line up.
OMG JUST LIKE REAL LIFE