This is such a fabulous project. Lisa Congdon and Maria Popova are creating the Reconstructionists:
The Reconstructionists, a collaboration between illustrator Lisa Congdon and writer Maria Popova, is a yearlong celebration of remarkable women — beloved artists, writers, and scientists, as well as notable unsung heroes — who have changed the way we define ourselves as a culture and live our lives as individuals of any gender.

Every Monday in 2013, we'll be publishing an illustrated portrait of one such trailblazing woman, along with a hand-lettered quote that captures her spirit and a short micro-essay about her life and legacy.

The project borrows its title from Anaïs Nin, one of the 52 female icons, who wrote of "woman's role in the reconstruction of the world" in a poetic 1944 diary entry — a sentiment that encapsulates the heart of what this undertaking is about: women who have reconstructed, in ways big and small, famous and infamous, timeless and timely, our understanding of ourselves, the world, and our place in it.
Here is one entry that seems especially appropriate for this blog: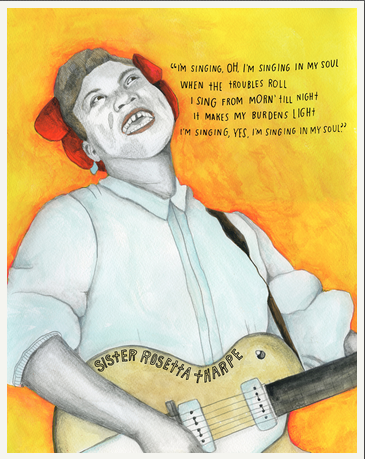 When 23-year-old Sister Rosetta Tharpe (March 20, 1915 – October 9, 1973) first walked into the recording studio in 1938, she likely didn't dare imagine that she would one day be celebrated as gospel music's first superstar. The godmother of rock and roll. "The original soul sister." But that's precisely what the talented singer and electric guitarist went on to become, bridging the spiritual lyricism of gospel with the secular allure of rock and roll arrangements.