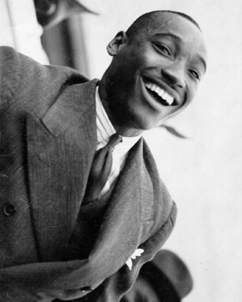 This month has been Frankie Manning month for me, teaching two Frankie themed classes a week (lindy hop and solo jazz), visiting Melbourne for the Shiny Stockings weekend with Chazz Young, Steven Mitchell and Ramona Staffeld (Ramona drove this excellent weekend) and generally doing quite a lot of research into Frankie Manning's dancing and choreography.
It was, of course, Frankie's birthday on the 26th May, and this has proven a nice focus for all this effort. I think it was a great idea to use the whole month to focus on Frankie's work, and I've been feeling very inspired and challenged. I've also been struck by just how much joy this Frankie themed material has brought our students in class (it really does fill you up with happiness), and how important Frankie has been to the lindy hop revival. Yes, he was a brilliant dancer and choreographer, but he was also so important to the revival of lindy hop in the modern day, bringing not only his knowledge of dance, but his feeling for other people and for dancing. He would always begin his dances with the ideas that you 'bow to the queen' and 'for the next three minutes you're in love with this person', and this seems like a pretty good way to dance – and live your life – to me. Respect your partner, love dance and dancing, let your partner be the centre of your world for the next little moment. I'm down with that.
So here is a little 8tracks devoted to Frankie Manning.
1. Jumpin' At The Woodside – Count Basie and his Orchestra – 235 – The Complete Decca Recordings (disc 02) – 1939 – 3:10

2. "Big Apple Contest" – The Solomon Douglas Swingtet – 211 – Swingmatism – 2006 – 2:58

3. Hellzapoppin – George Gee – 356 – 2009 – 2:13

4. Cotton Tail – Duke Ellington and his Famous Orchestra – 236 – Big Ben – Disc 1 – Cotton Tail – 1940 – 4:49 PM

5. Flying Home – Lionel Hampton and his Orchestra – 197 – Lionel Hampton Story 2: Flying Home – 1942 – 3:11

6. Shiny Stockings – Count Basie and his Orchestra – 126 – Complete Clef/Verve Count Basie Fifties Studio Recordings [Disc 6] – 1956 – 5:17

7. Easy Does It – Big Eighteen (Billy Butterfield, Buck Clayton, Charlie Shavers, Rex Stewart, Lawrence Brown, Vic Dickenson, Lou McGarity, Dicky Wells, Walt Levinksy, Hymie Schertzer, Sam Donahue, Boomie Richman, Ernie Caceres, Johnny Guarnieri, Barry Galbraith, Milt ) – 129 – Echoes of the Swinging Bands – 1958 – 5:14

8. The Shim Sham Song – JW Swing Orchestra – 183 – Holdin' You In My Holden – 2002 – 2:46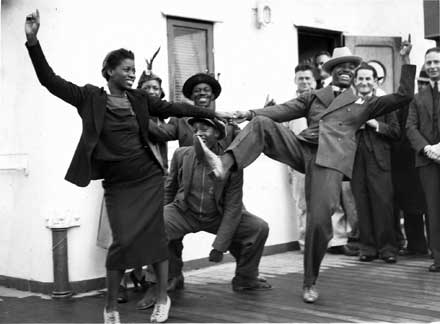 1. 'Jumpin at the Woodside'.
This song is one of those Pavlov's Lindy Hopper tracks that quite often provokes a jam circle. But it was the song to which the famous lindy hop routine in the 1941 film Hellzapoppin was originally choreographed (read more about that here). There are sixty million versions, but this one is my favourite.
(Whiteys Lindy Hoppers .. Helzapoppin)
Basie is a particularly important band leader when we're talking Frankie.
2. 'The 'Big Apple Contest" from the Keep Punchin' soundie.
Taken from a short film, the routine accompanying this song has proved particularly popular with lindy hoppers, especially in the last six years or so. It's a high energy, challenging choreography, lots of fun to dance, lots of interesting shapes and steps.
The Big Apple contest from Keep Punchin'
This version of this song is important because it's the most commonly used, and perhaps the best quality version we have available. It's by Solomon Douglas' Swingtet, and was transcribed by Solomon. Solomon is a DJ and dancer as well as a talented pianist who plays with lots of good bands, as well as with his own outfits. I think this recording could do with a bit more attention, really. It gets used an awful lot, and is the sort of recording only a band tightly connected with lindy hoppers would research and record. Musically speaking I'm not sure the actual song is all that awesome, but this is a great treatment, and the song itself is absolutely central to Frankie Manning's history on film.
3. I don't need to explain 'Hellzapoppin" again. But I do need to point out that this version was transcribed and recorded by George Gee, a band leader with a long history of association and collaboration with lindy hoppers. He was right there in the early days of the revival, and he's still right there, in the thick of it.
I can't embed the video, but I can link you to this 'Hellzapoppin, Then and Now' video featuring this song played live.
I'm not sure where or if you can buy this song now, but I downloaded it from FB where George Gee was giving it away for free a while ago.
4. 'Cottontail' was featured in the 1941 soundie 'Cottontail' featuring Duke Ellington and his orchestra. This clip features the Hot Chocolates (aka the Harlem Congaroos), a group of Whitey's Lindy Hoppers from the Savoy Ballroom, and once again featuring Frankie Manning (read more about it here).
(linky)
5. 'Flying Home' by Lionel Hampton's orchestra (1942).
This is one of the first songs associated with the lindy hop revival. Spike Lee's 1992 film 'Malcolm X' is important in lindy hop history because Frankie Manning (and other old timer and modern day lindy hoppers with mad skills) were involved in its production, in no small part because of Lee's fierce determination to highlight black American history. Manning appears in this sequence, but was also involved in the choreography.
lindy hop scene from Malcolm X
This song is another one that'll start a jam if you're not careful. I'm extra interested in this song because it was also famously recorded by Benny Goodman's smaller groups, and those groups were really important because they were one of the earliest and most determinedly high profile swing bands featuring black and white performers. So I tend to think of this clip as a political comment on lindy hop history as well as a spankingly good dance track.
6. 'Shiny Stockings', Count Basie Orchestra in 1956.
This song is important because it was one of Frankie's favourites, and he used it in classes and performances all the time in the revival period.
Frankie and Dawn Hampton performing in 2008
As a DJ and music nerd, I'm quite interested in the correlation between 'new testatment Basie' and 'new testament Frankie'. This was the second half of these artists' careers, quite different to their earlier work, and yet utterly dependent on that 1930s/40s history of hot and fast swing jazz. In these later periods of their careers, both Basie and Frankie explored subtler, more nuanced work (Frankie of course responding to what he heard in Basie's music), both working with slower tempos and greater subtlety.
Teaching this past month I've realised that though you might see a subtler dancing at work in Frankie's post-revival lindy hop, his movements are still those of a dancer who spent most of their time running about at high tempos in massively athletic displays of skill. So though his joints were older and stiffer, his body (and brain) still remembered how to move like an athlete, and to really recreate this (as if you really could!), you need to start big and athletic, then pare it back to the more nuanced essence. It's the same with Basie's music. His playing in the 50s is pared back from the stomping stride playing of his early days in Kansas to just a few careful notes accenting rhythm and melody in the 50s.
7. 'Easy Does It', by the Big Eighteen in 1958.
Another of Frankie's teaching and performing favourites from the revival period:
This version of 'Easy Does It' is a good one because it's by the Big Eighteen – a celebrity all-star band mashed together for a few studio recordings. There's a bit of grandstanding in there, but really, if that crowd got together, you'd expect nothing less. 'Easy Does It' was recorded by heaps of people, including Basie's band in 1940.
8. 'The Shim Sham Song' – JW Swing Orchestra.
Another key song for the lindy hop revival, Frankie taught and performed the shim sham all over the world using this song. There's a far more famous version by George Gee's band, featuring Frankie calling the steps, but the JW Swing Orchestra was important in the Melbourne lindy hop scene in the earlier days. They recorded this quite good version in 2002, and though I don't especially like this song, it's absolutely central to lindy hop history and to Frankie Manning's importance.
Though it's not using that 'Shim Sham song', this 'global shim sham' tribute video put together for Frankie 95 gives you an idea of both the dance's importance, and the great love felt for Frankie Manning by lindy hoppers all over the world.

(linky)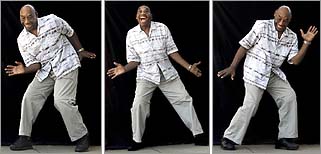 Happy Birthday Frankie, and thanks for all the lols!