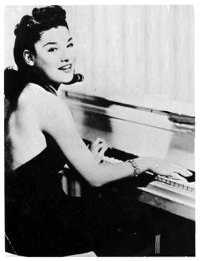 One of my absolute favourite singers, Carlisle has brilliant timing, really adding a good, solid swing to the small groups she worked with. Apparently Fats Waller 'discovered' her (well, I imagine Carlisle was a bit like America – there long before some man realised she existed), but the two share a nuanced musical sensitivity.
You can see her singing and playing the piano in this clip (sorry, I don't know any more about this little film than this):

(I'm A Good Good Woman – Una Mae Carlisle)
This 1938 song Don't Try Your Jive On Me is bit more fun.